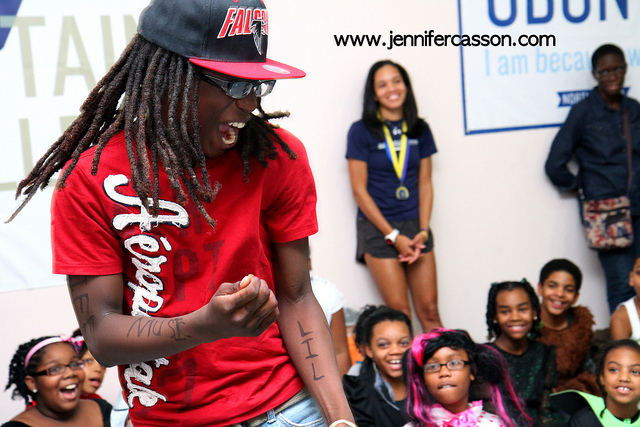 Photo by Jennifer Casson
Early Life
Dwayne Michael Carter, Jr. Was born in New Orleans, Louisiana, United States on September 27, 1982. He was raised in the infamously poor Hollygrove neighbourhood, and was enrolled in the gifted program of Lafayette Elementary school and in the drama club of Eleanor McMain Secondary School. At age eight, Wayne wrote his first rap song, and by eleven he had met Bryan "Birdman" Williams, rapper and owner of Cash Money Records. Birdman subsequently became a mentor to young Carter and included him in Cash Money distributed songs. At twelve years old, Wayne played the part of the Tin Man in his middle school drama club's production of "The Wizard of Oz." Wayne claims to have accidentally shot himself with a .44 calibre gun at that age, and dropped out of school at age fourteen.
Career
In 1993, Lil' Wayne and fellow Cash Money rapper B.G. Collaborated as a duo called The BGs and released their debut EP "True Stories." In 1997, at 15 years old, Wayne joined forces with BG, Juvenile and Turn to form the group Hot Boys, and released the groups debut album, "Get It How U Live," which sold 400,000 albums independently. "Guerilla Warfare" was the groups second album, released in 1999; it went platinum and earned Wayne critical acclaim. Following this success, Wayne released his debut solo album, "Tha Block is Hot," yielding a number one single with the title tune; it was also certified double platinum.
In the following year, "Lights Out" was released as Wayne's sophomore LP, which reached gold status. Lil' Wayne dropped his third solo LP "500 Degrees" in 2002. Two years following this, "The Carter" was released as the first album in the trilogy that has elevated Wayne to superstardom. "The Carter" (2004) was a commercial success selling over a million copied and reaching number five on the Billboard Hot 100 Charts and number 2 on the Hot R&B/Hip Hop chart. In the year following the release of "The Carter", the second album of the trilogy was released and sold over 1.8 million records. In 2006, Wayne released, "Like Father, Like Son," a collaborative effort between Lil' Wayne and Birdman, which has sold over 750,000 units.
The third of the Carter album trilogy was released on June 10, 2008, selling more than a million copies in its first week of release, the first to do so since 50 cent's "The Massacre" in 2005. The first single, "Lollipop," featuring Static, became the rapper's most commercially successful song at that point, topping the Billboard Hot 100, and making it the first Top 10 single for Lil' Wayne as a solo artist, as well as his first number one on the chart.
Personal Life
Lil' Wayne is the father of three children. His first daughter, Reginae, was born when he was 15 years old, to his high school sweetheart Antonia "Toya" Johnson. Wayne and Johnson wed on Valentine's Day of 2004 and divorced in 2006. His second child, Dwayne III, was born on October 22, 2008 at Christ Hospital in Cincinnati. His third child, Lennox Samuel Ari, was born to actress Lauren London on September 9, 2009. He is expecting a fourth child with singer Nivea.
After earning his GED, Wayne went on to enrol at the University of Houston in January 2005 with plans to major in political science. He had been taking online courses to earn his degree, and in 2007, an article in Urb magazine asserted that Wayne had been earning high grades at Houston. However, by the end of the year, Wayne discontinued his university education