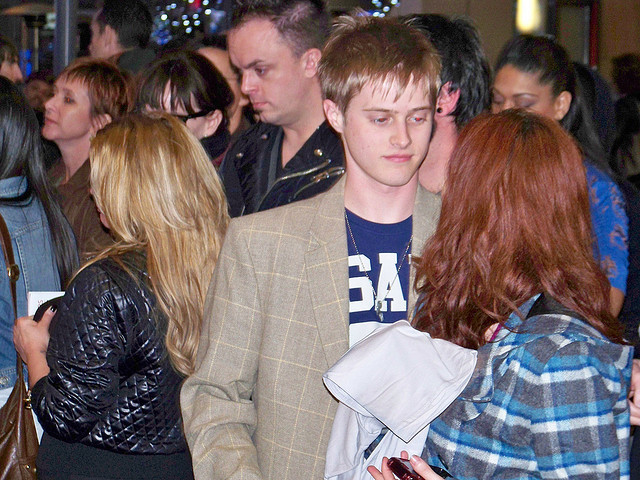 Photo by Castles, Capes & Clones
Early Life
Lucas Stephen Grabeel is an American actor, singer, songwriter, director and producer born on November 23, 1984. He was born and raised in Springfield, Missouri, to an father, Stephen Grabeel, and mother, Jean Harman. He attended Logan Rogersville elementary, middle and high school before transferring to Kickapoo High School where he graduated from in 2003. In high school, Grabeel played drums for a local church and initiated a men's a cappella singing group. He can play a number of instruments, including the guitar and accordion; and can dance in the styles of jazz, ballet, hip hop and tap. At the Harmony Baptist Church in Rogersville, Missouri, he was regularly part of the children's and youth groups.
Grabeel moved to Los Angeles, California to pursue a career in acting, following his high school graduation. He landed his first commercial two months after moving to Los Angeles, and soon after that, landed his first film role in the third instalment of the Halloweentown Series; the Disney Channel Original Movie: "Halloweentown High." He played the character of Ethan Dalloway, and reprised his role in the fourth instalment of the series.
Music Career
Along with his involvement in the High School Musical Soundtracks, Grabeel has recorded a track called "You Know I Will" for the "Fox and the Hound 2" soundtrack. He has recorded his own version of the Michael Bolton track "Go the Distance," from Disney's "Hercules," for DisneyMania 5. Grabeel co-wrote and recorded the song, "You Got It," in 2007 and the song was released on iTunes on August 19, 2007. Subsequently, a music video was released on his official website. On November 15, 2008, Grabeel released another original recording titled, "Trash Talkin," on YouTube.
Acting Career
Grabeel is most famous for his role as Ryan Evans, in the 2006 Disney Channel Original Movie, "High School Musical," and its sequels, "High School Musical 2," (2007) and "High School Musical 3: Senior Year" (2008). In 2006, after the first instalment of "High School Musical" was already released, Grabeel was offered a guest role on an episode of "The Suite Life of Zack and Cody." However, when the script called for him to kiss co-star Ashley Tisdale, the role was transferred to his "High School Musical" co-star, Zac Efron, due to brother-sister dynamic established between Grabeel and Tisdale in "High School Musical."
14341 Productions, is a production company founded by Grabeel in 2007. His roles involve overseeing projects from, writing, directing and executive producing. The company has produced projects such as the short films, "The Real Son," "Smoke Break"; the music videos, "Get Your Ass On" and "You Got It." 14341 Productions also produced a TV pilot called "Regarding Beauregard," which was Grabeel's first directorial debut. The company is currently working on "The Adventures of Chuckle Boy," a short film, and have just released the short film, "The Dragon," which debuted at the 2009 Sundance Film Festival