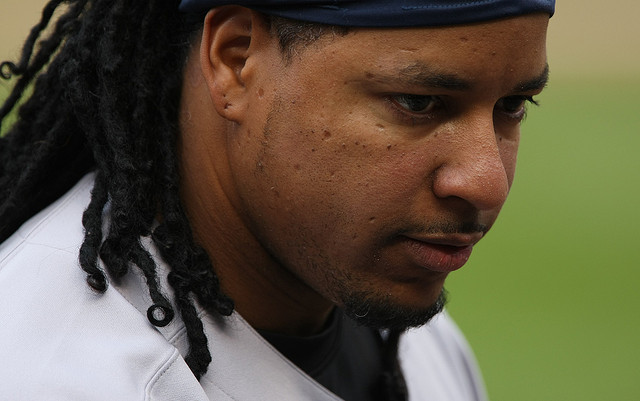 Early Life
Born Manuel Aristides Ramirez on May 30, 1972, in Santo Domingo, Dominican Republic, Ramirez was raised not far from Yankee Stadium in New York City. He was enrolled at George Washington High School in Washington Heights, New York City, and while attending school, he was the New York City Public Schools High School Player of the year in 1991, while batting .615 with 14 home runs in 22 games. In 1999, he was inducted into the New York City Public School Athletic Hall of Fame.
Career
For his professional debut, Ramirez was selected by the Cleveland Indians and assigned to the Rookie-level Burlington Indians. He was named MVP of the Appalachian League and was selected by Baseball America as short-season Player of The Year while slugging 19 homers and driving in 63 runs in 59 games, while leading the league in slugging and total bases. In 1992, Ramirez battled injuries while playing with the Single-A Kinston Indians, but still managed to hit .278 with 13 home runs and 63 RBI in 81 games. He was named the No. 3 Prospect and the "Most Exciting Player in the Carolina League" by Baseball America. He was also named "Minor League Player of the Year" by Baseball America in 1993, while combining to hit .333 with 31 home runs and 115 RBI in 129 games with the Double-A Canton Akron Indians, and Triple-A Charlotte Knights.
On September 2, 1993, Ramirez made his major league debut against Minnesota Twins. His first career home run was against Mélido Pérez. Ramirez finished second in the Rookie of the Year voting in his first full season in the major league. In 1995, he was selected to his first All Star Game and won his first career Silver Slugger Award following the season. He played two World Series games, in 1995 and 1997, during his time with the Cleveland Indians.
Ramirez went on to the Boston Red Sox in December 2000, after signing an eight-year, $160 million deal with them. He subsequently delivered, as expected, for the Red Sox. However, In 2002, Ramirez only played 120 games, due to a hamstring injury, which did not prevent him from winning the American League batting title. Despite his strong play in the 2003 postseason, the Red Sox lost to the Yankees in a seven game showdown in the ALCS. Under new Red Sox management, Ramirez was put on irrevocable waivers, thus making him available to any team willing to assume the remainder of his contract. However, none of the other 29 teams claimed Ramirez.
Ramirez was traded to the Los Angeles Dodgers in a three way deal on July 31, 2008. In August 2008, Ramirez was named the national League Player of the Month. Following this, in May of 2009, Ramirez was suspended 50 games for violating Major League Baseball's Performance Enhancing Drug Policy. However, after consulting with the MLB Player's Association, Ramirez waived his right to challenge the suspension. During his suspension, played a short stint in the minor leagues, playing two games with the AAA Albuquerque Isotopes, where his appearance led to record crowds for the Isotopes.
Ramirez subsequently hit his 537th career home run on July 21, 2009, passing Mickey Mantle for 15th place on the all time home run list.
Personal Life
Ramirez missed a Red Sox game in 2004, to become an American citizen. He entered the next game running onto the field to a standing ovation while carrying a small American flag. He has three sons; one from a previous relationship and the remaining two with his current wife Julianna. In the off-season, the family lives in Weston, Florida.