Photo by Mr. AEL
Early Life
Dame Margaret Rutherford was born on May 11, 1892, in the then, Surrey town of Balham, as the only child to William Benn and Florence Rutherford. Her father was afflicted by mental illness for many years, and on March 4, 1883, he battered his own father, Margaret's grandfather, to death. As a result of this tragedy, Margaret took her mother's maiden name, Rutherford. As an infant, Margaret was taken to India, but was returned to Britain at the age of three to live with her aunt, Bessie Nicholson, when her mother died. She was a student at the independent Wimbledon High School, where she received secondary level education and was also enrolled at the Royal Academy of Dramatic Arts.
Photo by Mr. AEL
Career
When Margaret's aunt died, she was left with a small sum of money to help her pursue a career on the stage. Margaret spent a number of year as a teacher of elocution and piano, then went on to be trained at the Old Vic. She made her stage debut in 1925, at age thirty-three. Her full figured shape and physical appearance, however, was unconventional for female stars during her time, and this often lead her to a number of unusual female roles such as spinsters and detectives. She established her name in comedy, appearing in many of the most successful films of the mid-20th century.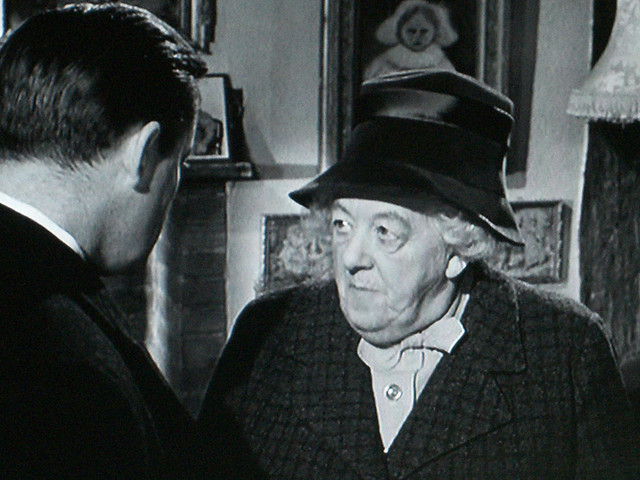 Photo by Mr. AEL
In 1957, Rutherford appeared as Cynthia Gordon in the episode "The Kissing Bandit" of the American sitcom filmed in England, "Dick and the Duchess," starring Patrick O'Neal and Hazel Court. In 1961, Rutherford first played the film role–with which she was most often associated in later life–of Miss Marple in a series of four films loosely based on the Agatha Christie novels. Then 70 years old, Rutherford insisted on wearing her own clothes for the part and having her husband appear alongside her.
Rutherford won an Academy Award for Best Supporting Actress and a Golden Globe Award for film, "The V.I.P.s" in which she played the role of absent-minded Duchess of Brighton, opposite Elizabeth Taylor and Richard Burton.
Personal Life
In 1945, Rutherford married actor, Stringer Davis, whom she often appeared in films with. At the end of her life, she suffered from Alzheimer's disease, and died on May 22, 1972. Dame Margaret Rutherford is buried along with her husband, who died in August 1973, a year after her death, in the graveyard of St. James Church, Gerrards Cross, Buckinghamshire, England