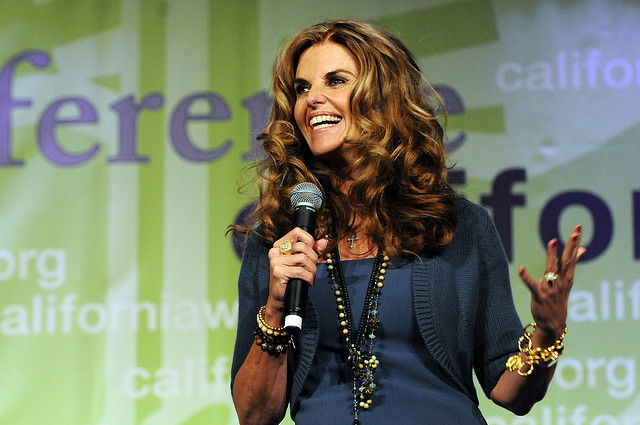 Photo by Thomas Wasper
Early Life
Maria Owings Shriver is an award winning American journalist and author, and the First Lady of California. She was born in Chicago, Illinois, as the second child and only daughter of the politician Sargent Shriver and Eunice Kennedy Shriver. Her mother, Eunice, was the sister of United States President John F. Kennedy, U.S. Attorney General and U.S. Senator Robert F. Kennedy, U.S. Senator Ted Kennedy and five other siblings. Shriver attended the Westland Middle School in Bethesda, Maryland, a suburb of Washington, DC, and graduated in 1973 from Stone Ridge School of the Sacred Heart in Bethesda. She earned a BA. Degree in American Studies from Georgetown University, Washington, D.C., in June 1977.
Career
Shriver mentioned her passion for broadcast journalism in her book, "Ten Things I Wish I'd Known Before I Went Out Into The Real World" (2000) saying her passion developed when she was sent to the back of the campaign plane with the press corps when volunteering for her father's 1972 U.S. Vice presidential race. She refers to his orders as, "the best thing that ever happened to me." Her journalism career began with KYW-TV in Philadelphia, Pennsylvania, where she co-anchored news programs for CBS, NBC from 1985 until 2004. In august 2003, shriver took an unpaid leave of absence from NBC News when her husband became a candidate in the 2003 California gubernatorial recall election.
After he husband's inauguration on November 17, 2003, as the 38th Governor of California, she became the First Lady of California, and subsequently returned to reporting, making two more appearances for Dateline NBC. On February 3, 2004, she was relieved of her duties at NBC; the corporation cited the conflict of interest between her role as a journalist and her status as the First Lady of California and her increasing role as an advocate of her husband's administration as the cause for their action.
Shriver returned to television news as a substitute host of panel-discussion talk show Larry King Live on CNN during which she moderated a discussion of breast cancer with Susan Love, musician Sheryl Crow and other guests, on March 23, 2007. She later announced that she will not return to news media after the excessive media coverage of the death of Anna Nicole Smith.
Personal Life
Shriver married Schwarzenegger on April 26, 1986, in Hyannis, Massachusetts, at St. Francis Xavier Roman Catholic Church. Together the couple has four children. The family attends Mass at St. Monica's Catholic Church in Santa Monica, California on Sundays. They live in their 11,000 square feet home in Brentwood, and the family owns vacation homes in Sun Valley, Idaho and Hyannis, Massachusetts.
On February 3, 2008, Shriver endorsed Senator Barack Obama for the 2008 Democratic presidential nomination, while Governor Schwarzenegger had previously endorsed Senator John McCain for the Republican presidential nomination a few days earlier on January 31, 2008.