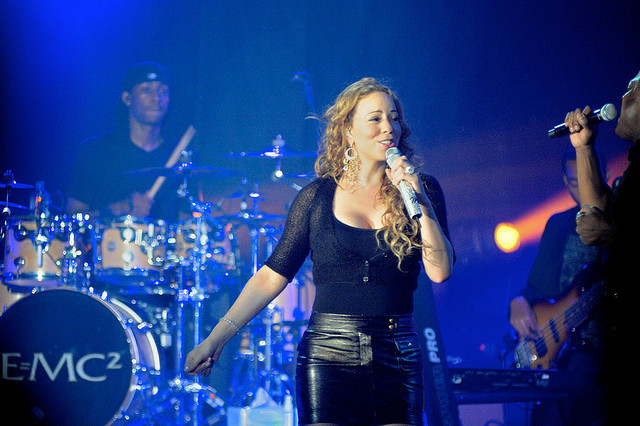 Early life
Mariah Carey was born on March 27, 1970, in Long Island, New York to parents Patricia Hickey, of Irish American descent and father, Alfred Roy Carey, of African-American and Venezuelan decent. Due to their multiethnic family status, the Careys endured much racial hostility, name calling and sometimes even violence, which caused the family to relocate frequently throughout the New York and Rhode Island areas. When Mariah was three years old, the strain became too much for her parents, and the underwent a divorce.
Spending much of her time home alone, Mariah turned to music as an outlet. She began singing at about the age of three, and performed for the first time in public, at her elementary school. By her enrolment in Junior High School, Mariah was writing her own songs. She graduated from Haborfields High School, in Greenlawn, New York, despite her frequent absences due to her popularity as a demo singer for local recording studios. Being known within the Long Island music scene gave her opportunities to work with musicians such as Ben Margulies, with whom she co-wrote material for her demo tape.
Mariah moved to New York City after High School, and worked numerous part time jobs to pay rent, and completed five hundred hours of beauty school simultaneously. She subsequently became a backup singer for Brenda K. Starr.
Career
Mariah met Columbia Record executive, Tommy Mottola at a party, where Starr gave him Carey's demo tape in 1988. After Mottola played the tape, he was impressed with what he heard and returned to the party to find Mariah, but she had already left. Nevertheless, he tracked her down and signed her to a recording contract in the same year.
In June 1990, Mariah Carey made her debut with a self titled album which entered the charts and number 73. However, on August 4, 1990, it had climbed to the number one spot. Today, Mariah is the only artist since the Beatles and Elvis Presley to have so many number one singles and albums. Along with numerous awards, she is the most successful selling female artist in music history and is the only female artist to have straight number one singles and albums.
After receiving Billboard's Artist of the Decade Award and the World Music Award for Best Selling Artist of the Millennium, Carey parted ways with Columbia Records and a contract with EMI's Virgin Records worth, $80 million. Subsequently, her career took a few nosedives, especially with her much delayed semi-autobiographical film, "Glitter" that was a box office failure. The soundtrack to the film reflected Carey's lowest showing on the U.S. Charts.
Carey returned to prominence with her tenth studio album, "The Emancipation of Mimi" in 2005. The album featured contributions from producers such as, The Neptunes, Kanye West and Carey's long time collaborator, Jermaine Dupri. The album earned Carey a Grammy Award for Best Contemporary R&B Album, and two of the album's singles won Best Female R&B Vocal Performance and Best R&B song. By spring 2007, Carey started working on her eleventh studio album, E=MC² which was well received by most critics.
Personal Life
Mariah Carey married Tommy Mottola on June 5, 1993, but divorced 5 years later on March 5, in 1998. On April 30, 2008, she married current husband, actor/comedian/rapper Nick Cannon at her private Estate on Windermere Island in The Bahamas. In October, 2008, Carey was inducted into the Long Island Music Hall of Fame.