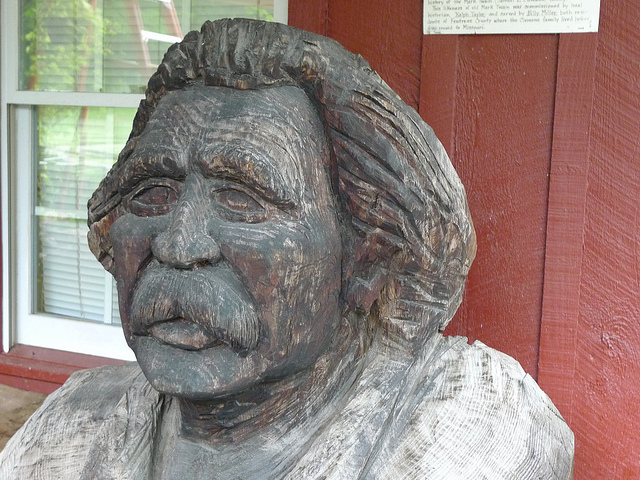 Photo by dmott9
Early Life
Mark Twain (born Samuel Langhorne Clemens) was born in Florida, Missouri on November 30, 1835, to a Tennessee merchant, John Marshall Clemens, and Jane Lampton Clemens, as the sixth of seven children. Twain lost his father to pneumonia in March 1847, when he was only 11 years old. In the following year he became a printer's apprentice, and in 1851, he began working as a typesetter and contributor of articles and humorous sketches for the Hannibal Journal, a newspaper owned by his brother Orion. He left Hannibal to work as a printer in New York City, Philadelphia, St. Louis and Cincinnati at age 18. Later he joined the union and educated himself in public libraries, finding wider sources of information than he would have at a conventional school. He then returned to Missouri at 22.
Life and Work
Twain's first success as a writer came when his comedic tall tale, "The Celebrated Jumping Frog of Calaveras County," was published in the New York Saturday Press on November 18, 1865. It was an immediate hit and subsequently earned him national recognition.
Although Twain went on to make a substantial living from his writing, he squandered much of it in bad investments, mostly in new inventions, and particularly the Paige typesetting machine. It was a beautifully engineered mechanical marvel that amazed viewers when it worked. However, it was prone to breakdowns. Twain spent the huge sum of $300,000, an equivalent of 7 million dollars today, on its production. However, before it could be perfected, it was made obsolete by the Linotype. He lost not only the bulk of his book profits but also a large portion of his wife's inheritance.
His writing and lecture, combined with the help of a friend, enabled him to recover financially. He began a 15 year long friendship with financier Henry Huttleston Rogers, a principal of Standard Oil. Rogers first made Twain file bankruptcy, and then had his transfer the copyrights on his written works to his wife, Olivia, to prevent creditors from gaining possession of them. Finally, Rogers took absolute charge of Twain's money until all the creditors were paid. Twain then embarked on an around the world lecture tour to pay off hid creditors in full, even though he was no longer under any legal obligation to do so.
Twain experienced a bout of deep depression which began in 1896 when his favourite daughter died of meningitis. His wife's death in 1904 deepened his gloom. To add to all of that, on May 20, 1909, his close friend Henry Rogers died suddenly. In 1907, Oxford University awarded Twain a Doctorate in Letters and in 1909 he accurately predicted his death would coincide with the coming of Haley's comet in the following year. He died of a heart attack on April 21, 1910, in Redding, Connecticut, a day after the comet's closest approach to Earth.