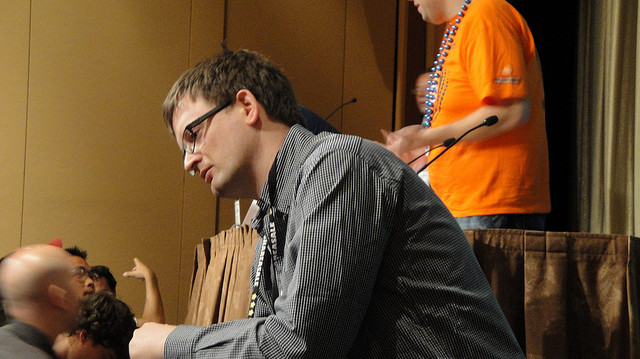 Photo by Dave Dugdale
Markus Frind is a Computer Systems Technologist from Canada, founder and the CEO of Plentyoffgish.com. Plentyoffish.com is an online dating site that operates mainly in Canada, the United States of America, The United Kingdom and Australia. Frind is acclaimed as one of the only (if not the only) person who could build a business from his home, watch it grow, work approximately 1 hour a day yet rake in about $10 million annually.
Early life
Born in 1978, Frind left Germany when he was 5 years of age. He credits the move to a remote farm in Northern British Columbia with no amenities like indoor plumbing and electricity as well as no competency in the English language as one of the things that aided his ability to adapt well, something that he has had to do constantly as the CEO of a thriving online dating company that works so differently from the popular models.
He graduated from the British Columbian Institute of Technology in 1999 holding a diploma in Computer System Technology and spent 2001-2003 moving around in numerous jobs working as a web and database developer for different companies. His role was to improve their sites' efficiency while running on fewer servers.
Birth of Business Venture
The unique thing about Frind's case is that his online dating company started at home and stayed there for until 2007, he also remained the sole employee. Unique also is the way in which this business was operated. Plentyoffish.com's popularity grew from Frind's 'free service" approach. By using ads (including Google Adsense and SEO links that carry traffic to other sites) he was able to generate revenue without charging users, although they essentially paid by 'donating' their services for tasks like sorting hundreds of thousands of photos daily. This and other assistance allowed him to delay expanding the workforce and keep expenses to a minimum.
Added to this, Plentyoffish.com is basically the only online dating site that runs itself (hence Frind's 1 hour work day), it is far from the most attractive or well put together site and runs on fewer servers that the average online dating site its size. Frind is also responsible for the programs it uses.
Career Success
Incidentally, Plentyoffish.com was founded and abandoned in 2001 when Frind first thought of the idea because he found other online dating sevices as bland or boring. In 2003 he returned to building the site to combat job insecurity having moved from job to job for at least 2 ½ years. This same year Plentyoffish.com became functional and experienced steady growth aided by the growth of the online dating market. In the year 2004 the site took off and a business was born. It has since been his fulltime job.
Today Frind's revenue from Google Adsense alone rivals the revenue that most major online dating companies make from ads. Although members can now choose to pay a fee, the site is still offered as a free site which means that those who don't want to pay do not have to (although paying is encouraged).
Frind still receives billions of views daily and his site remains successful even in the face of larger, more popular and better built sites, for this reason he is often sought by companies he doesn't know to advertise their products on his site. Another achievement under his belt is the use of the algorithms he designed for his site by other professionals and academics.