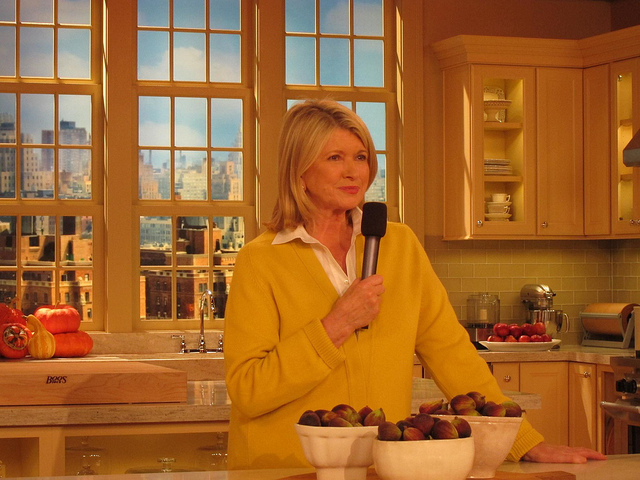 Photo by Buttontree Lane
Martha Helen Kostyra was born on August 3, 194, in Jersey City, New Jersey to middle class Polish-America parents, Edward Kostyra and Martha Roszkowski Kostyra. She lived in Jersey City until age three, when she moved with her family to Nutley, New Jersey, where she was raised along with her other siblings. She was educated at the Nutley High School where she was an excellent student who earned a partial scholarship to Barnard College in Manhattan and worked part-time as a model to pay her bills.
Throughout her childhood, a strong passion for home activities was instilled in Martha. Her mother taught her how to cook and sew and later she learned the processes of canning and preserving when he visited her grandparents' home in Buffalo, New York. Her father, who was passionate about gardening, passed on much of his knowledge and expertise to her as well. While pursuing art and European history in university, Martha met and later married her husband, Andrew Stewart, on July 1, 1961. In 1965, her only child, daughter Alexis Stewart was born.
In 1976, Stewart started a catering business in her basement with a friend, Norma Collier. The venture became successful, but soured when collier alleged that Stewart was difficult to work with, and was also taking catering jobs on the side. Stewart subsequently bought her portion of the business and was later hired as the manager of a gourmet food store, which she transformed into a booming success. After being contracted to cater her husband's book release party, where Martha was introduced to Alan Mirken, the head of Crown Publishing Group, she was contracted by him to develop a cookbook featuring recipes and photos from the parties that Stewart hosted. The result of this contract was the book, "Entertaining," which was ghostwritten by Elizabeth Hawes. From then on, word of Martha's skills and business rapidly grew, and "Entertaining" became a New York Times Best Seller.
Martha published two cookbooks as a followup to "Entertaining" and began to appear on television. People of the general public either loved her or hated her, and she fast became known as a lifestyle expert. Eventually, she became the spokesperson for K-Mart and wrote more books and steadily became a wealthy homemaking expert. It was during her business' time of success that her marriage began to suffer. In 1990 Martha divorced her husband, Andrew but continued to work had. In the same year, he dream of publishing a magazine that would show women how to entertain, decorate, cook, bake, garden and create crafts became a reality and "Martha Stewart Living" made its debut. The magazine was well received as women across America loved it. Martha appeared on the "Today" show and was offered the chance to host her own show. She agreed and he was given a show that consists of everything within the pages of her magazine. By the year 1996, Martha was named as one of America's Most Influential People.