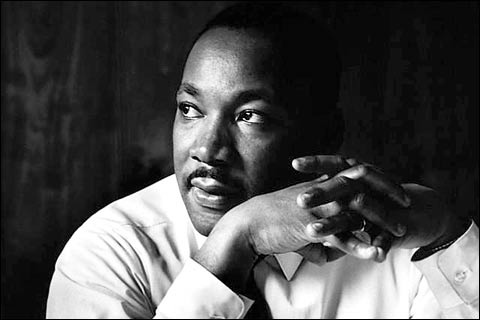 Photo by fiction~dreamer.●๋•
Early Life
Martin Luther King Jr. (Originally, Michael Luther King Jr.) was born on January 15, 1929, in Atlanta, Georgia to middle class parents, Reverend Martin Luther King, Sr., and Alberta Williams King. King Jr. Was named after his father whom, at the time of his birth, was "Michael King," however when the family travelled to Germany, Michael Kin Sr. Changed both his and his son's name to "Martin Luther" in honour of the German Protestant leader Martin Luther. King Jr., grew up in Atlanta with two siblings and attended Booker T. Washington High School. He entered Morehouse College at age fifteen, after skipping ninth and twelfth grade, and not formally graduating from high school. He graduated from Morehouse with a BA. Degree in sociology, and then enrolled in Cozer Theological Seminary in Pennsylvania, from which he graduated with a Bachelor of Divinity degree in 1951. On June 18, 1953, King Jr., married Coretta Scott on the lawn of her parents' house in her hometown, Heiberger, Alabama. The later had four children, two sons and two daughters; King became a pastor of the Dexter Avenue Baptist Church in Montgomery, Alabama in 1954, at the age of 25.
Life and Achievements
By the time he became a pastor in Montgomery, King was a member of the executive committee of the National Association for the Advancement of Coloured People, the leading organisation of its kind in the nation. On December 21, 1956, following the bus boycott in 1955, after the U.S. Supreme Court declared unconstitutional the laws requiring segregation on buses, Negroes and whites rode the buses as equals. During the boycott, King was arrested, his home was bombed, and he was subjected to physical abuse. Regardless, he emerged as first rank Negro leader.
For eleven years, between 1957, the year he was elected president of the Southern Christian Leadership Conference, an organisation providing leadership for the civil rights movement, and 1986–King travelled over six million miles and spoke over twenty-five times, appearing wherever there was injustice, protest, and action. During this period, he led the large protest in Birmingham, Alabama, that gained international attention and provided what he called a coalition of conscience. He planned drives in Alabama for the registration of Negroes as voters; he directed the peaceful March on in Washington, D.C., of 250,000 people to whom he delivered his address, "I Have a Dream," and he conferred with President John F. Kennedy and campaigned for President Lyndon B. Johnson; he was assaulted at least four times and arrested over twenty times; he was awarded five honorary degrees and named Man of the Year by Time magazine in 1963; he subsequently became a symbolic leader of American blacks and also, a world renowned figure. Martin Luther King Jr., was the youngest man to have received the Nobel Peace Prize at the age of thirty-five. He turned over his prize money of $54, 123 to the furtherance of the civil rights movement.
While standing on the balcony of his motel room, on the evening of April 4, 1968, in Memphis, Tennessee, where he was to lead a protest March in sympathy with striking garbage workers of that city, Martin Luther King Jr., was assassinated.