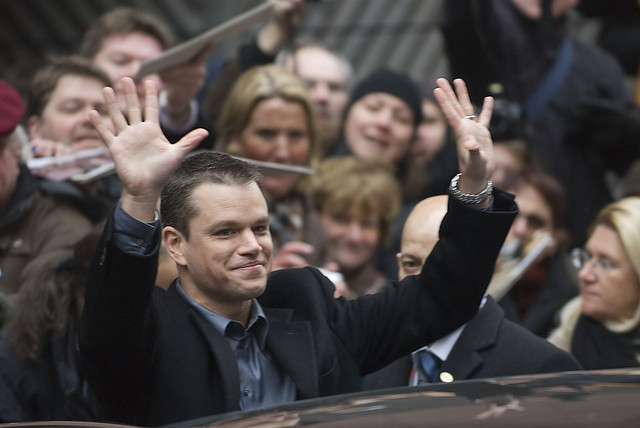 Early Life
Matthew Paige Damon was born in Cambridge Massachusetts, United States on October 8, 1970. He was raised with his Brother Kyle, by parents, Kent Damon and Nancy Carlsson-Paige in Newton for the first two years of his life. However, after his parents divorced, Damon moved to Cambridge with his mother and brother. He was educated at the Cambridge Rindge and Latin School, and performed in several theatre productions before graduating in 1988. He then attended Harvard University from 1988 until 1992, but pursued acting projects instead of graduating. While at Harvard, he studied English and lived in Lowell House; he was not an active participant in student theatre generally, but did appear in one of the school's theatre productions. He dropped out of university to pursue his acting career in Los Angeles when "Geronimo: An American Legend" was expected to be a big success.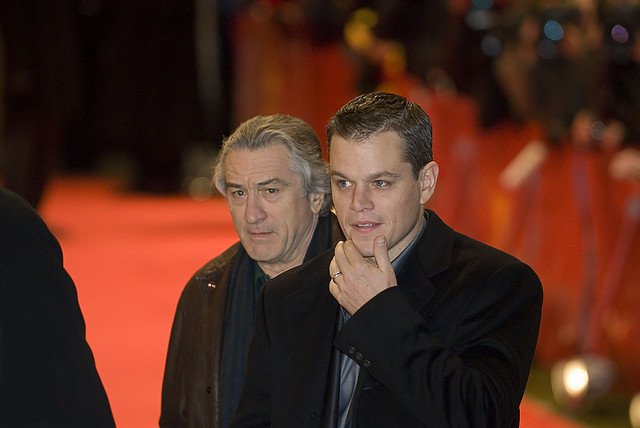 Photo by Siebbi
Career
Matt got his first break, after arriving in Hollywood, with a role in the romantic comedy, "Mystic Pizza." The film, however, was not successful and his film career initially failed to take off. Not being discouraged, he went for another acting audition, and landed a starring role in "School Ties." following this, Matt played the role of a drug addicted soldier in "Courage Under Fire," a role for which he was required to lose forty pounds for, thus resulting in health problems. In the following year, he garnered accolades for "Good Will Hunting," a screenplay he had originally written for an English class at Harvard. The film was subsequently nominated for 9 Academy Awards, one of which, Matt won for Best Original Screenplay along with Ben Affleck.
Matt went on to play the title role, in Steven Speilberg's film, "Saving Private Ryan," in 1998. Matt worked together with Tom Hanks and Vin Diesel in what became one of the most acclaimed films in that year. Later in the same year, Matt starred as an earnest law student and reformed poker player in "Rounders," starring opposite Edward Norton and John Malkovich.
One of Matt's most recognisable work to date is his role in the Bourne movie franchise. He plays the role of amnesiac assassin, Jason Bourne, in "The Bourne Identity," "The Bourne Supremacy," and "The Bourne Ultimatum." His role as Linus Caldwell in the Ocean's movie franchise is another highly praised role. He starred opposite huge stars like George Clooney, Brad Pitt, Julia Roberts and Don Cheadle in the first instalment, "Ocean's Eleven." Other celebrated appearances include his roles in, "The Brothers Grimm," "Syriana," "The Departed," and "The Good Shepherd."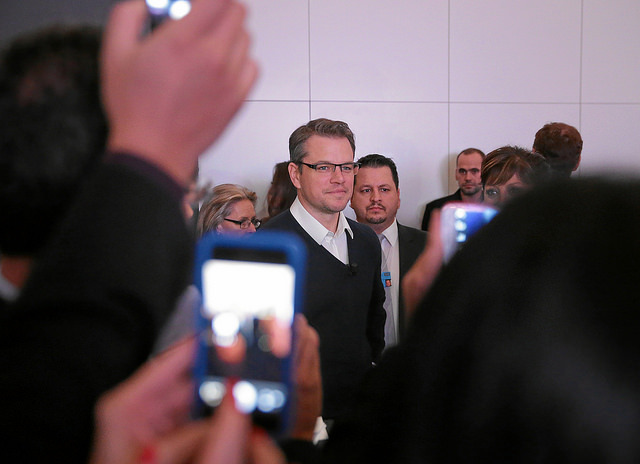 Photo by World Economic Forum
Personal Life
Matt is happily married to Argentine-born Luciana Barroso, whom he met in Miami. They wed in a private civil ceremony on December 9, 2005, at the Manhattan Marriage Bureau. The couple has three children, including one child from Luciana's previous marriage, and two children together.
Matt is a big fan of the Boston Red Sox, and attends games whenever possible. He is great friends with George Clooney and Brad Pitt, with whom he works on charity projects with. He and actor Ben Affleck, together with Affleck's wife Jennifer Garner are also good family friends.