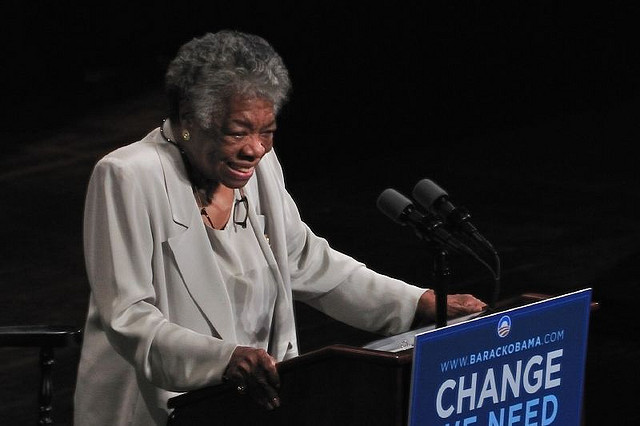 Photo by Rusty Darbonne
Early Life
Maya Angelou, born Marguerite Ann Johnson on April 4, 1928, in St. Louis, Missouri, was raised in St. Louis and Stamps, Arkansas. She is the daughter of Bailey Johnson and Vivian Baxter Johnson, and has a brother whom called her "Maya," derived from his nickname for her, "my-a-sister." While growing up in Stamps, Angelou faced the brunt of racial discrimination, but her traditional African-American family, community and cultural values allowed her to persevere. Angelou grew passionate for the arts as a teenager, and she gained a scholarship to study dance and drama at San Francisco's Labor School. She subsequently dropped out of Labor School, at age 14, to become San Francisco's first African-American female cable car conductor. Later, she finished high school, giving birth to her son, Guy, a few weeks after the graduation. She supported her son as a single mother by working as a waitress and cook, until her passion for music, dance, performance and poetry took prominence in her life.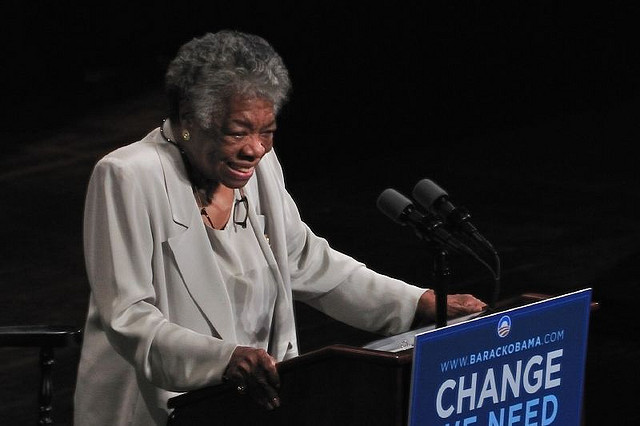 Photo by Rusty Darbonne
Life and Achievements
In 1954 and 1955, Angelou toured Europe with production of the opera, "Porgy and Bess." she studied modern dance with Martha Graham; danced with Alvin Ailey on television variety shows, and in 1957, recorded her first album, "Calypso Lady." She moved to New York in 1958, where she joined the Harlem Writers' Guild, acted in the Off-Broadway production of "The Blacks" and wrote and performed "Cabaret for freedom."
She later relocated to Cairo, Egypt, where she served as editor of the English language weekly, "The Arab Observer," in 1960. She moved to Ghana in the following year, to teach at the University of Ghana's School of Music and Drama, work as feature editor for the "African Review," and write for "The Ghanaian Times." While travelling, Angelou read and studied, mastering French, Spanish, Italian, Arabis and the West African language Fanti. She met Malcolm X while in Ghana, and in 1964, returned to America to assist him in building his new Organisation of African American Unity.
Soon after Malcolm X's assassination, and the disintegration of his organisation, Dr. Martin Luther King, Jr., asked Angelou to serve as Northern Co-ordinator for the Southern Christian Leadership Conference. However, she was left devastated by King's assassination, which fell on her birthday in 1968. She began working on " I Know Why the Caged Bird Sings," published in 1970 with the guidance of her friend, novelist, James Baldwin. The book gained international acclaim and was hugely successful. She has since published more than 30 bestselling titles.
Later, her script for the 1972 film "Georgia, the first by an African American woman to ever be filmed, was nominated for a Pulitzer Prize. She directed her first feature film, in 1996, titled "Down in the Delta," and in 2008, she composed poetry for and narrated the award winning documentary, "The Black Candle," directed by M.K. Asante, Jr.
Angelou has served on two presidential committees, was awarded the Presidential Medal of Arts in 2000, the Lincoln Medal in 2008, and has received three Grammy Award. She composed a poem at President Clinton's request, which she read at his inauguration in 1993. Dr. Angelou has been the recipient of over 30 honorary degrees and is Reynolds Professor of American Studies at Wake Forest University.