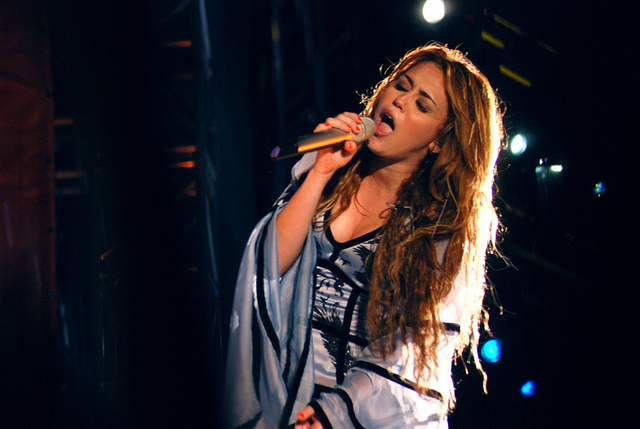 Photo by Vivian L. Arita
American pop princess and teen idol Miley Ray Cyrus is best known for the character played in the Disney Channel series Hannah Montana and for her hit songs such as "See You Again" and "7 Things". Her 2007 debut album, Meet Miley Cyrus and second album, Breakout, was released on July 22, 2008 debuted at number one on the Billboard 200. Cyrus' single "I Thought I Lost You" earned her a Golden Globe nomination. In 2008, Cyrus was listed in Time magazine's 100 Most Influential People in The World while Forbes magazine ranked her #35 on the "Celebrity 100" list in 2008 and at #29 in 2009.
Early Life
Born Destiny Hope Cyrus November 23, 1993 to country singer Billy Ray Cyrus and wife, Leticia, Cyrus grew up on 500-acre Nashville farm home. She has five other siblings two of which are also in the music industry; stepsister Trace is a vocalist and guitarist for the electronic rock band Metro Station, and stepsister Brandi has performed at Cyrus' concerts as a guitarist.
Cyrus was nicknamed "Smiley", later shortened to "Miley", because of her constant grin. She attended Heritage Middle School and is currently studying at Options for Youth. Cyrus also has a private tutor during her Hannah Montana shoots.
Career
Cyrus' acting career began with the television series Doc. In 2003, she appeared as "Young Ruthie" in Tim Burton's Big Fish. Cyrus was signed to Morey Management Group, and by age thirteen she landed the lead role of "Miley Stewart" in then new Disney series, Hannah Montana. Her energetic and lively performance was the attribute that won her the role. Cyrus' father later came on board as Miley's onscreen dad.
Hannah Montana made its debut on March 24, 2006 in the United States and averaged more than 4 million viewers per episode. The show quickly became a hit with young kids and is now in its third season on Disney Channel with plans for a fourth and final season in 2010.
Cyrus launched her music career in conjunction with Hannah Montana and made her debut on April 4, 2006. In October of the same year, Walt Disney Records released the first Hannah Montana soundtrack which featured nine tracks. The album debuted at number one on the US Billboard 200 and sold 281,000 copies in its first week.
Her musical success led her to nationwide tours and the release of a double album, Hannah Montana 2: Meet Miley Cyrus. The first disc was a second Hannah Montana soundtrack, while the second disc was Cyrus' first self-credited solo album. The album debuted at number one on the Billboard 200 outdoing the Hannah Montana Soundtrack in sales and achieving RIAA triple platinum certification.
Cyrus has also embarked on projects outside of Hannah Montana; she has done voice over for The Emperor's New School animated series, made cameo appearance in High School Musical 2, released her second studio album Breakout under her own name, which topped the Billboard 200 chart, and played the title role in the Hannah Montana film spin-off, Hannah Montana: The Movie.
Cyrus continues to climb the ladder of success with projects such as her upcoming movie The Last Song, and the launch of a third Hannah Montana soundtrack (for the third season), Hannah Montana 3, released July 7, 2009. She has also crossed over into fashion with the Disney release of a Hannah Montana clothing collection in 2007 where she helped to design some of the pieces from the collection.