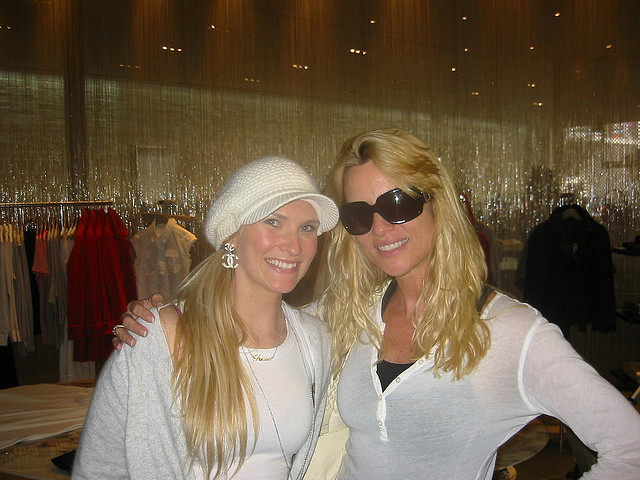 Photo by Preneur Marketing
Nicollette Sheridan is an American actress popularly known for her performances in the comedy-drama series Desperate Housewives and prime time soap opera Knots Landing.
In 2005 she was nominated for a 2005 Golden Globe Award for Best Supporting Actress followed by recognition as one of Hollywood's vixens when she topped Maxim's 2006 List at number forty-eight.
Early Life
Born as Colette Sheridan November 21, 1963 in Worthing, West Sussex, England, Sheridan is the daughter of British actress Sally Sheridan (née Adams) and has a half-brother Nick Savalas. She attended school at Millfield in Somerset and immigrated to the United States in 1973 where she was raised in Los Angeles.
In 1978 at the age of fifteen, Sheridan moved in with musician Leif Garrett and his mother. Their relationship lasted for six years.
Career
Sheridan's first on-screen appearance was on the primetime soap opera Paper Dolls in 1984. In 1986, she joined the cast of the CBS well established primetime soap Knots Landing as "Paige Matheson". Sheridan's outstanding performance won her the 1990 Soap Opera Digest Award for "Outstanding Lead Actress: Prime Time" and, the 1991 Soap Opera Digest Award for "Outstanding Heroine: Prime Time". She was chosen by People magazine as one of the 50 Most Beautiful People in the world in 1990.
The comedy The Sure Thing was one of Nicollette Sheridan's first feature film appearances. In addition to Knots Landing, Sheridan appeared on several television miniseries and movies such as Lucky/Chances, Indictment: The McMartin Trial, The People Next Door, The Spiral Staircase and Dead Husbands. Following the end of the Knots Landing series in 1993 Sheridan was featured in Noises Off, Spy Hard, and Beverly Hills Ninja, with Chris Farley and Chris Rock.
Sheridan the Desperate Housewife
In 2004 Sheridan was cast as 'Edie Britt' in ABC's Desperate Housewives; a role that propelled her back into the limelight. Sheridan made headlines in 2004 when she was the brunt of an ABC promotion for the show. The saucy and fearless actress was sent by the Network to do an intro for a Monday Night Football Dallas versus Philadelphia game. Sheridan ended up flirting with receiver Terrell Owens in the player's locker room by dropped her only piece of clothing, a towel, and jumping into the football player's arms. The incident was noted as television's biggest scandal since Janet Jackson's Super Bowl drama, but however served its purpose as the show's ratings increased.
In 2005 Sheridan won a Golden Globe Award for Best Supporting Actress. By the fourth and fifth seasons of Desperate Housewives there was much speculation as to whether Sheridan would continue with the show and in February 2009 her departure from Desperate Housewives was announced.
Personal Life
Sheridan has been romantically linked to personal trainer Nicklas Söderblom (2004), Michael Bolton (1991 and 2006), former husband Harry Hamlin (1991-1993), and Steve Pate (2009). She has no children.