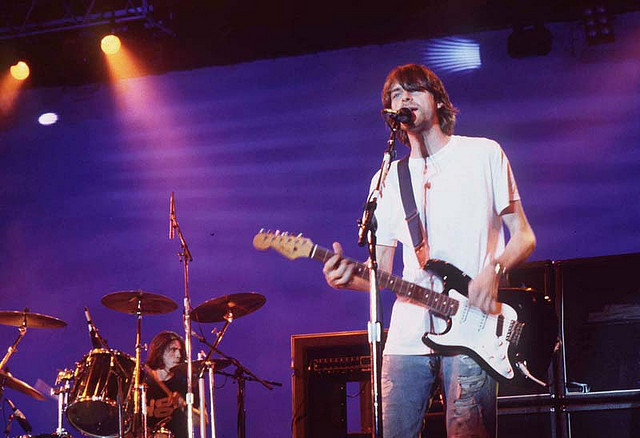 Nirvana was an American rock band that mainstreamed the genres of punk, post-punk, grunge, and indie rock. The band was formed by singer/guitarist Kurt Cobain and bassist Krist Novoselic in 1987. They eventually drafted drummer Dave Grohl, in 1990.
Nirvana made their mainstream debut with rock anthem "Smells Like Teen Spirit" from the number one album "Nevermind". With bands such as Nirvana and Pearl Jam on the rise alternative rock flooded radio and music television in the United States during the early-to-mid-1990s.
The band was branded as the 'flagship band' of Generation X and was dissolved in 1994 when leader Kurt Cobain died. Nirvana's music however remained at the forefront for a number of years. They sold over twenty-five million albums in the U.S. and over fifty million worldwide.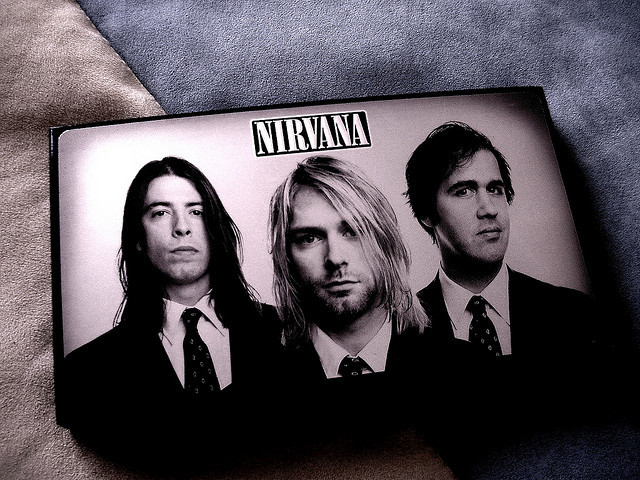 Photo by jocluis
Early Career
Cobain and Novoselic met in 1985 and recruited drummer Aaron Burckhardt, naming the group Nirvana in 1988. Burckhardt was temporarily replaced by Dale Crover of the Melvins and then further replacements occurred before they met Chad Channing.
In 1988 the single "Love Buzz/Big Cheese" was released by Seattle label Sub Pop. 1989 opened up to the release of album Bleach which was marked by the influences of the Melvins, grunge band Mudhoney who were also on the Sub Pop label, alternative rockers, the Pixies, and heavy metal group Black Sabbath.
After the launch of Bleach Nirvana made one last adjustment to their trio when drummer Chad Channing disbanded opening up for their selection of former Scream member Dave Grohl.
Photo by Erprofe
Nevermind and Success
Nirvana signed to major record label DGC Records in 1990 and produced their first mastermind album Nevermind which included the songs "In Bloom", "Breed," and "On a Plain". The album's first single "Smells Like Teen Spirit" became a favorite, and the band's European tours in 1991, were sold out. By Christmas 1991, Nevermind was selling 400,000 copies a week in the US and in January 1992, the critically acclaimed album reached number one on the Billboard album charts topping Michael Jackson's album Dangerous.
Nirvana's memorable events included their Reading Festival in England and MTV Video Music Awards performance that ended with Novoselic suffering a minor injury to the forehead when he three his bass into the air.
Photo by lkrory21
In Utero and Disbandment
For their second studio album In Utero, the band obtained producer Steve Albini to give the album a raw, less-polished sound. The song "Radio Friendly Unit Shifter" was thought to contain long periods of shrill feedback noise. The production of In Utero was noticeably fast and productive as the album was created within two weeks. Controversy surfaced when fans thought that DGC were blocking the album's progress.
Still In Utero debuted at number one on the Billboard 200 album chart in1993 and its commercial success was below that of Nevermind.
Nirvana embarked on a U.S. tour in 1993 and then did MTV Unplugged which debuted on December 14, 1993. In 1994 they initiated a European tour which was cancelled as Cobain became ill.
In the following weeks, Cobain's heroin use led to an intervention and within one week of rehabilitation he left the facility. A week later, on Friday, April 8, 1994, Cobain was found dead of an apparently self-inflicted shotgun wound to the head at his Seattle home, effectively dissolving Nirvana.
The remaining group members continued with other initiatives in the music industry. Grohl produced the debut album for Foo Fighters and worked with other groups including Nine Inch Nails. Novoselic co-founded Eyes Adrift but later relinquished his music projects to delve into politics.