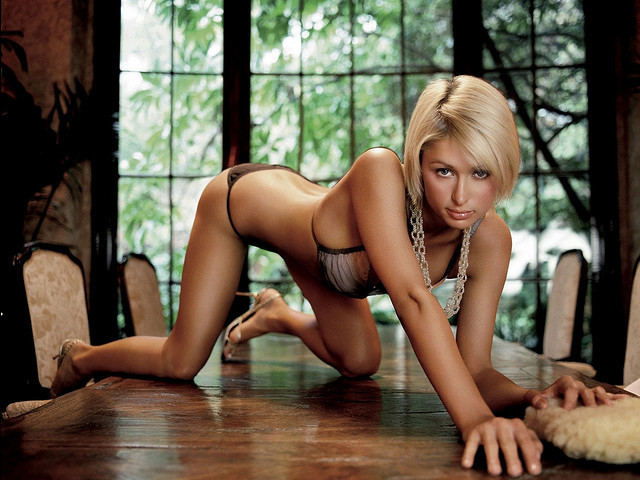 Photo by Chesi – Fotos CC
Celebrity socialite Paris Hilton is one of the heirs to the Hilton hotel and Real Estate Empire. Establishing herself as more than a socialite Paris has delved into acting, music, modeling and designing at varied stages of her life. She has appeared in films such as Zoolander (2001), Wonderland (2003), The Cat in the Hat (2003), House of Wax (2005), and TV shows such as The O.C. (2003), and George Lopez (2002).
Paris also had her own TV show and reality series The Simple Life (2003) which she appeared in with then best buddy Nicole Richie. With plans to enter the music business, Paris started her own music label, Heiress Records, and released her album Paris in 2006.
Early Life
Paris Whitney Hilton was born on February 17, 1981 in New York City. She is the eldest of five children for real estate developer Richard Hilton and socialite Kathy Richards Hilton. Paris began modeling as a child at charitable functions, following in the footsteps of her grandmother actress "Big" Kathy Dugan, and Aunts Kim and Kyle Richards.
She spent her freshman year of high school at the Marywood-Palm Valley School in California and then transferred to the ultra-exclusive Dwight School when her family moved to New York in 1996; but eventually she dropped out and ultimately earned her high school GED.
Career
At nineteen Paris signed with Donald Trump's modeling agency, T Management. She subsequently worked on a number of campaigns for leading clothing designers such as Christian Dior and Tommy Hilfiger, as well as national publications. Hilton has also worked with Ford Models in New York, Models 1 Agency and Premier Model Management in London. Her advertising campaign appearances include Iceberg Vodka, GUESS, and Tommy Hilfiger. In 2001, she was declared as "New York's leading It Girl" and was also featured in the April 2004 issue of Maxim.
Paris went from modeling to acting as she made appearances in several films including Zoolander, Wonderland, The Cat In The Hat and House of Wax for which she won the Teen Choice Award for "Best Scream" and a nomination for "Choice Breakout Performance – Female". Her first lead role occurred in the 2006 release National Lampoon's Pledge This!
In 2003 Paris launched her own reality television series The Simple Life which lasted for three seasons on Fox Network and finished up its fourth and fifth with E! Entertainment. Further television appearances came with The O.C., The George Lopez Show, Las Vegas and Veronica Mars. On 29 January 2009 Paris' new reality series Paris Hilton's British Best Friend, began airing on ITV2 in England.
Singer and Author
Paris started the Heiress Records label in 2004 and in 2006 debuted her self-titled album Paris.
The album which received mixed reviews reached number six on the Billboard 200 for a week, and its first single "Stars Are Blind" was a top ten hit in 17 countries.
On September 30, 2008, Hilton premiered her song "My BFF", the first single from her second studio album. "Paris for President" was the second song released along with a music video late October 2008.
In 2004, Hilton released an autobiographical book, Confessions of an Heiress: A Tongue-in-Chic Peek Behind the Pose, which became a New York Times bestseller. Hilton second book was Your Heiress Diary: Confess It All to Me.
Personal Life
Paris has had relationships with fashion model and former fiancé Jason Shaw, Backstreet Boy Nick Carter, heir Paris Latsis, Good Charlotte's Benji Madden amongst others.