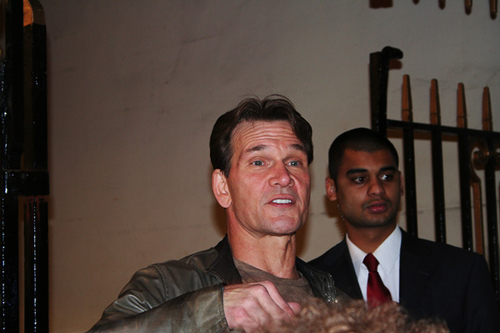 Photo by wbear
Patrick Swayze was an American actor, dancer and singer-songwriter. He received critical praise for his roles in the films Dirty Dancing and Ghost, and North and South television miniseries. He was named by People magazine as its "Sexiest Man Alive" in 1991.
In 2008 Swayze was diagnosed with pancreatic cancer but continued acting until 2009, when his illness progressed. Later the same year he died from the disease.
Early Life and Dancing
Patrick Wayne Swayze was born on August 18th, 1952, in Houston, Texas to parents Patsy Swayze who was the director of the Houston Jazz Ballet Company and Jesse Swayze. He had four siblings.
Swayze attended St. Rose of Lima Catholic School, Oak Forest Elementary School, Black Middle School, and Waltrip High School. He developed a love for ballet at an early age and in high school his athletic endeavors included gymnastics, ice skating, swimming, and football. After graduation, Swayze enrolled at San Jacinto College in Houston, Texas, where he studied gymnastics. Two years later, he left school to tour with the Disney on Parade ice show, as Snow White's Prince Charming.
In 1972, Swayze moved to New York City to pursue a formal dance career at the Harkness Ballet and Joffrey ballet schools. He was then hired as a principal dancer with the Eliot Feld Ballet Company. This was however short-lived as knee surgery for an old injury forced him to resign.
Broadway and Acting
In 1976 he made his Broadway debut in Goodtime Charley and later appeared in West Side Story. In 1978, Swayze performed the lead in the musical Grease which led to several movie and television offers. In 1979 he made his Hollywood film debut in Skatetown, U.S.A. and later received critical praise for his appearance in Francis Ford Coppola's The Outsiders.
In 1981, Swayze landed a role on the television series M*A*S*H. During the mid 1980s, Swayze appeared in films including Red Dawn and Grandview, U.S.A. (1984). In 1987 he was cast in his second hit movie Dirty Dancing which quickly established him as Hollywood's newest sensation and earned him a Golden Globe nomination. Swayze also tried his hand at singing and released the Billboard Hot 100 single "She's Like the Wind" for the Dirty Dancing soundtrack.
Following Dirty Dancing, Swayze appeared in several films including Road House and his 1990 romantic hit Ghost, major action hit, Point Break (1991), HBO's Letters from a Killer (during which he suffered severe injuries from a fall), Waking Up in Reno (2000), Donnie Darko (2001), and King Solomon's Mines (2004).
In 2007, Swayze appeared in the film Christmas in Wonderland and starred alongside his younger brother Don Swayze in Powder Blue.
Personal Life and Death
Patrick Swayze married Lisa Niemi June 12, 1975 after meeting her in 1970 when she was a student at his mothers dance studio. Swayze had lost his father in 1982 to a heart attack and his sister Vicky in 1994 to suicide. He began drinking heavily as a means to cope with his pain.
Swayze was diagnosed with Stage IV pancreatic cancer in late January 2008 and after twenty months of battle he succumbed to the disease in September 2009.