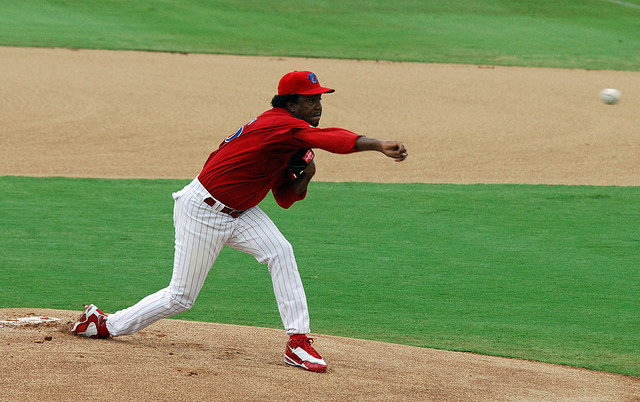 Photo by Eric Kilby
Biography of Pedro Martinez
Major League Baseball (MLB) player Pedro Martinez is the starting pitcher for the Philadelphia Phillies. He has been recognized three times as an outstanding pitcher by receiving the Cy Young Awards.
In April 2006, Martínez had the highest winning percentage of any 200-game winner in modern baseball history and in the following year he became the 15th pitcher to reach 3,000 career strikeouts.
Early Life and Career
Pedro Jaime Martinez was born on October 25, 1971, in Manoguayabo, Dominican Republic. Martinez's father, Paolino Martinez was as a janitor and his mother, Leopoldina Martinez provided domestic services. Martinez had two older brothers, Ramon and Nelson, and a younger brother, Jesus. He also had two sisters.
His brother Ramon Martinez was also a MLB player that went 135-88 with a 3.67 ERA in 301 Major League games from 1988-2001 with the Dodgers, Red Sox and Pirates. Ramon also toured Japan with the Major League All-Star team in 1996. It seemed as though MLB greatness ran in the Martinez family as Paolino Martinez had been one of the most respected pitchers on the island during the 1950s
In 1987 Martinez was signed by Los Angeles scout Ralph Avila after Avila recognized the talent of the youngster. He also signed Martinez's younger brother Jesus. Martinez pitched for the Dodgers' Dominican Summer League 1988 – 1989 and simultaneously attended classes at the Ohio Dominican College.
In 1990 he was assigned to the Dodgers' Pioneer League team in Montana. Martinez was the team's best pitcher and ranked as the league's number three prospect after going 8-3 in 14 starts. Martinez's fastball was hitting 90 mph on the gun and his opponents were awed by the incredible arm speed he generated with his small frame as he only weighed 135 pounds.
In 1991 Martinez was named by The Sporting News as its Minor League Player of the Year. He pitched at the Single-A, Double-A and Triple-A levels, fashioning an 18-8 record with a 2.28 ERA. Martinez started the year at Bakersfield. He went 8-0 Next, in 12 starts for San Antonio, he pitched a league-high three shutouts. At Albuquerque where he finished the 1992 season, Martinez went 3-3 in six late-season starts.
Major League Career
Martínez made his Major League debut on September 24, 1992 for the Dodgers against the Cincinnati Reds, working two scoreless innings of relief. He made his first start for the Dodgers on September 30. He then turned in a strong season as the Dodgers setup man in 1993, but was eventually traded to the Montreal Expos for Delino DeShields before; Martinez became one of the top pitchers in baseball and was the only Expo player to ever win the National League Cy Young Award in 1997.
Towards the end of 1997 Martinez was again traded, and this time to the Boston Red Sox. He became the largest paid pitcher when signed to a six-year, $75,000,000 contract. Martinez made a 19-7 record in 1998 and placed second in the American League in ERA, WHIP, strikeouts, and the Cy Young voting.
In 1999, Martínez finished 23–4 with a 2.07 ERA and 313 strikeouts. He earned the pitching Triple Crown, won the American League Cy Young Award and placed second in the Most Valuable Player ballot.
In 2004, Martínez became a free agent and signed a 4-year contract with the New York Mets. In his first season he posted a 15–8 record with a 2.82 ERA, 208 strikeouts, and a league-leading 0.95 WHIP, which became his sixth title. Martinez Mets contract ended with 32–23 in 79 starts, with a 3.88 ERA and a 1.16 WHIP.
Martinez represented Dominican Republic's squad for the 2009 World Baseball Classic, but despite his good performance the team was eliminated early on in the tournament. 2009 saw Martinez debut as a starter for the Philadelphia Phillies. On September 3rd Martinez became the tenth pitcher in history to win a minimum of one hundred games in each league. The Phillies won each of Martinez's first seven starts, the only time in franchise history since 1900 that this had occurred with any debuting Phillies pitcher
Martinez ended the 2009 World Series with 4 runs in 4 innings, falling to 0-2 as the Phillies lost the sixth game to the New York Yankees.