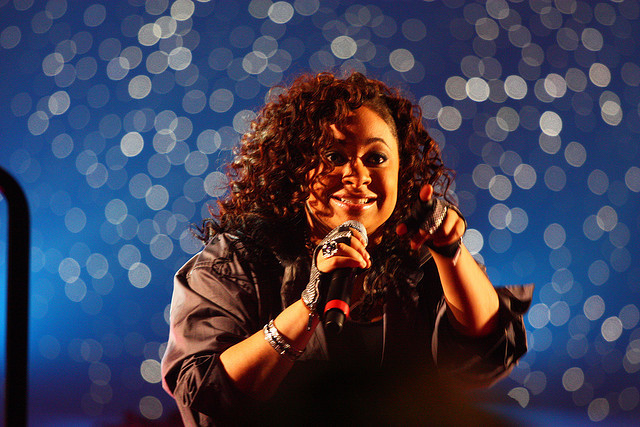 Photo by alexlc13
Early Life
Raven-Symoné Christina Pearman was born on December 10, 1985, in Atlanta, Georgia to Lydia and Christopher B. Pearman. She lived and grew up in Ossining, New York where she attended Park School. As an infant Raven worked for Atlanta's Young Faces Inc. Modelling Agency and was featured in local print advertisements. At the age of two she worked with Ford Models in New York and appeared in ads for Ritz crackers, Jell-O, Fisher Price, and Cool Whip. She went on to audition for the film Ghost Dad at the age of three, but was considered too young to play the role. However, having not gained that part, she was recommended for a part on The Cosby Show and was eventually cast as Olivia, the three year old stepdaughter of Denise Huxtable (Lisa Bonet), the main character's daughter, in September 1989. Raven held that part until the end of the series in 1992, where after she joined the cast of ABC's sitcom, Hangin' with Mr. Cooper as Nicole, the cousin of Mark Curry's character Mark Cooper.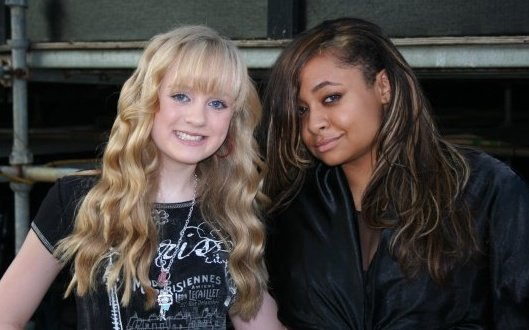 Photo by timgrable
Acting
During her time on the show Hangin' with Mr. Cooper, Raven managed to secure her first big screen role in the movie, Little Rascals, playing Stymie's girlfriend. Following that, she was then cast in the Eddie Murphy comedies, Dr. Dolittle (1998) and Dr. Dolittle 2 (2001) as Charisse Dolittle. After auditioning for a role in an up and coming series titled, Absolutely Psychic, for the Disney Channel in 2002, Raven was cast as the role of the best friend, but after being reviewed, Disney executives decided to cast her as the lead character Raven Baxter and change the series name to That's So Raven. The series made its debut on January 17, 2003, and became Disney Channel's highest rated and longest running series. While filming for the series, Raven also voiced Danielle in Fat Albert and made an appearance in The Princess Diaries 2: Royal Engagement in 2004. The Disney channel series, starring Raven was nominated for an Emmy Award for Outstanding Children's Program in both 2005 and 2007. The show became the first show in Disney history to have a spin-off, titled Cory in the House. Raven starred as lead singer Galleria Garibaldi in The Cheetah Girls, a Disney Channel Original Movie in 2003. The movie, Disney's first musical, was hugely successful and launched a massive franchise. Raven reprised her role in 2006 and starred in The Cheetah Girls 2 for which she also served as executive producer. When the third instalment of The Cheetah Girls began production, Raven did not return to reprise her role citing irreconcilable differences with her co-actors.
Alongside Martin Lawrence, Raven acted in her first lead film role in College Road Trip, which opened at number 2 in the Box Office during 2008. As part of the Tinker Bell franchise, Raven will also be reprising her role as Iridessa in Tinker Bell and the Lost Treasure (1009) and Tinker Bell and the Great Fairy Rescue (2010). She also stars in Chris Rock's documentary Good Hair which was released in October 2009; Raven appeared on the Tyra Show on October 8, to promote the documentary.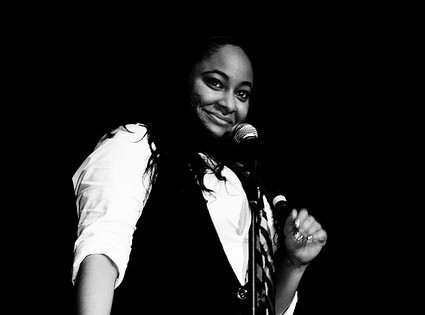 Photo by Cody Jensen
Music
Raven's recording career began at age five when she signed a contract with MCA Records. Her first commercial success came after singing some songs on the That's So Raven soundtrack album, which debuted and peaked at number forty-four on the Billboard 200 and has been certified Gold by the RIAA for sales of 500,000 copies. Following this, Raven recorded two studio albums with Hollywood Records, and a third for TMG records. It was officially announced that Raven and Hollywood Record had parted ways in 2008, after she had completed her 2 CD deal with the company, she decided not to renew her contract.