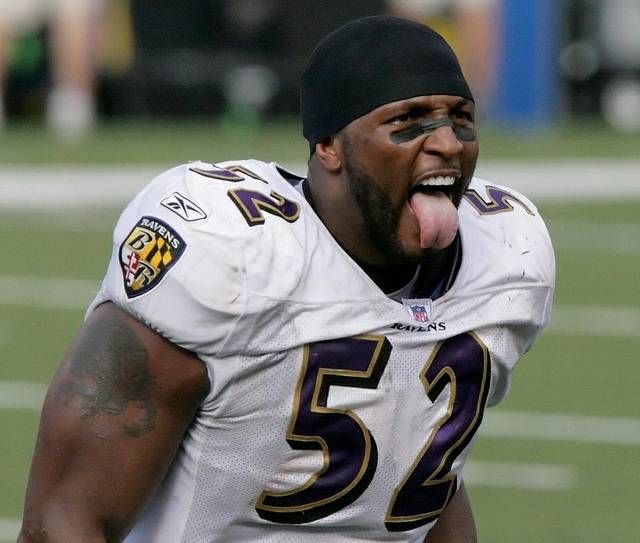 Early Life
Ray Anthony Lewis was born on May 15, 1975, in Bartow, Florida and studied at the University of Miami. In his freshman year, Lewis was a useful contributor in college football and became a starter for the Hurricane's last five games. Due to his good performance, he was named to the freshman All-American team, and in his sophomore year, he was successful in being named to All-American and All-Big East teams.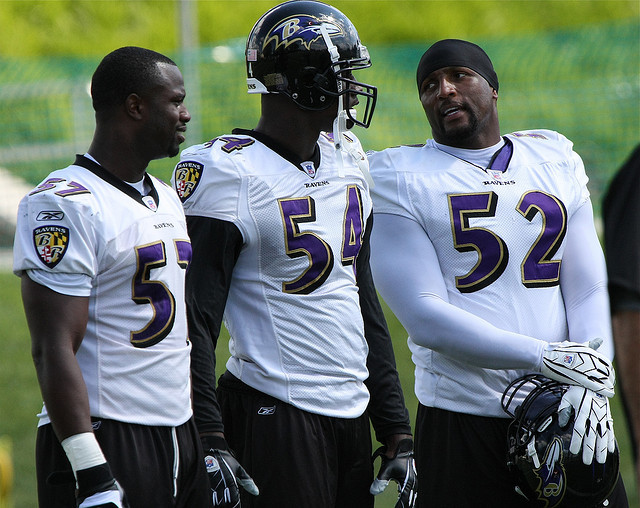 Photo by Keith Allison
Career
After being named again to the All-American and All-Big East teams in his junior year, Lewis became the runner up for the Butkus Award and subsequently decided to drop out of college and enter NFL draft. In the 1996 NFL draft, he was selected in the first round by the Baltimore Ravens, but later earned his under graduate degree in Arts and Science from University of Maryland University College in 2004.
For his stature, Lewis was considered to be too small to play the linebacker position. However, he proved his detractors wrong with his performance and earned a spot in the USA Today's All-Rookie team during the 1996 season. In the following year, he earned his first Pro Bowl berth and his second Pro Bowl spot in 1998. Thereafter, he was named to The Sporting News All-Pro team and was named for his third straight Pro Bowl in 1999; he was also named to the All Pro 1st team.
Lewis won the Super Bowl XXXV MVP honour in 2000, and also the defensive Player of the Year honour. In the following year he went on to earn his fifth consecutive Pro Bowl selection before sustaining a shoulder injury in 2002, which put a stop to his consecutive selection to the Pro Bowl. By the year 2003 and 2004, however, he was successful in regaining his honours, but the season of 2005 was, again, cut short by injury. In 2006, he finished with the fifth Defence Player of the Year title and was named to Associated Press first team All Pro in 2008. After the end of that season, he became an unrestricted free agent.
Photo by armistar_photo
Personal Life
Lewis started the Ray Lewis 52 Foundation, a non-profit corporation with the mission to provide personal and economic assistance to disadvantaged youth. His foundation has funded the adoption of ten families in Baltimore City for the holidays, an annual auction and bowling tournament, the Great Maryland Duck Derby, Thanksgiving food drives on North Avenue in Baltimore and Ray's Summer Days. All the proceeds have helped fund the Ray Lewis Foundation.
Accompanying his passion for community service, Lewis is also an accomplished businessperson, and is the founder of the Ray Lewis Full Moon Bar-B-Que located in Baltimore's Canton neighbourhood which opened in February 2005. Unfortunately, the restaurant closed in 2008, and no further information is available on the circumstances which led to the shut down. Lewis has several national corporate endorsements, and in 2004 he was placed on the cover of the highly popular Madden NFL 2005 video game distributed by EA Sports.