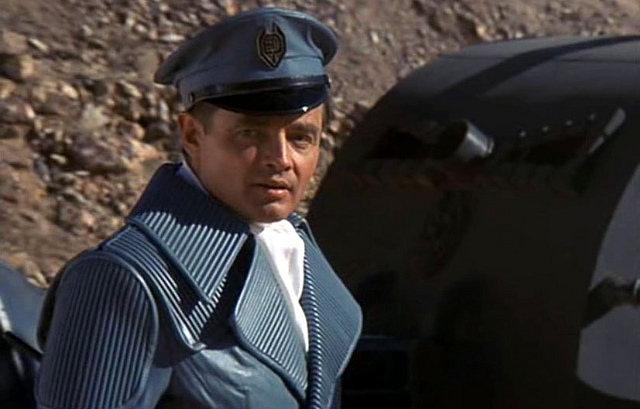 Photo by ikrichter
Early Life
Richard Jordan was born Robert Anson Jordan, Jr., on July 19, 1937, in New York City to Robert and Constance Jordan. In 1942, Jordan's parents went through a divorce and his mother, Constance, remarried Newbold Morris, president of the New York City Council.
Career
In 1958, after graduating from Harvard in 1958, Jordan earnestly began to pursue his career in acting. He made a Broadway appearance in 1961, with Art Carney and Elizabeth Ashley in Take Her, She's Mine. Around that time, he began working in television productions, appearing in episodes of The Defenders, Naked City, Empire and Wide Country. He also did acted in association with Joe Papp's Public Theatre in Shakespearean productions including The Tempest, The Merchant of Venice and As You Like It. Jordan returned to Broadway in 1966 with an appearance in Generations with Henry Fonda.
In 1970, Jordan turned his attention to work in feature film. In 1971, he played a young opportunistic assassin in Valdez is Coming with Burt Lancaster, which spawned a film career in portraying a variety of villains. Through the rest of the 1970s, Jordan was cast as a host of villains and mixed good guy villains in films such as Rooster Cogburn (1975), Logan's Run (1976), and Interiors (1978). He also, occasionally, played the 'good guy' in movies life, Old Boyfriends (1979), in which he was cast as the father of his real life daughter, Nina Jordan.
While working in feature film, Jordan still remained dedicated to the stage, joining Ralph Waite in the L.A. Actor's Theatre, and writing, directing and performing in plays such as Venus of Mencshen Falls (1978). In 1976, Jordan earned a Golden Globe award, and an Emmy nomination for the production of the television miniseries Captains and the Kings.
Throughout the 1980s Jordan starred in a variety of films including, Raise the Titanic, Flash of Green, The Mean Season and The Secret of My Success. In 1981, he co-starred in the acclaimed television production of The Bunker, playing the role of Albert Speer to Anthony Hopkins' Hitler, and acted in ten episodes of the popular television series The Equaliser (1987-1988), helping to fill in for the star, Edward Woodward, who was recovering from a heart attack. On the stage, he continued to gain lead roles, and won an Obie award for his New York appearance in Václav Havel's, A Private View in 1983. He also won an L.A. Drama Critic's Award for directing another Havel play, Largo Desolato in 1987.
Jordan's health soon began to fail in 1990s, and while filming The Fugitive in April 1993, he was forced to withdraw from the production after learning he was afflicted with a brain tumour. His last film to be released was Gettysburg(1993), which was filmed during the summer of 1992. The film was dedicated to Jordan and to the author Michael Shaara whose novel The Killers Angels was adapted into the film.
Personal Life
Jordan died on August 30, 1993, cared for by his daughter Nina and his last companion, Marcia Cross. Jordan had Nina from his marriage to actress Kathleen Widdoes (1964 to 1972), and a son Robert from his nine year relationship with actress Blair Brown. At the time of his death, he had been in a five year relationship with actress Marcia Cross; a memorial in Jordan's honour was held at the Mark Taper Forum in Los Angeles on October 8, 1993, the day Gettysburg was released.