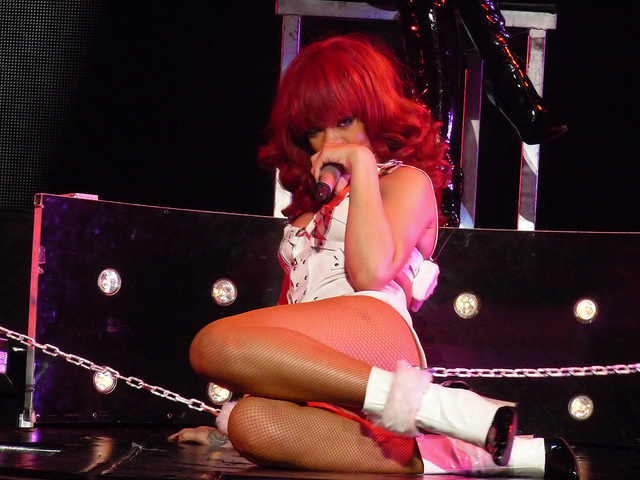 Photo by schiller44
Early Life
Robyn Rihanna Fenty was born on February 20, 1988, in St. Michael, Barbados, to Monica and Ronald Fenty. Her childhood in Barbados was deeply affected by her father's addiction to crack cocaine and a rocky marriage between her parents which ended when she was only 14 years old. As an outlet, Rihanna turned to singing and formed a girl group with two classmates. By the time she was 15, Rihanna auditioned for veteran producer Evan Rogers, who took her in to live with himself and his wife, while Rihanna cut a four-song demo. In 2004, her demo made its way to Def Jam and the Rihanna is invited to audition for rapper turned Def Jam president Shawn "Jay-Z" Carter, who signed her to the label on the same day of audition.
Career
On August 30, 2005, Rihanna's first single, Pon de Replay, is released kicking off the debut of her first album, Music of the Sun, which peaked at number 2 on Billboards Hot 100. To promote her album which sold over 2 million copies worldwide, Rihanna went on tour with Gwen Stefani and gained rave reviews from prominent entities like the Rolling Stone. Rihanna's sophomore album was released eight months after the release of her debut, on April 25, 2006. Titled, A Girl Like Me, her sophomore effort boasted Billboard Hot 100 chart-toppers, S.O.S and Unfaithful, earning her four Billboard Music Awards, including Female Artist of the Year. However, her success was rivalled by gossip of a romantic relationship between herself and her mentor Jay Z, who was at the time dating R&B sensation Beyoncé Knowles.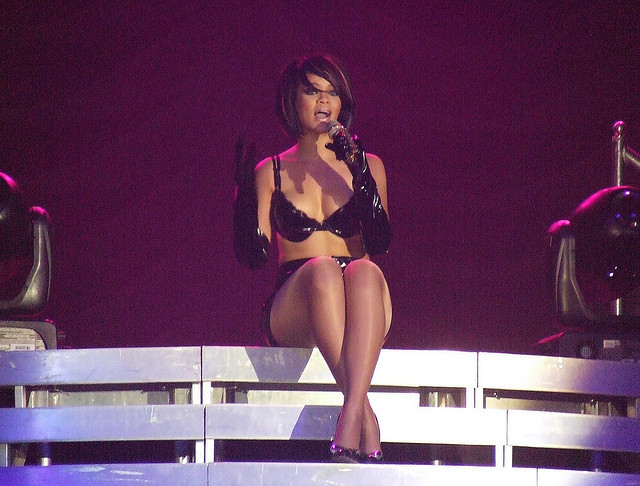 Photo by MiKeARB
In March 2007, Rihanna sheds away her sweetheart image for an edgier look and sound. Her single, Umbrella was released on March 29, 2007, and climbed to the top spot on Billboard's Hot 100 in June to kick off her then imminent third album, Good Girl Gone Bad. In May 2007, Rihanna became the face of Cover Girl Cosmetics, and appeared in People's Most Beautiful issue without makeup. She was also listed at number 8 on Maxim's Hot 100 and number 59 on EW's 100 Stars We Love. Her third studio album debuted later than year in June, at number 2 on Billboard's Top 200 album chart. In September, Rihanna takes home two of the evening's most prestigious awards at the 2007 MTV Video Music Awards, for her hit Umbrella winning in the categories of Video of the Year and Monster Single of the Year. On that night, Rihanna was nominated for a total of five awards including Female Artist of the Year.
Rihanna's success only escalated in the following year when she earned her first Grammy Award at the 2008 award ceremony. In the same year, Rihanna became linked to R&B singer Chris Brown, and appears on several popular magazine covers like Cosmopolitan and Elle. However, Rihanna's personal life took a ghastly turn in February 2009 when she and now ex boyfriend Chris Brown, became embroiled in a domestic violence drama that result in Brown, 19, being charged with two felonies after allegedly beating Rihanna. In June, Brown was sentenced to five years probation and 180 days of community labour. In November 2009, after keeping her silence throughout the very public spectacle of her assault, Rihanna comes forward to relate the events of the previous months following her tragic incident, to Diane Sawyer in a televised interview. Rihanna's highly anticipated fourth studio album, Rated R, is set to be released on November 23, 2009.