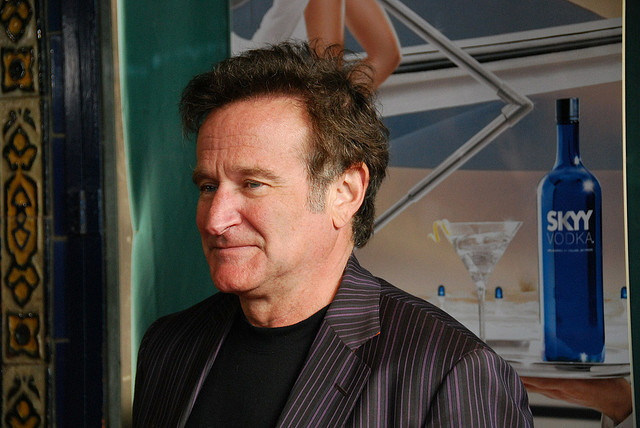 Photo by Steve Rhodes
Early Life
Robin McLaurim Williams was born on July 21, 1951, in Chicago Illinois to Laura McLaurim and father Robert Williams. He grew up in Bloomfield Hills, Michigan, where he attended the Detroit Country Day School, and Martin County, California, where he was a student at the public Redwood High School. After high school, Williams attended Claremont Men's College for four years.
Williams became one of the only 20 students accepted into the freshman class at the Juilliard School, in 1973, and one of the only two students to be accepted by John Houseman into the Advanced Program at the school in that year. Williams was known to quickly master all dialects quickly in his dialects class while attending school.
Career
Williams' career launched with his debut in the television comedy series, Mork and Mindy (1978-1982), in which he played the role of a zany alien, Mork, from the planet Ork. He moved into film with his appearance as Popeye (1981), and went on to play signature roles as wise, comic oddballs in heartfelt dramas. In 1987, he was Oscar nominated for the film, Morning, Vietnam, two years later he received another nomination for film, Dead Poets Society, and in 1991, he gained a third nomination for Fisher King, before finally winning an Academy Award for his performance in the 1997 film, Good Will Hunting. His comedic performances include his roles as the genie in Disney animated feature, Aladdin, the title role in 1980s Popeye, as a cross dressing father in Mrs. Doubtfire (1993), and as a grown-up Peter Pan in the 1991 Spielberg film, Hook.
Maintaining a stand-up comedy career, Williams joined Billy Crystal and Whoopi Goldberg as cohost for many Comic Relief benefit shows. He has also done a number of stand up comedy tours, including the most notable: An Evening with Robin Williams (1982), Robin Williams: At the Met (1986), and Robin Williams LIVE on Broadway (2002) which broke many long standing records for a comedy show; in some cases, tickets were sold out within thirty minutes of going on sale.
Personal Life
During Williams' first marriage to Valerie Velardi, he was involved in an extramarital relationship with Michelle Tish Carter, whom he met in 1984. Ms. Carter sued the actor in 1986 claiming she contracted herpes from him, without his notification; the case was settled out of court. He married Marsha Garces, his son's nanny who was already several months pregnant with his child on April 30, 1989. Together the couple had two children, before Garces filed for divorce from Williams in March 2008 citing irreconcilable differences. Williams became addicted to cocaine in the late 1970, early 1980s but has since quit, prompted to do so by the death of his close friend and the birth of his son. Williams checked himself into a substance abuse rehabilitation center on August 9, 2006, later admitting to alcoholism.
On March 2009, Williams was hospitalised due to heart problems, causing him to postpone his one man tour to undergo surgery to replace his aortic valve. The surgery was successfully completed on March 13, 2008, at the Cleveland Clinic.