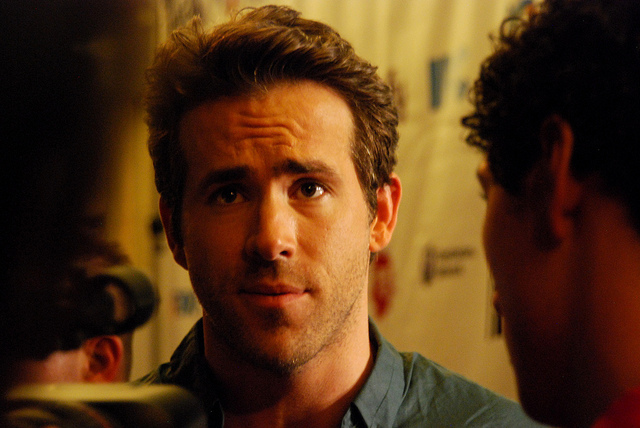 Photo by cmjcool
Early Life
Ryan Rodney Reynolds was born on October 23, 1976, in Vancouver, British Columbia, Canada, to James and Tammy Reynolds. He is the youngest of four brothers, and attended the Kitsilano secondary School in Vancouver before graduating in 1994. He went on to attend Kwantlen College in Vancouver before dropping out. In his youth, Reynolds held several jobs at places such as yacht clubs, night clubs, and grocery stores; he also created an improv. comedy group in Vancouver called Yellow Snow as a child.
Career
In 1990 Reynolds landed the starring role as Billy in the Canadian produced teen soap, Hillside, distributed in the United States by Nickelodeon as Fifteen. This role started his career, and as an adult, Reynolds went on to star in the National Lampoon movie Van Wilder and the American television series Two Guys, A Girl and a Pizza Place, in which he played the role of medical student Michael "Berg" Bergen."
In 2004, he made a cameo appearance in Harold & Kumar Go to White Castle as a nurse, appeared in The In-Laws (2003) with Michael Douglas and Albert Brooks, and acted in the Canadian production Foolproof (2003). In 2005, Reynolds played the role of a waiter named Monty in Waiting…, and as a music executive, Chris Brander, in the romantic comedy Just Friends with co stars Amy Smart and Anna Faris. Three years later, in the film, Definitely, Maybe, Reynolds played the role of the protagonist, and appeared in the second season finale of the television series Scrubs, in which he was cast as Spence, a college friend of J.D. And Turk. Reynolds also guest starred as Brendan's friend, Hams, in the episode Douchebag in the City, of the TBS sitcom My Boys (2007). In 2009, he portrayed the character of Andrew Paxton, starring opposite Sandra Bullock in the highly successful romantic comedy The Proposal.
Despite his persistent presence in comedies and comedic roles, Reynolds has played the dark character George Lutz in the remake of the horror movie The Amityville Horror. Before playing an action role as the character of Hannibal King, in the film Blade: Trinity, which also starred Wesley Snipes and Jessica Biel, Reynolds had to undergo intense physical training. He was later cast in the role of an FBI agent alongside Ray Liotta in the crime action movie Smokin' Aces.
Personal Life
Reynolds began dating Canadian singer Alanis Morissette in 2002 before announcing their engagement in June 2004. Later, in February 2007, representatives for both announced that the couple had mutually decided to end their engagement. Soon after the end of his relationship with Morissette, Reynolds began dating actress Scarlett Johansson, and the couple later announced their engagement on May 5, 2008. The wed on September 27, 2008, in a ceremony near Tofino, British Columbia.