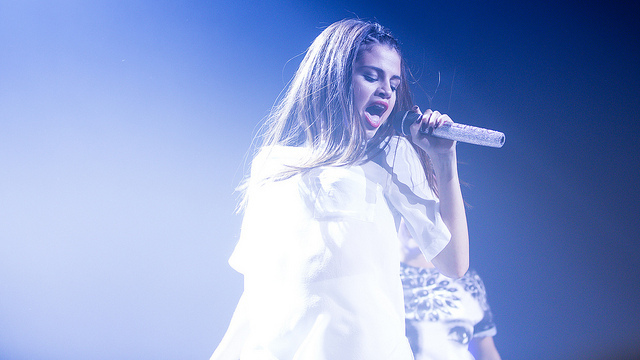 Photo by NRK P3
Early Life
Selena Quintanilla was born on April 16, 1971, in Lake Jackson, Texas, to a Mexican father, Abraham Quintanilla Jr., and a Mexican-American mother, Mercella Ofelia Samora. Selena was raised as a Jehovah's Witness and began singing from as early as the age of six. When she was only nine years old, her father founded the singing group Selena y Los Dinos, which she fronted. Initially, the group performed at the Quintanilla family's restaurant, PappaGayo's, but shortly after the restaurant failed.
Soon after the restaurant closed down, Selena's family went bankrupt and was evicted from their home. The relocated in an old bus, taking with them their musical equipment, to Corpus Christi, Texas. There, they performed where ever they could and their efforts at spreading their names and talents paid off in 1985 when Selena, at fourteen years old, recorded her first album for a local recording company. However, the album was not sold in stores and her father bought all the originally copies; in 1995, it was re-released under the title Mis Primeras Grabaciones.
Selena did well in school, but her performance dwindled as her popularity as a music performer grew, and travel demands conflicted with her school schedule. While in the eighth grade, she was pulled from school altogether and she continued her education on the road. At seventeen she earned a high school diploma from The American School of Correspondence in Chicago, Illinois.
Career and Success
Selena became known as the "Queen of Tejano," a type of Mexican music that incorporated other genres like country. She was often referred to as the 'Mexican Madonna' because of her sexy outfits and dance moves. Initially, Selena sang in Spanish, learning the lyrics phonetically since she understood the language, but did not speak it at first. However, she later became a fluent speaker.
Selena's popularity escalated with Tejano music fans and she went on to win Best Female Vocalist of the Year and Performer of the Year at the 1987 Tejano Music Awards. Her album, Ven Conmigo (1990), was the first Tejano record to achieve gold record status, selling over 500,000 copies. Taking a break from her hectic schedule in 1992, Selena married Chris Perez her band's lead guitarist in April.
With continued success, Selena won the Grammy Award for Best Mexican-American Album in 1993, for the album Live. She played numerous tour dates with her band in 1994, and her third album Amor Prohibido was released in the same year reaching gold. Following this, Selena began working on an English language album that she hoped would put her on top of the U.S. Pop music charts. However, she did not live to see its success as she died on March 31, 1995, in Corpus Christi, Texas, after being shot by Yolanda Saldivar, the founder of the Selena fan club. Saldivar was the manager of Selena's boutique in San Antonio and was about to be fired for embezzlement. Selena's murder was shock throughout the Latino community and her fans around the world mourned her passing.
Dreaming of You, her first English language album was released posthumous and became a huge success. Her music remains popular to date, and her life story, since her untimely death, has been the subject of a 1997 film starring Jennifer Lopez as the Tejano superstar and James Edward Olmos as her father.