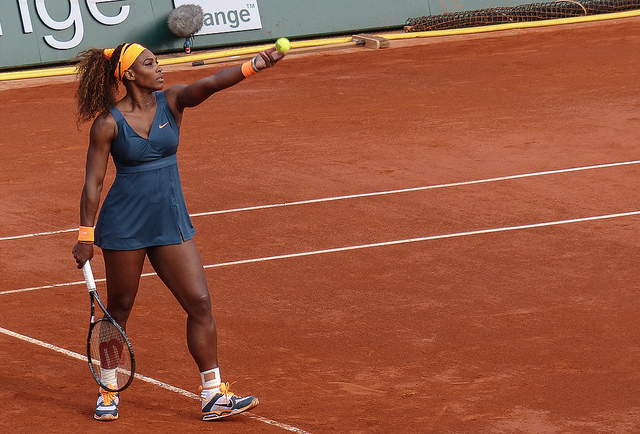 Photo by y.caradec
Early Life
Serena Jameka Williams was born in Saginaw, Michigan to parents Richard Williams and Oracene Price. She is one of five sisters as was raised as Jehovah's Witnesses. While young, she moved with her family to Los Angeles, in the Compton suburb, where she started playing tennis at the age of four. Both Serena and her sister Venus were home schooled and was coached in tennis by both her parents. To date, her parents remain her coach.
At the age of nine, Serena relocated with her family to West Palm Beach, Florida, to attend the tennis academy of Rick Macci, who would provided additional coaching. When Serena was 10, her father stopped sending her to national junior tennis tournaments, because he wanted them to take it slow and focus on their education. However, his other motivation was racial, as he had heard parents of white players talking about the Williams sisters in a derogatory manner during tournaments. At that time, Serena had a 46-3 record on the United States Tennis Association junior tour and was ranked number one among under 10 players in Florida. In 1995, Richard took over all the coaching of his daughters at their home, after pulling them from Macci's academy.
Tennis Career and Achievements
When Serena started out in the big tennis leagues, things got off to a rocky start. In 1995, she suffered a glaring defeat at the Bell Challenge in Quebec, Canada, her first major tournament and in 1997, she was ranked 304th, even though she beat the seventh ranked, Mary Pierce, in the second round, and fourth ranked Monica Seles in the quarterfinals, at a 1997 Ameritech sponsored tournament in Chicago. With continuous encouragement from her father, Serena continued her upward spiral of improvement and by 1999, Serena was ranked at number twenty-one, after managing to beat sixth seed Irina Spirlea before losing to her sister Venus at the 1998 Australian Open, Serena's fist Grand Slam singles event.
After much hard work, it paid off, as in the following September, Serena won her first title at the U.S. Open, beating out higher ranked players like Martina Hingis and Lindsay Davenport. On the following day, she and her sister won the Ladies' Doubles tournament, making it evident that Serena was on her way to becoming one of the greatest tennis players of all time.
Subsequently, her stunning performances have launched her into the number one position, right above her sister, a first for siblings in the sport, and together, she and Venus are the biggest threat in tennis today. Her success has brought her to the attention of producers and agents, and along with being featured with Venus on a 2001 episode of The Simpsons, Serena has made a cameo appearance in Martin Lawrence's Black Knight and in rapper Memphis Bleek's video, Do My, featuring Jay-Z. With numerous endorsement deals with athletic show companies like Puma in the works, Serena is not only fulfilling her father's dreams, she is surpassing them.
Personal Life
Serena is currently romantically linked with rapper, Common. In 2008, she helped to fund the construction of the Serena Williams Secondary School in Matooni, Kenya. She received a Celebrity Role Model Award from Avon Foundation in 2003 for work in breast cancer charities. Serena has also been involved in a number of clinics at schools and community centres, particularly those which have programs focusing on at risk youth. She has been the recipient of the Young Heroes Award from Big Brothers Big Sisters of Greater L.A. And Inland (2003) and the Family Circle and Prudential Financial Player Who Makes a Difference Ward (2004).