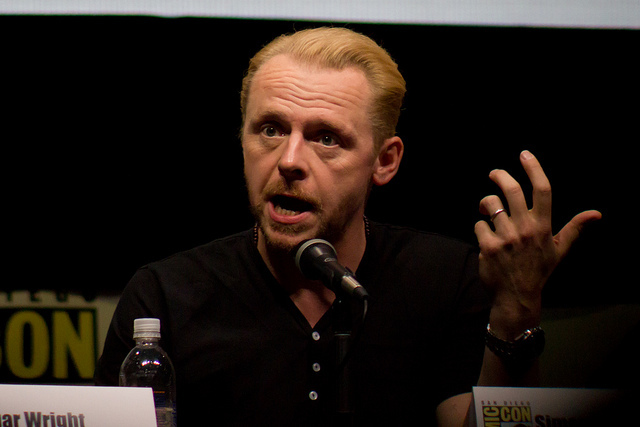 Photo by vagueonthehow
Early Life
Simon Pegg, originally named Simon John Beckingham is an English performer, stand-up comedian, writer, moving picture producer and director. He was born on February 14, 1970, in Brockworth, Gloucestershire, England, to parents Gillian Rosemary (née Smith), a civil servant, and John Henry Beckingham, a jazz performer and keyboard seller. Pegg's parents separated when he was 7 years old and he altered his surname to 'Pegg' when his mother remarried.
Pegg went to various varying institutions including Castle Hill Primary, Brockworth Comprehensive Secondary and Stratford-upon-Avon college where he studied English Literature and Performance Studies. Pegg attended the University of Bristol where he practiced drama and graduated in 1991 with a Bachelor of Arts degree in theatre, film and television.
Career
In 1993 Pegg moved to London where he was employed as a stand-up humorist; in 1995 he took his show to the Edinburgh Festival which opened the door for him to perform at carnivals in Adelaide and Melbourned in Australia, and in Auckland, Wellington and Christchurch in New Zealand in 1996 and 1997.
Pegg's work as a stand-up comedian acquired the interest of a few TV producers and he had appearances in TV programs such as Asylum, Six Pairs of Pants, Faith in the Future, Big Train and Hippies. From 1998 Pegg was usually featured on BBC Radio 4 and in 1999 he made and co-wrote the situation comedy Spaced with Jessica Stevenson; or this task Pegg recruited his real-life closest friend Nick Frost. Pegg was nominated for Best Male Comedy Newcomer in the British Comedy Award as a result of Spaced.
In 2004 the horror comedy Shaun of the Dead was released which was co-written by Pegg and Edgar Wright and starred by Pegg and in the same year Pegg starred in a spin-off to the TV show Danger! 50,000 Volts! called Danger! 50,000 Zombies!
Pegg's next major job was in Mission: Impossible III where he acted as Benji Dunn, an I.M.F. technician who provides help to Ethan Hunt (Tom Cruise). Then in 2006 he acted as an American character, Gus, in the movie Big Nothing alongside David Schwimmer.
In 2006, Pegg along with Wright completed their second film, Hot Fuzz, which was released in February 2007. This film also has Nick Frost as co-star and is part 2 of the 'Blood and Ice Cream' trilogy by Pegg and Wright; Part 3 which is cautiously called The World Ends and is once more co-starred by Pegg and Frost should be seen in 2010.
In 2007 Pegg starred in The Good Night and Run Fatboy Run directed by David Schwimmer; in 2009 he started production on Paul in which Frost is the star and Pegg is the sidekick.
Personal Life
Pegg is married to Maureen McCann and has a single daughter and a dog named Minnie. They presently reside in Finsbury Park, London, where Shaun of the Dead was filmed.
Pegg is a large fan of Star Wars and usually makes references to it in his work. Pegg is very good friends with Chris Martin and Gwyneth Paltrow and is the godfather of their daughter Apple.