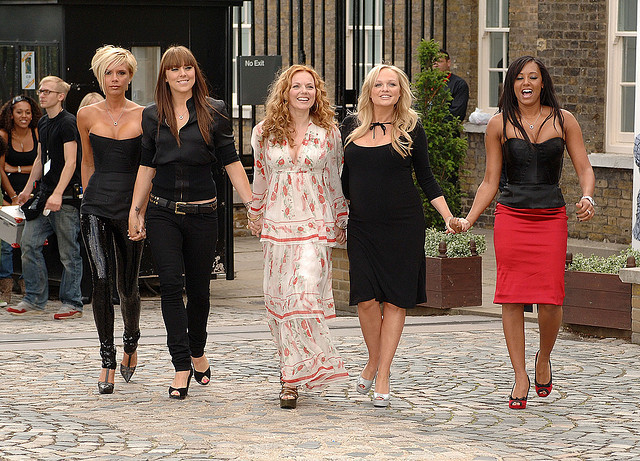 Photo by jeb0921
Early Life
Melanie Chisholm or Sporty Spice was born January 12, 1974 in Whiston, Merseyside. At the Doreen Bird College of Performing Arts in Sidcup, Kent, Melanie C studied for a diploma in dance, singing, drama and musical theatre when she left school at 15. She had replied to an advertisement by Chris and Bob Herbert who were searching for girls to create an all girls Pop group to compete with the boy bands. She had gained her teaching and qualifications in Tap and Modern Theatre and then in 1994 she became a member of the group Spice Girls.
Career
When the fifth member of the group, then called Touch, Lianne Morgan had to leave the group, Melanie came in and took her place. Along with Melanie Brown, Emma Bunto, Victoria Adams and Geri Halliwell they released their first album "Spice" with their debut single "Wanna Be". They became number one over the world. Melanie Chisholm normally wore a track suite, her hair in a pony tail and a bad boy attitude. That was how she got the name Sporty Spice. After their third album 'Forever', that was when Chisholm began her solo career. The first step toward this was when she did collaborations with Bryan Adams a Canadian rocker called "When You're Gone". She released her first album "Shooting Star" in 1999. She had many singles but it was her third single "Never Be the Same Again" that she was recognized as a solo artiste. It was a top 5 hit in Germany and number 2 in Australia. Eventually after releasing her fifth single from her alum it was certified three time platinum in the UK for selling more than 900,00 copies, Platinum in Germany for selling over 5000,00, Gold in Brazil for selling 100,000 copies and Gold in Australia for selling over 35,000 copies. She continues to release singles and do more collaboration. In July 2009 it was revealed that she planned to release a new album in 2010.
Personal Life
Melanie's name has been linked to dating persons such as Jason McAteer a football player, Robbie Williams and Anthony Keidis who are both singers. She says that she loves Madonna and Stevie Wonder. She also stated that she love the animated movie Toy Story. She has eleven tattoos.