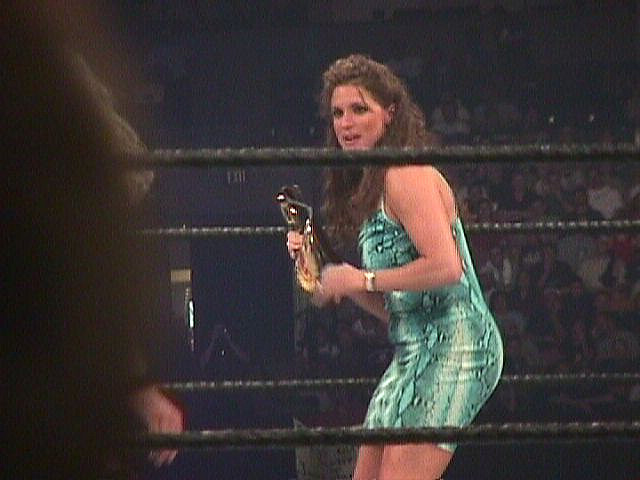 Photo by scorpio10708
Early Life
Stephanie Marie McMahon now Lévesque was born on September 24, 1976 in Hartford, Connecticut. Her father is Vincent McMahon, president of the WWE and mother Linda McMahon is the CEO. She has a brother named Shane McMahon. She attended the Greenwich high school and Barton University where she graduated 1998 with a degree in Communications. She then began working in the WWE full time.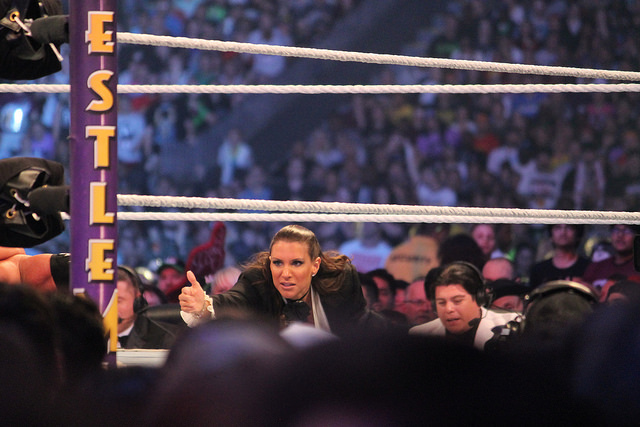 Photo by ohhsnap_me
WWE (World Wrestling Federation)
Seeing as both her parents and her brother was involved in the WWF it was obvious that was the turn that Stephanie was going to take with her life. She has been invaded in many plots on WWF. She debuted as the sweet innocent daughter of Mr. McMahon. The Undertaker was obsessed with her and had abducted her and almost married her in the middle of the ring but she was rescued by another wrestler. She also developed an on screen relationship with wrestler Test which led to a rivalry with him and her brother Shane. Stephanie went on to marry Tripple H, he drugged her and took her to Vegas for a drive thru wedding. McMahon later revealed that she had purchased Extreme Championship Wrestling and intended to bankrupt the WWF (in reality, the ownership of ECW assets at this time was highly disputed), along with her brother Shane, who had become the on-screen owner of World Championship Wrestling (WCW), and the two rosters merged to form a "super group" known as The Alliance. McMahon returned to the WWF, which was renamed WWE, as the general manager of Smackdown. She became a fan favorite. Her father Vince began to resent her attempts to stop him from pursuing an affair with Sable. She and her father had a wrestling match which her mother Linda had to throw in a towel that made her lose but saved her life as he was choking her with a lead pipe. As a result of losing she disappeared from WWE television for two years. She returned in various segments trough out the year. Since 2007 she is the Executive Vice President of Talent, Creative Writing and Live Events.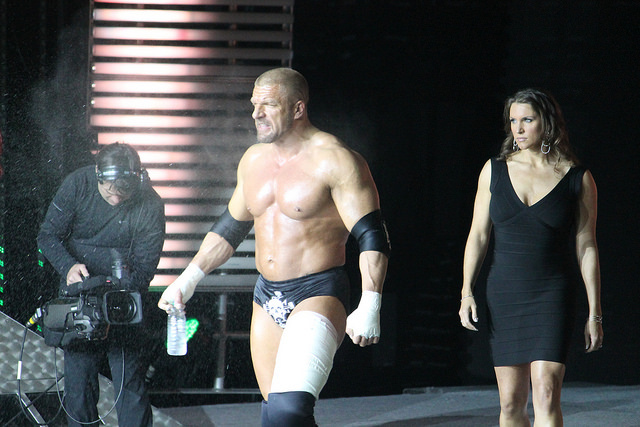 Photo by ohhsnap_me
Personal Life
She got breast implants in 2001. During an interview in 2002 she said that she was thinking about getting even bigger. She has also been accused of having initiated the firing of Joanie "Chyna" Laurer, who left the WWF in 2001. McMahon has appeared on The Howard Stern Show, Jimmy Kimmel Live!, and Opie and Anthony. In November 2001, McMahon appeared on a special episode of The Weakest Link where WWF personalities competed against each other for their respective charities. She married Paul "Triple H" Levesque and they now have two daughters, Aurora and Murphy.