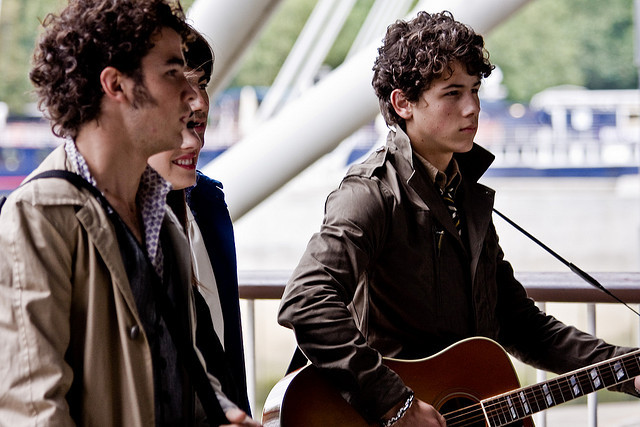 Early Life
The Jonas Brothers is an American pop rock boy band that consists of Paul Kevin Jonas II (Kevin Jonas), Joseph Adam Jonas (Joe Jonas) and Nicholas Jerry Jonas (Nick Jonas). While growing up the brothers were exposed to a Christian lifestyle by their parents. Their father was an Assembly of God Pastor. At the age of 13, Nicholas Jonas was diagnosed with diabetes and has since been an advocate for diabetes awareness.
Career
Joe Jonas plays the percussions, the guitar and the keyboard and is one of the lead vocalists of the group. Nick Jonas plays the drums, rhythm guitar and piano, he is also a lead vocalist while Kevin Jonas plays the lead guitar and piano and does mainly backing vocals. The group originally started their career through their performance on Disney Channel children's television network.
The band started out as a solo project for Nick Jonas who at age 7 was doing a lot of Broadway and play performances. In 2000 he acted in plays such as A Christmas Carol, Annie Get Your Gun in 2001 and Beauty and the Beast in 2002. Nick also written, recorded and performed a song called 'Joy to the World' while performing in Beauty and the Beast. The song was discovered by an executive at Columbia Records in September 2004 and soon after he was sign to Columbian and INO Records. After being signed he released a song titled 'Dear God' which was supposed to be the second single from his album which was supposed to be released the following December but was pushed back. Even though the album was not officially released, it caught the attention of Columbia Record's new President Steve Greenberg who was fond of Nick's voice. Nick and his brothers had written several songs for the album and after hearing a song performed by all three brothers, Columbia Records decided to sign the brothers as a group act.
The group considered being called 'Sons of Jonas' until they settled with 'Jonas Brothers. In 2005 they performed as opening acts for various artist on their tours such as the Backstreet Boys and Kelly Clarkson, just to name a few. They also performed with The Cheetah Girls and Aly & AJ on an anti-drug tour. In 2006 they opened for the Veronicas. The band then started to collaborate with several writers for their debut album and on December 27, 2005, their first single entitled 'Mandy' was released and followed by the music video. Mandy was featured on Nickelodeon's television film Zoey 101: Spring Break-Up. They also covered two hit songs by UK band 'Busted – Year 3000' and 'What I Go to School For'. Their debut album, Its About Time was finally released on August 8, 2006 but only a limited amount of copies were made, about 50,000.
The band has gone on to release more albums: Jonas Brothers, A Little Bit Longer and Lines Vines and Trying Times which is their latest music project. And their music career has yielded a lot of success for them. In July of 2008 The Jonas Brothers became the youngest band to be on the cover of the Rolling Stone Magazine.
The Jonas Brothers acting debut came as guest stars on season 2 of the popular Disney Channel Original Series, Hannah Montana which is starred by Miley Cyrus. The episodes were entitled 'Me and Mr. Jonas and Mr. Jonas and Mr. Jonas'. They collaborated with Miley Cyrus again as the opening act on the tour of her 3d Concert Film titled "Hanna Montana & Miley Cyrus: Best of Both Worlds Concert".
The Brothers soon went on to star in their own Disney Channel reality short series entitled Jonas brothers: Living the Dream which premiered on May 16, 2008 on the Disney Channel. The show documented their lives on tour which featured clips of their band travelling, performing, studying, rehearsing and their everyday personal lives with family and friends. The show aired on Disney until September 5, 2008. They were also featured on a special half-hour variety show entitled 'Studio DC: Almost Live which features 'The Muppets' as well as Disney Channel stars.
The groups film debut came when they starred in Disney Channel's Original Movie called Camp Rock where they played a band called 'Connect Three'. The film premiered on June 20 in the USA on the Disney channel. A publication of the behind the scenes clips was also made in the fall of 2008. Two shows held in Anaheim, California were filmed by Disney's Digital 3-D production crew which was released in theatres as a 3D concert film on February 27, 2009.
Personal Life
All members of The Jonas brothers have expressed that they are committed Evangelical Christians They have signified their vow to abstain from premarital sex so each brother wears a purity ring as a symbol of their promise to themselves and God to stay pure until marriage. Nick also stated that is was a way of being different from everybody else out there. The Jonas Brothers are known to have a family friendly image.
In the year 2007, The Jonas Brothers reportedly earned $12 million dollars out of which they donated 10% of their earnings to a charity program they started called 'Change for the Children Foundation'. The foundation then makes donations to other charities such as 'Nothing But Nets, "American Diabetes Foundation' and others.
Discography
It's About Time (2006)
Jonas Brothers (2007)
A Little Bit Longer (2008)
Lines, Vines and Trying Times (2009)
Filmography
Hannah Montana (2007)
Jonas Brothers: Living Dream (2008)
Camp Rock (2008)
Jonas Brothers: The 3D Concert Experience (2009)
JONAS (2009)
Night at the Museum: Battle of the Smithsonian (200)
Atrevete a Sonar (2009)
Camp Rock 2 (2010)