Photo by casajump
Early Life
Thomas Jefferson was born on April 13, 1743. He is the third of eight children for Peter Jefferson and Jane Randolph. His father took personal charge of William Randolph's estate, an old friend, as well as his infant son Thomas Randolph, Jr. That year they relocated to Tuckahoe where they remained for several years before returning to Albemarle. Thomas's father was given the position of Colonelcy, an important position at that time.
Photo by Robert Goodwin
Education
Jefferson began attending a local school in 1752, which was run by a Scottish minister. When he was nine he began studying Latin, Greek, and French. When he was 14 years old, his father died and Jefferson inherited about 5,000 acres of land and dozens of slaves. He built his home there, which eventually became known as Monticello. After his father's death he attended the school of the learned minister James Maury from 1758 to 1760. The school was near Gordonsville, Virginia, twelve miles (19 km) from Shadwell, and Jefferson boarded with Maury's family. There he received a classical education and studied history and science. At the age of 16 Jefferson entered the College of William & Mary in Williamsburg. He studied there for two years, graduating with highest honors in 1762. He had enrolled in the philosophy school and studied mathematics, metaphysics, and philosophy. He then read law with George Wythe and was admitted to the Virginia bar in 1767.
Photo by happy via
Career
Jefferson went on to handle many cases as a lawyer in colonial Virginia, managing more than a hundred cases each year between 1768 and 1773 in General Court alone. Jefferson's client list included members of the Virginia's elite families, including members of his mother's family and the Randolph's. Besides practicing law, Jefferson represented Albemarle County in the Virginia House of Burgesses beginning in 1769. In 1774 he wrote a set of resolutions against the acts, which were expanded into A Summary View of the Rights of British America, his first published work. Jefferson served as a delegate to the Second Continental Congress beginning in June 1775, soon after the outbreak of the American Revolutionary War. When Congress began considering a resolution of independence in June 1776, Jefferson was appointed to a five-man committee to prepare a declaration to accompany the resolution. The committee selected Jefferson to write the first draft probably because of his reputation as a writer. Jefferson showed his draft to the committee, which made some final revisions, and then presented it to Congress on June 28, 1776. After voting in favor of the resolution of independence on July 2, Congress turned its attention to the declaration. Over several days of debate, Congress made a few changes in wording and deleted nearly a fourth of the text, most notably a passage critical of the slave trade, changes that Jefferson resented. On July 4, 1776, the wording of the Declaration of Independence was approved. The Declaration would eventually become Jefferson's major claim to fame, and his eloquent preamble became an enduring statement of human rights. He went on to become the Third President of the United States from March 4, 1801 – March 4, 1809.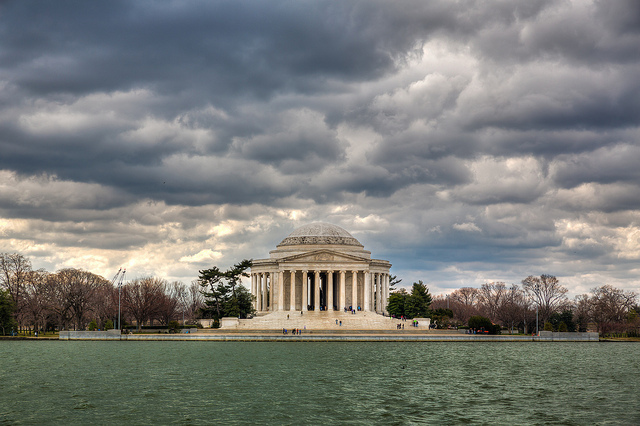 Photo by SpreadTheMagic
Personal Life
In 1772, at age 29 Jefferson married the 23-year-old widow Martha Wayles Skelton. They had six children: Martha Jefferson Randolph (1772–1836), Jane Randolph (1774–1775), a stillborn or unnamed son (1777), Mary Jefferson Eppes (1778–1804), Lucy Elizabeth (1780–1781), and another Lucy Elizabeth (1782–1785). Martha died on September 6, 1782, after the birth of her last child. Jefferson never remarried; although he is alleged to have had a long-term, intimate relationship with one of his slaves, Sally Hemings, a quadroon, who was believed to have been a half-sister to Jefferson's late wife. During the administration of President Jefferson, journalists and others alleged that he had fathered several children with Hemings after his wife's death. Late twentieth century DNA testing indicated that a male in Jefferson's line, possibly Thomas Jefferson himself, was the father of at least one of Sally Hemings's children.