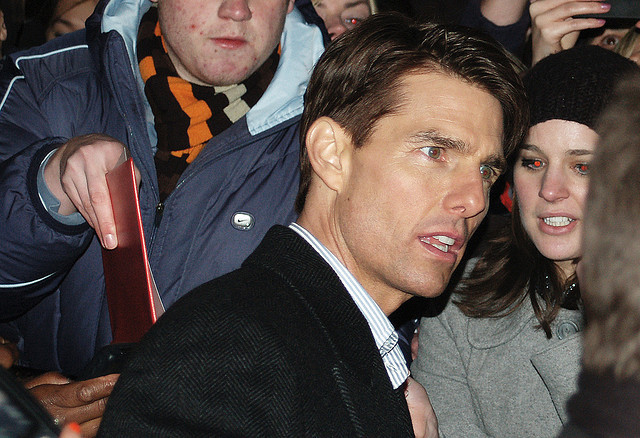 Photo by lewishamdreamer
Early Life and Education
Born on July 3, 1962 in Syracuse, New York, Thomas Cruise Mapother IV thought that the only thing he wanted to become in life is a priest. He is the son of Mary Lee, a special education teacher and Thomas Cruise Mapother III, an electrical engineer. Cruise attended Robert Hopkins Public school for grades three, four, and five. He completed grade six at Henry Munro Middle School, part of the Carleton Board of Education. When Cruise was twelve his mother left his father, taking Cruise and his sister Lee Anne with her. They were living close to the poverty line and it was Tom's newspaper delivery job that put food on the table. Cruise lived in Louisville, Kentucky; Winnetka, Illinois; and Wayne, New Jersey. In all, Cruise attended eight elementary schools and three high schools. Cruise has said that he was abused as a child; this was partially due to his suffering from dyslexia. He stated that when something went wrong, his father came down hard on him. Having gone through 15 schools in 12 years, Cruise dropped his father's surname at age 12.
Career
Tom started acting after being sidelined from his high school's wrestling team due to a knee injury. While injured, he successfully auditioned for a lead role in his high school's production of Guys and Dolls and decided to become an actor after his success in the role. In 1981, he had a small role in Endless Love, a drama/romance film starring Brooke Shields, this was his first film role. Cruise was then selected as the first choice by producers Jerry Bruckheimer and Don Simpson for an upcoming American fighter pilot film. He was welcomed with success the year when he received Academy Award nominations for Oliver Stone's 'Born on the Fourth of July'. The following year he starred in Sydney Pollack's The Firm along with Gene Hackman and Ed Harris. He won Favorite Dramatic Motion Picture at the People's Choice Awards. In 1994, Cruise starred along with Brad Pitt, Antonio Banderas and Christian Slater in Neil Jordan's Interview with the Vampire, a gothic drama/horror. In 2000, Cruise returned as Ethan Hunt in the second installment of the Mission Impossible films, releasing Mission: Impossible II, it continued the series' blockbuster success at the box office, taking in almost $547M in worldwide figures, like its predecessor, being the third highest grossing film of the year. Mission: Impossible III was more positively received by critics than its predecessor, and grossed nearly $400 million at the box office. In 2008, Cruise appeared in the hit comedy Tropic Thunder with Ben Stiller and Jack Black and this performance earned him a Golden Globe nomination. Cruise partnered with his former talent agent Paula Wagner to form Cruise/Wagner Productions in 1993. The company has since co-produced several of Cruise's films, the first being Mission: Impossible in 1996 which was also Cruise's first project as a producer. He won a Nova Award for Most Promising Producer in Theatrical Motion Pictures at the PGA Golden Laurel Awards in 1997 for his work as a producer for the film Mission: Impossible. Motion Pictures at the PGA Golden Laurel Awards in 1997 for his work as a producer for the film Mission: Impossible. On August 22, 2006, Paramount Pictures announced it was ending its 14-year relationship with Cruise.
Personal Life
Cruise married Mimi Rogers on May 9, 1987; they divorced on February 4, 1990. Rogers is generally believed to have introduced Cruise to Scientology. Cruise met Nicole Kidman on the set of their film Days of Thunder. The couple married on December 24, 1990. He and Kidman adopted two children, Isabella Jane and Connor Antony. They separated in February 2001 when Kidman was three months pregnant; she later miscarried. Cruise was next romantically linked with Penélope Cruz, the lead actress in his film Vanilla Sky. After a three-year relationship, in March 2004, Cruise announced in January that their relationship had ended. In April 2005, Cruise began dating actress Katie Holmes. Shortly after they began their highly publicized relationship, on June 17, 2005, Cruise announced he had proposed to her at the top of the Eiffel Tower in Paris. On April 18, 2006 Katie gave birth to a baby girl named Suri. The couple married in Bracciano, Italy on November 18, 2006.