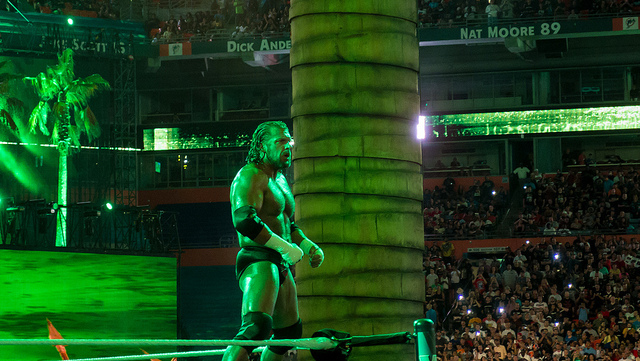 Early Life
Paul Michael Levesque also known as Triple H was born on July 27, 1969 in Nashua, New Hampshire. After graduating from high school in 1987 Levesque became a bodybuilder which he was interested in at the age of fourteen. He entered several bodybuilding competitions where he was crowned Teenage Mr. New Hampshire at the age of nineteen. He then met Ted Arcidi and began to consider a career in professional wrestling. Paul enrolled at Killer Kowalski's wrestling school in 1992 after it was recommended to him by Ted. He joined the Independent Wrestling Federation (IWF), which used trainees from his school in their promotions. He became the IWF Heavyweight Champion and started using the name Terra Ryzing.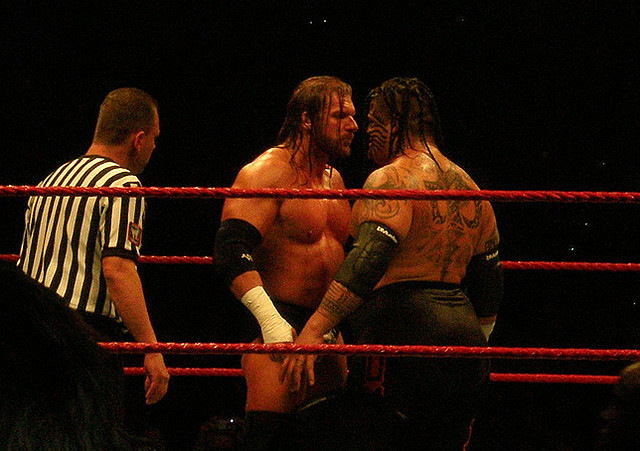 Photo by Snerkie
Career
Early 1994 Levesque signed a one year contract with World Championship Wrestling (WCW). In his first televised match he played a villain and defeated Brian Armstrong. Until mid-1994, when he was renamed Jean-Paul Lévesque he had continued to use the name Terra Ryzing and it was during this time, he began using his finishing maneuver, the Pedigree. Between late 1994 and early 1995, Levesque briefly teamed with Lord Steven Regal, whose snobby British persona was a good match with his similar persona. The team was short-lived however, as Lévesque left for the WWF in January 1995 after WCW turned down his request to be pushed as a singles competitor. Levesque started his WWF career as the "Connecticut Blueblood" Hunter Hearst Helmsley. Although he was heavily pushed in the first few months after his debut, Levesque's career stalled during 1996, starting off with being mired in a feud with Duke "The Dumpster" Droese following a loss in the Free For All at the 1996 Royal Rumble. Levesque was known backstage as one of the members of The Kliq, a group of wrestlers including Shawn Michaels, Kevin Nash, Sean Waltman and Scott Hall, who were known for influencing Vince McMahon and the WWF creative team.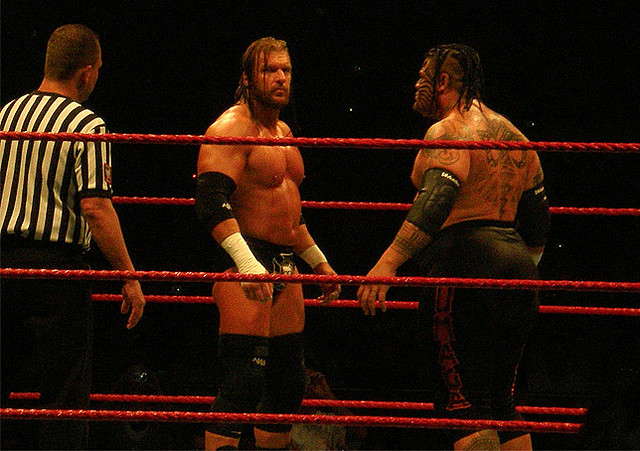 Photo by Snerkie
After losing the Intercontinental title, he feuded with Goldust, defeating him at WrestleMania 13. During their feud, Chyna debuted as his new bodyguard. Shawn Michaels, Helmsley, Chyna and Rick Rude formed D-Generation X (DX). This stable later became known for pushing the envelope, as Michaels and Helmsley made risqué promos—spawning the catchphrase "Suck It", using a "crotch chop" hand motion, and sarcastically deriding Bret Hart and Canada. By January 2000, Triple H dubbed himself "The Game," implying that he was at the top of the wrestling world, and was nicknamed "The Cerebral Assassin" by Jim Ross. On the January 3 edition of Raw is War, Triple H defeated The Big Show to win his third WWF championship. On January 7, 2002 at Madison Square Garden, he won the Royal Rumble and received a WWF Undisputed Championship match at WrestleMania X8. In January 2003, Triple H formed a stable known as Evolution with Ric Flair, Randy Orton, and Batista. During the 2009 WWE Draft, Triple H was drafted from SmackDown to Raw and on the August 17 episode ofRaw, Triple H reunited with Shawn Michaels to reform DX, and defeated Legacy at Summer Slam. Levesque also appeared in a Wendy's commercial holding up a Triple Classic Burger calling it the "Triple H Burger" Paul had appeared in the movie, Blade: Trinity, as a vampire enforcer named Jarko Grimwood. He was also featured in the August 14, 2005 episode of MTV's Punk'd.
Personal Life
Paul 'Triple H' Levesque married Stephanie McMahon on October 25, 2003. She gave birth to an 8 lb, 7 oz baby girl, Aurora Rose Levesque, on July 24, 2006. They had their second child on July 28, 2008, a daughter named Murphy Claire Levesque.