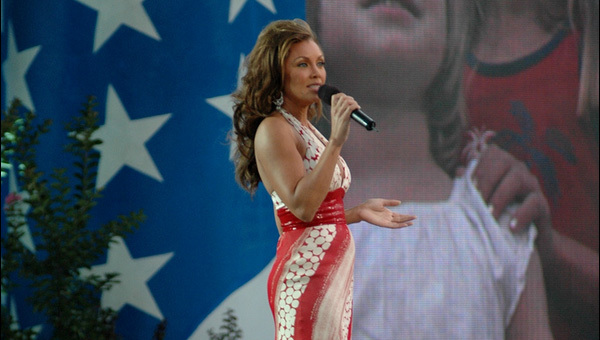 Photo by: John Athayde
Early Life
Vanessa Lynn Williams was born in Tarrytown, New York to Helen and Milton Augustine Williams Jr. on March 18, 1963. Williams along with her younger brother Chris, grew up in the predominant] white middle – class suburban area of Millwood, New York. s
As a child Williams, studied French horn and piano, however she had a strong liking for singing and songwriting. From 1981 to 1983, Williams was awarded a scholarship and she attended Syracuse University where she majored in Theatre Arts. She however discontinued her education at Syracuse during her sophomore year to fulfill her obligations as Miss America. Subsequently she left the university to focus on her entertainment career. Vanessa Williams soon graduated from Syracuse some twenty five years later.
Pageants and Miss America title
In the early 1980s Williams started competing in beauty pageants. In 1983 she won Miss New York and then moved on to the Miss America national pageant in Atlantic City. Her efforts paid off as on September 17, 1983 Williams made history when she was crowned Miss America. She was the first African American to win Miss America. Williams won the preliminary talent and swimsuit competitions before the final night of the competition. Her reign however was plagued with controversies and challenges. She was faced with angry racist hate mails and the target of many death threats; this was the first time in history that a reigning Miss America was targeted in this manner.
Prior to Williams being crowned Miss America, she had worked as a make up artist for a New York photographer. The photographer took several nude photographs of her with another woman, photographs which surfaced ten months into her reign as Miss America. This mortified Williams as she claimed she had never signed a release permitting the photos to be used. Penthouse publisher bought the photos and published them in their September 1984 issue; all this was without Williams' permission. A PBS documentary on Miss America claimed that the issue with Williams bought a $14 million windfall.
The media had a blast with the pictures which placed a huge amount of pressure on Williams to resign, which she did on July 23, 1984. The title consequently went to African American Suzette Charles the first runner up.
Though Williams resigned from fulfilling the duties of a current Miss America, she was allowed to keep the scholarship money and the bejeweled crown. She was also recognized by the Miss America Organization as Miss America 1984 and Suzette Charles as Miss America 1984b.
Music Career
Williams secured a record deal after spending come time away from the spot light. She released he debut album, The Right Stuff in 1988. Her album reached gold status in the United States earning her three Grammy Award nominations including one for Best New Artist. Since that time Williams has recorded eight albums with the ninth one scheduled to be recorded in January 2010.
Acting Career
Williams has been featured in several theatrical roles, feature film roles, television as well as other media appearances.
Personal Life
Vanessa L Williams is a Roman Catholic who has been married twice. Her first marriage was to her former manager Ramon Hervey 11 from 1987 to 1997, that marriage produced three children. Her second marriage was to Rick Fox, former NBA basketball player in 1999. That union produced a daughter, the marriage ended in 2004 when Fox filed for divorce. Currently Williams is single and living in New York.