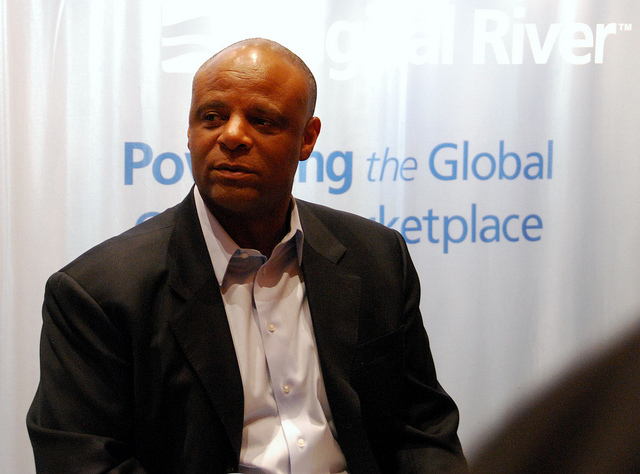 Photo by affiliatesummit
Warren Moon is a former American and Canadian football quarterback who played for the Canadian Football League's Edmonton Eskimos and the National Football League's Houston Oilers, Minnesota Vikings, Seattle Seahawks and Kansas City Chiefs.
Moon has received several accolades including the Pro Football Hall of Fame and Canadian Football Hall of Fame. He has also made history as the first (and only) modern African-American quarterback elected to the Pro Football Hall of Fame
Early Life
Harold Warren Moon was born November 18, 1956 in Los Angeles, California to parents Pat and Harold Moon. He had six sisters. The death of his father when he was seven years old prompted Moon to takeover household chores in support of his now single-parent mother.
Moon attended Alexander Hamilton High School. His extra curricular activities at school were also affected since his time only allowed him to take part in football; he played the role of quarterback. In his senior season, his team reached the city playoffs, and Moon was named to the all-city team.
Moon studied and played football at West Los Angeles College in 1974–75. He then went on to University of Washington where he represented the football team as a starter. During his senior year, Moon led the Huskies win over the University of Michigan Wolverines in the 1978 Rose Bowl and was named the game's Most Valuable Player.
Canadian Football
With a failed draft to the National Football League Moon enlisted in the Canadian Football League and signed with the Edmonton Eskimos in 1978. Moon helped lead Edmonton to six consecutive Grey Cup championships, from 1978 through 1983. He completed 1,369 of 2,382 attempts for 21,228 yards and 144 touchdowns.
Moon won the offensive Grey Cup Most Valuable Player award in the 1980 and 1982 games and won the CFL's Most Outstanding Player Award in his final season. In 2001 he became a Canadian Football Hall of Fame inductee and was placed on the Edmonton Eskimos Wall of Honor. In 2006, he was ranked fifth on a list of the greatest 50 CFL players presented by Canadian sports network TSN.
Welcome to the NFL
Moon joined the NFL's Houston Oilers and threw for a club record 3,338 yards in his first season with in 1984. In 1987, the Oilers made their first winning season since 1987 when they posted a 9–6 record. Prior to the start of the 1989 season, Moon became the highest paid player in the NFL (then) when he was given a 5 year, $10 million contract extension.
In 1990, Moon led the league with 4,689 passing yards. He also led the league in 584 attempts, 362 completions, and 33 touchdowns; he tied with Dan Marino's record with nine 300-yard games in a season. In 1991, he repeated his lead in passing yards 4,690 and became the third quarterback in history to post back-to-back 4,000-yard seasons. Moon also established new NFL records that season with 655 attempts and 404 completions.
Moon continued his success with the Oilers, his best and last season with the team was in 1993, before he was traded to the Minnesota Vikings. As a Houston Oiler, Moon set a franchise record for wins with 70.
In his debut Vikings season he passed for 4,264 yards and led the team to the playoffs. His second season passed for over 4,200 yards. Moon signed to the Seattle Seahawks as a free agent in 1997 and in 1999, he joined the Kansas City Chiefs and spent two seasons as a backup there before retiring in January 2001. Moon finished his football career with a rank of third all-time in NFL passing yardage and fourth in touchdown passes.