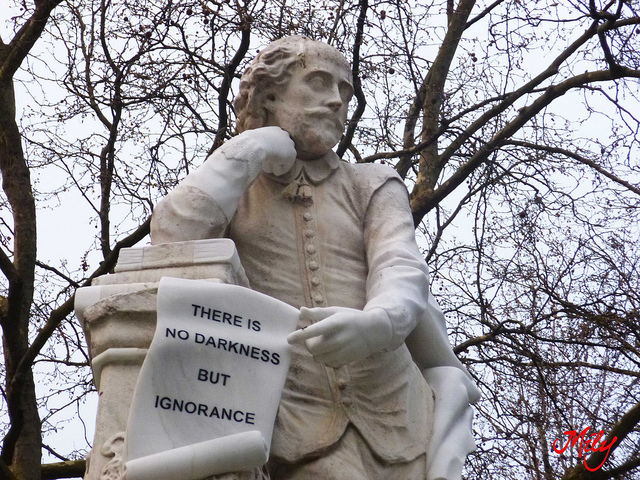 Photo by Milagritos9
Biography of Williams Shakespeare
William Shakespeare was an English poet and playwright, widely revered as a great writer in the English language. He is referred to as England's national poet and the "Bard of Avon".
His works include 38 plays, 154 sonnets, and several poems. His plays have been translated into worldwide and are performed more often than those of any other playwright.
Shakespeare was born and raised in Stratford-upon-Avon; he was baptized in the parish church of Stratford-upon-Avon in Warwickshire on the 26th of April, 1564. There is much speculation about the exact date of birth. His father, John Shakespeare, was a burgess of the constituted corporation of Stratford, and had filled certain minor municipal offices.
Shakespeare was married at the age of 18, to Anne Hathaway. The couple had three children: Susanna, and twins Hamnet and Judith. Between 1585 and 1592, he began a successful career in London as an actor, writer, and part owner of a playing company called the Lord Chamberlain's Men, later known as the King's Men.
Playwright
Various records stipulate that Shakespeare plays began showing in London by 1592. From 1594, Shakespeare's plays were performed only by the Lord Chamberlain's Men, a company owned by a group of players, including Shakespeare, and soon became the leading playing company in London; in 1603 the company received a royal patent and changed its name to the King's Men.
Shakespeare became a successful playwright and continued to act in his own plays as well as others which include Every Man in His Humour (1598) and Sejanus, His Fall (1603).
Shakespeare divided his time between London and Stratford during his career. He lived in various locations including the parish of St. Helen's, Bishopsgate, north of the River Thames. He moved across the river to Southwark by 1599, the year his company constructed the Globe Theatre there. By 1604, he had moved north of the river again, to an area north of St Paul's Cathedral.
Shakespeare did less writing after 1606/1607 and after 1613 no more plays were credited to him. His last three plays were collaborations.
Shakespearean Plays
Evidence shows that Shakespeare's plays may have been rewritten by other playwrights. Richard III and the three parts of Henry VI were written in the early 1590s. Studies reveal that Titus Andronicus, The Comedy of Errors, The Taming of the Shrew and The Two Gentlemen of Verona may also belong to Shakespeare's earlier works. In the mid 1590s Shakespeare presented: A Midsummer Night's Dream, a romantic comedy about the adventures of four young Athenian lovers and a group of amateur actors; The Merchant of Venice, a satirical drama-comedy; Much Ado About Nothing, As You Like It, and the Twelfth Night.
In the late 1590s and early 1600s Shakespeare wrote several plays which included elements of romance, comedy, tragedy, drama, prose and poetry. Some of his classics include Romeo and Juliet, Julius Caesar, Hamlet, Othello, Macbeth, and The Tempest.
Death
Shakespeare died on 23 April 1616 leaving behind his wife and daughters. He was buried in the chancel of the Holy Trinity Church two days after his death.