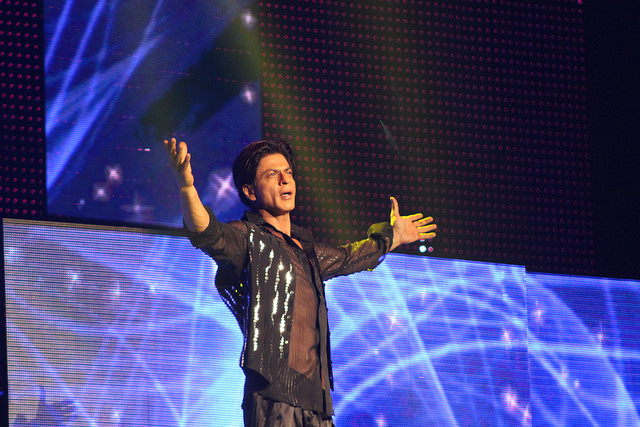 Photo by lauraleedooley
1. Shah Rukh Khan
Shah Rukh Khan is a highly paid Bollywood actor. He's been referred to as the "King" of Bollywood. He has been active since 1988 and has appeared in over 80 films. His career began in TV and theater, but soon made his feature film debut in 1992 starring in a musical that blends romance and action entitled Deewana, directed by Raj Kanwar. Fun fact: Khan replaced Armaan Kohli who'd walked out of the project. As a result, Khan earned his first major role in feature movie. Khan received a number of accolades for his stellar performance and versatility in films such as Baazigar and Darr,. He was also recognized for his work in Chak De! India and My Name is Khan–films that cross genres. Red Chilies Entertainment is partially owned by Khan. The production company which makes films such as Chennai Express and Always Kabhi Kabhi. Khan's wife Gauri Khan, is a film producer and costume designer. She is also co-owner of the production company. They have been married since 1991.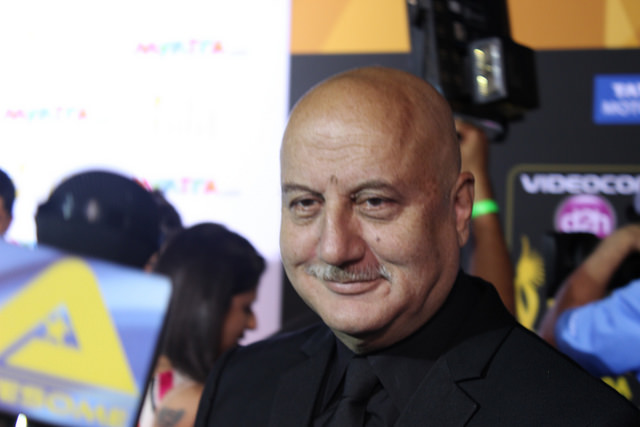 Photo by lauraleedooley
2. Anupam Kher
One of the most recognizable actors from Bollywood in America is Anupam Kher. He's been in films that are internationally recognizable such as Bend It Like Beckham, Lust, Caution by Ang Lee, and most recently in David O. Russell's Silver Linings Playbook. Kher is a Shimla-born actor, raised in a Brahmin family. He attended drama school as a student where he began has work as an actor, and later at Himachal Pradesh University. Kher has been active as an actor since 1982. He received the Best Actor award for his role in Saaransh/ in 1984. He also won the Best Comedian award in 1989 for his role in Ram Lakhan. Kher received two Bollywood Movie Awards including Best Supporting Actor in Salaakhen in 1999, and Best Comedian in Khosla Ka Ghosla in 2007. Kher has been married to actress Kirron Kher since 1985.

Photo by canburak
3. Irrfan Khan
Another recognizable Bollywood actor in America is Irrfan Khan. Khan plays a major role in multiple mainstream American films such as The Namesake, New York, I Love You, A Mighty Heart, The Darjeeling Limited, Slumdog Millionaire, The Amazing Spider-Man and The Life of Pi. He has been nominated and received numerous awards at the Filmfare Awards, Independent Spirit Award and Screen Actors Guild Award. In 2011, he received the Padma Shri award, which is considered one of the highest awards in India. Khan was born in Jaipur and raised Muslim. He attended drama school as a student in 1984, where he was able to attend on a scholarship. Khan began his career in 1988 in several television series. One of Khan's earliest box office hits includes the 2007 Indian drama directed by Anurag Basu entitled Life in a…Metro alongside Konkana Sen.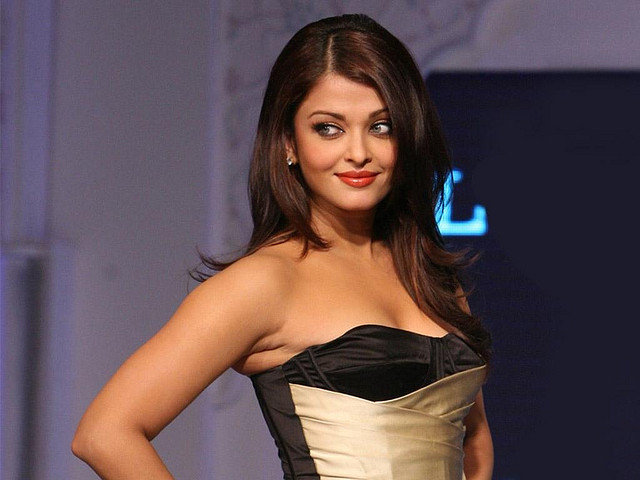 Photo by srkL
4. Aishwarya Rai Bachchan
Aishwarya Rai Bachchan is not only a beloved Bollywood actress but also winner of the "Miss Photogenic" award at the Miss World pageant in 1994. She was born to a marine biologist father in Mangalore, Karnataka. She began working as a model in 1991 after giving up her education at the Raheja College of Arts, where she initially had dreams of becoming an architect. She eventually made it into Vogue in 1991 after winning a supermodel contest. Her rise to fame began in 1993 when she appeared alongside actor Aamir Khan in a Pepsi commercial. Bachchan's acting debut was in 1997 in a film entitled Iruvar. She later starred in Hum Dil De Chuke Sanam which brought her acting career to a new level. In 2000, she started in the Rajiv Menon adaptation of Jane Austen's novel Sense and Sensibility entitled Kandukondain Kandukondain. The film was a success at the box office and among critics. Bachchan is currently a brand ambassador to several major corporations including L'Oreal, Palmolive, and Lux. She's the only actress who is known to have endorsed both Pepsi and Coca-Cola. Bachchan has also attended the Cannes Film Festival as a member of the jury panel.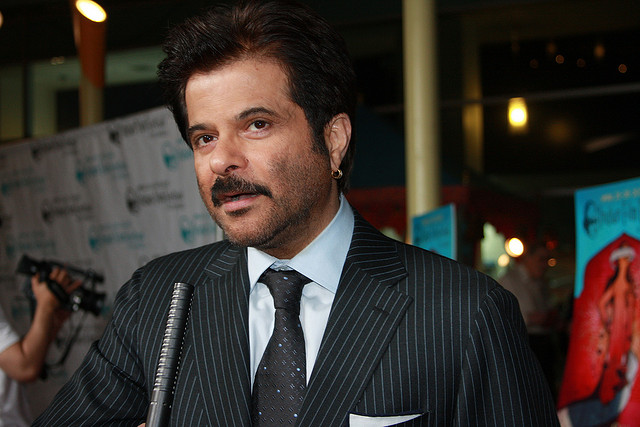 Photo by angshah
5. Anil Kapoor
Anil Kapoor is an Indian film producer and actor whose career in Bollywood spans over 35 years. He is perhaps most well-known for his role as the game show host in Danny Boyle's 2008 film Slumdog Millionaire. Kapoor first starred in Hamare Tumhare in 1979–his debut role. He also produced the critically acclaimed 2007 film Gandhi, My Father directed by Abbas Khan.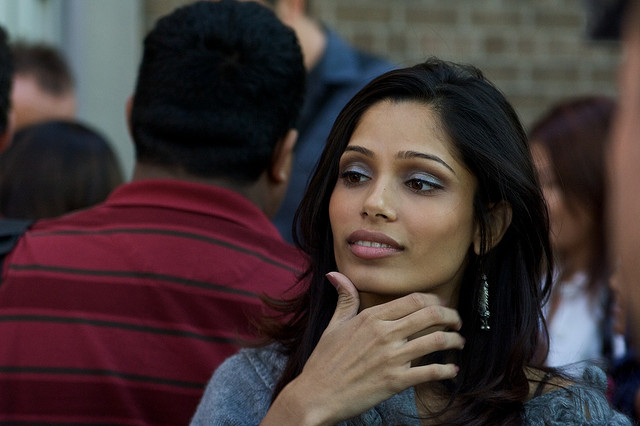 Photo by h0usep1ant
6. Freida Selena Pinto
Freida Selena Pinto is an Indian actress who has been in Woody Allen's You Will Meet a Tall Dark Stranger and Winterbottom's Trishna. She also starred in Immortals and in Rise of the Planet of the Apes. She studied English literature at St. Xavier's College in Mumbai, where she also participated in amateur theater. She was an economics and psychology minor. Pinto is perhaps most well-known for her role in Slumdog Millionaire alongside long-time partner and British actor Dev Patel. The couple announced their breakup in 2014.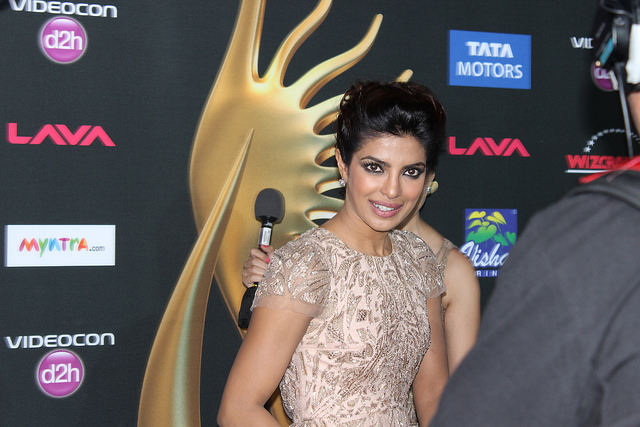 Photo by lauraleedooley
7. Priyanka Chopra
Priyanka Chopra is the 2000 Miss World pageant winner and known for her acting and singing career. Chopra is also considered one of the highest paid actresses in Bollywood. She was born to two Indian Army physicians in Jamshedpur. As a teenager, she lived in Newtwon, Massachusetts and Cedar Rapids, Iowa. She studied theater, classical music and dance. When Chopra starred in the 2008 Bollywood drama Fashion directed by Madhur Bhandarkar, she gained wide acclaim and was a box office and critical success. Chopra is also musically gifted and her singing was her main act in her early pageantry. She eventually signed a record deal in 2011. In 2012, her hit song "In My City" featured will.i.am. In 2013, her second single "Exotic" featured Pitbull.

Photo by boy kris
8. Mallika Sherawat
Mallika Sherawat is a Bollywood actress with a career in both film and fashion. Although frequently pigeonholed for her roles in risque films such as Khawish and Murder, Sherawat's work as an actress does have its serious merits. Her role in Pyaar Ke Side Effects was received with much critical acclaim and it led to more commercial features such as Aap Ka Suroor. She also stared in Hollywood films like Hisss and Politics of Love.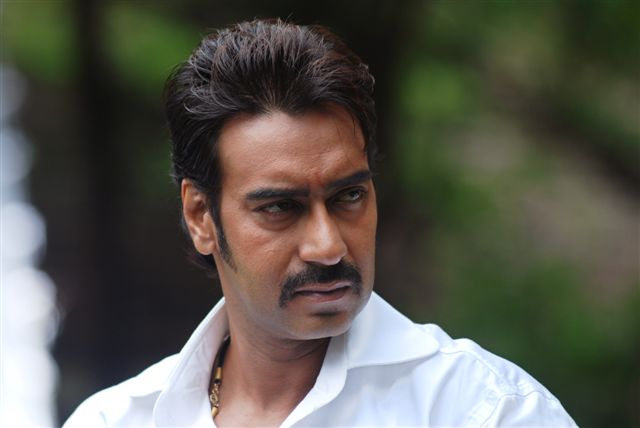 Photo by Mumbai Goes Rewind
9. Vishal Devgan
Vishal Devgan is a Bollywood actor and filmmaker of Punjabi origin. He's been active in the Bollywood scene since 1991. He made his cinematic debut in Phool Aur Kaante which was a commercial success. Devgan starred in multiple film and TV roles thereafter including the Bollywood remake of French Kiss. Devgan later played the lead role in a biopic of Bhagat Singh which gained critical acclaim for his portrayal. The 2002 film won numerous awards.

Photo by lauraleedooley
10. Randhir Kapoor
Randhir Kapoor is a famous Bollywood actor, producer and director whosefilm work dates back to the 1950s when he starred as a child actor in films. In 1972, he starred in three films that were released in the same year: Jawani Diwani, Raampur Ka Lakshman and Jeet. Kapoor is married to actress Babita. The two met on the set of Kal Aaj Aur Kal. They have two daughters–Karisma Kapoor and Kareena Kapoor. Although the couple separated, they never officially divorced and have since reconciled their differences. Kareena Kapoor is regarded as one of the highest paid actresses in Bollywood today.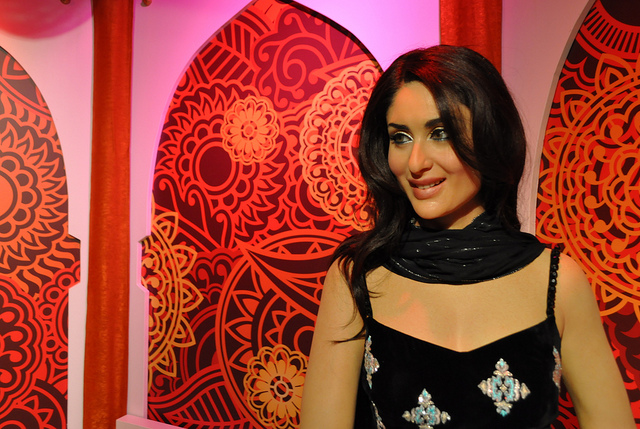 Photo by Maurya Rohit
11. Kareena Kapoor
Kareena Kapoor is a versatile actress whose film work ranges from romantic comedies to political dramas. She is the recipient of six Filmfare Awards. Her first film was a drama entitled Refugee which was released in 2000. She's also starred in several melodramas including Kabhi Khushi Kabhie Gham and Chameli. Kapoor's role as a sex worker in the latter gained her wide acclaim.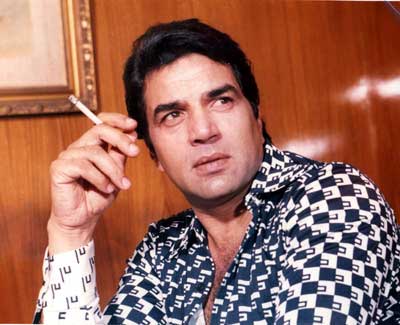 Photo by Kaddele
12. Dharmendra
Dharmendra is a Hindi actor of Punjabi background. He has starred in numerous films of the action and thriller genres in Bollywood over the years earning him the nickname "Action King." In 1966, he was featured in Phool Aur Pathar which was the year's highest grossing film in the box office. Dharmendra has worked closely with the Kapoor family in many films. He has also been on television as a judge for "India's Got Talent" in 2011. Dharmendra is currently married to actress Hema Malini. They have two daughters.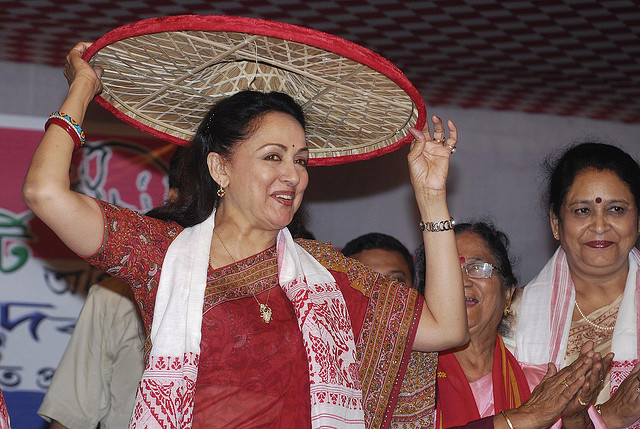 Photo by electionlivemint
13. Hema Malini
Hema Malini is a Bollywood actress who first came on scene in the 1968 film Sapno Ka Saudgar. She collaborated frequently with her husband Dharmendra. Malini has starred in over 150 films. She has a wide range, performing in films that were both commercial and arthouse. Malini took a break from acting in the 90s but returned in 2003 in the film Baghban. In 2004, she joined the political party BJP. She was eventually elected into the upper house of the Parliament of India.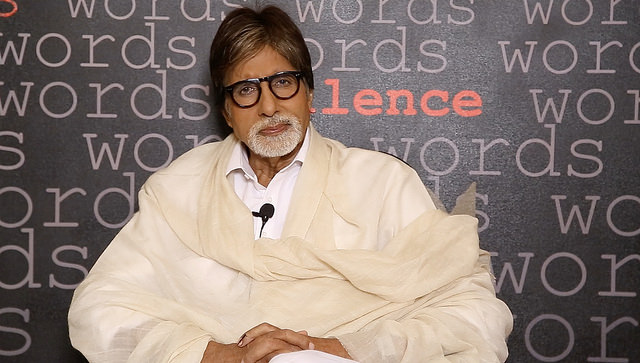 Photo by TeachAIDS
14. Amitabh Bachchan
Amitabh Bachchan is renowned for his 1970s roles in films like Deewar and Zanjeer. He won three National Film Awards and fourteen Filmfare Awards. Bachchan was born in north central India. He attended Sherwood College and Delhi University. His 1979 film Suhaag was the highest grossing film of the year. In 1984, he became involved politically and took a break from acting. This career change did not last long and he returned to acting four years later. His acting career struggled initially due to the political scandal but he made a comeback in 1996. This move also struggled initially with several films that failed in the box office. In 2000, he made a proper return with Mohabbatein.

Photo by srkL
15. Akshay Kumar
Akshay Kumar is an actor with a long track record. He's appeared in over a hundred films. He is most well known for his career in action cinema. A famous one is Waqt Hamara Hai. He also is recognized for his versatility, being able to play more dramatic, comedic and romantic parts onscreen. Such parts were played in Mohra and Sangharsh. He is the only Bollywood actor in history to have a net worth in the box office of over $300 million. Kumar has studied martial arts. He has a black belt in Taekwondo. He also received retraining in Bangkok. Kumar also played a romantic musical alongside Kareena Kapoor in the film Bewafaa. He is married to former actress Twinkle Khanna. They've been married since 2001.