Brad Pitt
Brad grew up in Missouri, surrounded by the American culture of self-reliance. Brad says "I got my first BB gun when I was in nursery school. I got my first shotgun by first grade, I had shot a handgun by third grade and I grew up in a pretty sane environment."
Unlike some elitist celebrities, Brad doesn't believe that only the rich and powerful should be able to own firearms. Brad told an interviewer, "I absolutely don't believe you can put sanctions or shackles on what is made. Nor do I want to pretend the world is different than what we witnessed that night… America is a country founded on guns. It's in our DNA. It's very strange but I feel better having a gun. I really do. I don't feel safe, I don't feel the house is completely safe, if I don't have one hidden somewhere. That's my thinking, right or wrong."
Brad's wedding gift to Angelina was a $400,000 shooting range where she could enjoy herself and help train their children in firearm safety.
Photo by Sons of Liberty Tees
Angelina Jolie
Angelina is a protective mother to her six children: Maddox, Pax, Zahara, Shiloh, Knox, and Vivienne. Angie told the Daily Mail, "I bought original, real guns of the type we used in Tomb Raider for security. Brad and I are not against having a gun in the house, and we do have one. And yes, I'd be able to use it if I had to. I could handle myself. I think there are certain combat skills that would come out. I tend to want to throw an elbow. I don't know why. I've learned all the punches, head butts and kicks – yet getting someone with my elbow is my first instinct.
'I think it's good for anybody to learn a skill when it comes to fight training – be it kung fu, boxing or kick-boxing – because self-defence is important. Brad and I want our kids to learn it. They're going to get into a fight some day, so they might as well learn how to take care of themselves."

Photo by Ma_Co2013
Bruce Willis
Growing up in a blue-collar neighborhood of New Jersey, Bruce understands the differing mentalities of good guys and bad guys. Bruce explains the right to keep and bear arms clearly, saying "Everyone has a right to bear arms. If you take guns away from legal gun owners, then the only people who have guns are the bad guys."
Bruce understands that guns do not cause violence, people cause violence. He explains, "In my heart, as a father, I think what causes violence — violent children and violent young adults and violent adults — is not having a good childhood, not having a father in the house, learning to become a sociopath instead of a good human being. It's as simple as that."

Photo by perole
Eric Clapton
Eric Clapton is a serious gun collector and shooter. Eric explains, "I like a gun to look like a working tool but it's a magnificent piece of art as well." Although Eric is not a hunter, he participated in a charity concert to raise funds to help English hunters fight to keep their right to hunt.
Eva Longoria
The Desperate Housewives star was born and raised in Texas. She says, "(I was) hunting with my dad since I was six. I still go with him to this day. I can handle a gun. Hello? Yes. I could skin a deer, I could skin a pig. I can pluck a quail,you name it, I've done it. I'm a pioneer woman."

Photo by U.S. Department of Veterans Affairs
Gary Sinise
Gary's tireless philanthropic efforts to support freedom across the globe with the Lieutenant Dan Band, the USO, Operation Iraqi Children, the American Veterans Disabled for Life Memorial, the National Veterans Art Museum, Hope For The Warriors, and many other organizations have made him a fan favorite for many years now.
Larry King asked Gary about gun control and Gary explained "Taking people's rights to protect themselves from bad people is not something you can do." He continued, explaining that making guns illegal would never work because "Bad guys with bad ideas are going to do bad things."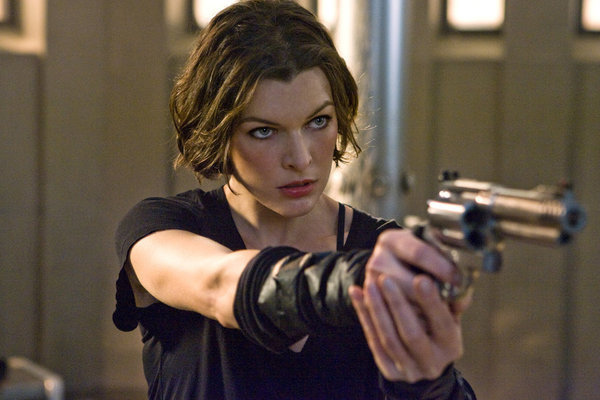 Photo by Jonathan C. Aguirre
John Larroquette
Emmy award winner John Larroquette is a noted libertarian and a skilled shooter. John is a member of the Varmint Hunter's Associations 500 Yard Club. John has also helped the association produce training videos to introduce shooters to reloading. When asked whether Hollywood people find his pastime unusual, he replied "Not the people I shoot with. They don't think it's strange."
Milla Jovovich
The Ukrainian-American bombshell and star of the fabulously successful Resident Evil franchise is also an avid shooter. Milla told the NY Metro, "I love guns. I just get such a sense of power. The karate and kickboxing was okay, but give me a gun and I can do serious damage."
Maja Spencer
Shooting firearms is one of the young writer's hobbies. She says: "No, no… not everyone should own guns.  Mentally unstable people should not own weapons. A guns is not too difficult to use, which makes it an extremely dangerous toy in the hands of an insane person." She says that shooting is a relaxing activity that also improves concentration. "I am not one of those people who think they are 'cool' because they own a gun. I don't have a gun fetish either. I simply like to practice shooting, and I also see it as a useful skill. Shooting someone, however, is a different thing. There are many sharp shooters and gun lovers who wouldn't be able to react and shoot a man in a dangerous situation. You know, showing off your guns and talking as if you are a tough guy/girl just because you own an arsenal does not make you a true gun person. Furthermore, it is not all black and white. One should be aware of different aspects of owning and using a gun, good sides and bad sides of it."
Joe Perry
Aerosmith's lead axe man is also a serious gun collector and firearm historian and an avid hunter. His collection includes an antique black powder canon, a rare left-handed musket which was a gift from his wife, and a pistol which once belonged to Elvis. Joe explains, "I have always been fascinated with guns. I grew up in America so granted, it is part of our heritage and it is written into the laws of how this country is run. I've been fascinated with all kinds of weapons my whole life, and as I have been able to afford to acquire pieces, here and there I started to collect."
Joe takes hunting very seriously, telling OutdoorLife magazine "I don't shoot anything that I don't eat. Hunters are conservationists and their heads are in the right place. … (Hunting) really gives you a great opportunity to keep in touch with reality."
Joe is also concerned about the political threat to firearm rights in America, saying "It seems ridiculous that you can be in one state with your driver's license and buy a firearm, and then in the next state it is totally illegal. There are real problems to that, but as soon as you bring up the subject and say 'gun control' it sets a red flag. It is definitely a difficult issue, and the bottom line is the Constitution is what it is, and I stand by everything that is in it. Right now, some of the statistics show that some of the safest places in the country are places where law-abiding citizens are allowed to have firearms, and the crime rates are low."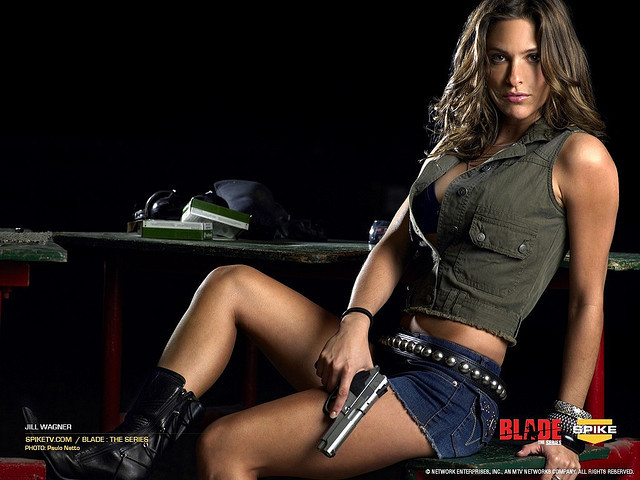 Photo by apiz_darius
Donald Trump
The Donald possesses one of the few legal carry permits in New York City. Don isn't a gun collector or sport shooter, but instead focuses on firearms as a citizens tool against crime: "The way I view it, if nobody has guns, then only the bad guys have them, and they aren't giving up their guns."
Jill Wagner
You might recognize Jill as Krista Starr from Blade:The Series, but you might also recognize her from the shooting range. Jill is an active shooter. Jill says, "I've always been around guns. I was raised by my father and he has always had a gun collection and he shoots skeet. When I was like 13 years old I'd go with him to shoot skeet. I actually have a gun collection of my own. I got a gun for Christmas, a Kimber Raptor .45. Also I have a Colt .45 and I have a Ladysmith." Jill enjoys firearms, saying "I collect guns and enjoy going to the shooting range to target practice or shoot skeet" and "I feel very comfortable holding a gun. It is a stress release thing for me."

Johnny Depp
Kentucky-born Depp has been shooting since the age of six. Johnny says, "We would just go out and line up a bunch of cans and shoot with rifles, handguns and at times, submachine guns. When I was a kid it was a controlled atmosphere, we weren't shooting at humans – we were shooting at cans and bottles mostly. I will most certainly take my kids out for target practice."
James Earl Jones
James is a member of the National Rifle Association (NRA). Jones explained the need for civilians to remain armed, saying: "The world is filled with violence. Because criminals carry guns, we decent law-abiding citizens should also have guns. Otherwise they will win and the decent people will lose."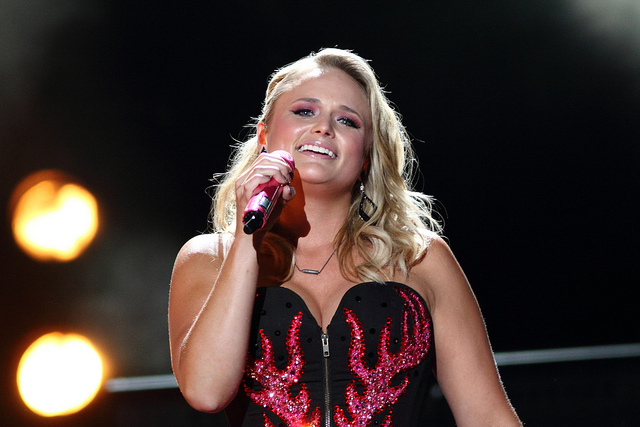 Photo by tncountryfan
Miranda Lambert
Miranda is a serious firearm enthusiast, an active hunter, and a responsible CCW holder. Miranda says "I carry a weapon. I got a death threat a few years ago and was really scared. But I don't want bodyguards. I am my own security." Miranda sports a tattoo of two entwined guns with angel wings on her forearm.
Miranda infuses her music with firearm references, including her Platinum single Gunpowder & Lead and her work with the trio Pistol Annies.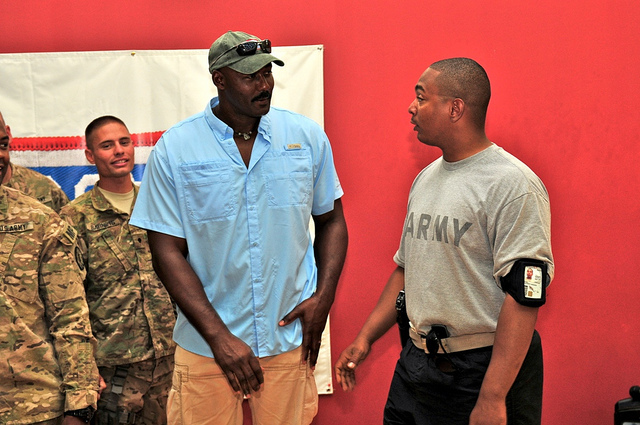 Photo by Joint Sustainment Command – Afghanistan PAO
Karl Malone
14-time NBA All-Star Karl "The Mailman" Malone is also an avid hunter and a past member of the Board of Directors of the National Rifle Association (NRA). Karl promoted the NRA as part of their "I'm the NRA" campaign. Karl has not been shy in explaining his views on the right to keep and bear arms, saying "You can take away a lot of things from Karl Malone, but his guns, that's not one of them" and "Unfortunately, we always hear bad things about guns. But guns don't kill people — people kill people."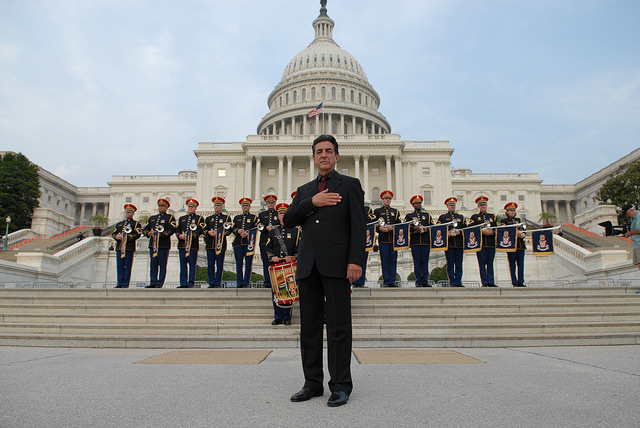 Photo by Capital Concerts
Joe Mantega
In addition to being a Tony-award winning actor, Joe is also a competitive pistol and skeet shooter. Joe is also the host of Gun Stories on the Outdoor Channel.
When American Rifleman asked Joe what his favorite gun was, Joe couldn't stick to just one:
"I guess we'd have to break it down into categories. For a handgun? No question. It would be the M1911. That wasn't the very first handgun I shot, but it was the one I ultimately used competitively. I just enjoy the caliber, I've shot pretty much every handgun caliber you can think of, and the .45 ACP is perfect. It has mass, the recoil is a little more, you get a lot of push, but you don't get a lot of torque. And it's just the aesthetics of it—it's old school—it's what I carry on Criminal Minds. I made that choice as I thought this guy would be old-school and this would be the firearm he would carry. The M1911 is classic. I think it's the first one we're doing in our series Gun Stories.
If I'm going to get into shotguns, I really love over-unders. Being Italian, I'm partial to the Italians. I own a few Berettas, but I aspire to own others, other things that end in a vowel—Perazzi comes to mind. There's nothing like a beautifully made shotgun. My first shotgun was a Remington Model 1100, which is a classic, of course, but nothing can beat a beautifully made over-under. I have a few different gauges, some Rugers and some other brands, but I've mostly been shooting Beretta.
In rifles, I like the old cowboy stuff—I mean Model 1894s and other lever-actions, .30-30s—even those that shoot pistol calibers like .357 and .44 Magnum. I have a Marlin 1894C. I enjoy that as well."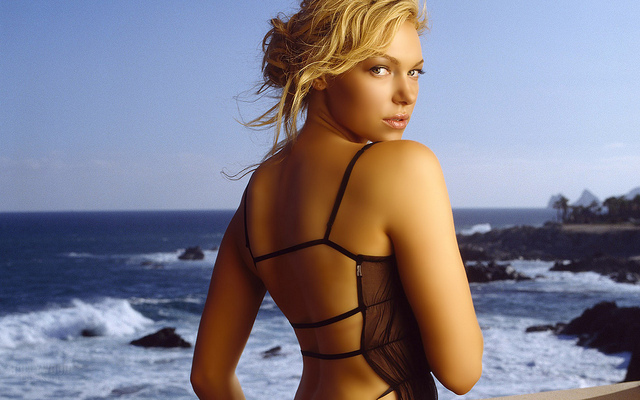 Photo by pravo2011
Laura Prepon
The star of That 70's Show is a proud owner of a Ruger Mini-14 semiautomatic rifle. Laura explains, "I love the energy you feel when you shoot. Some people get a little freaked out by it, but I am so into guns."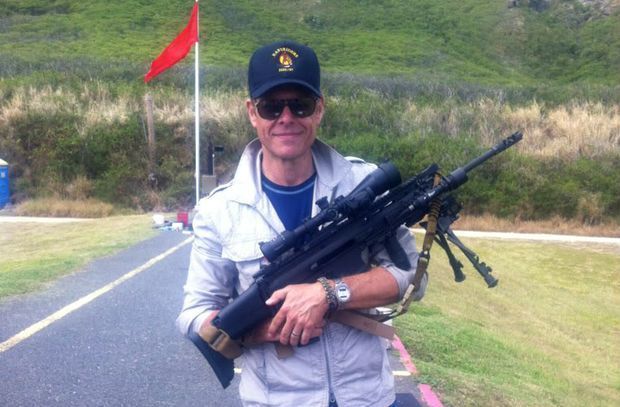 Alton Brown
Alton Brown is as much a master of the firing range as he is a master of the kitchen range. Unsurprisingly, the host of Good Eats also has excellent taste in firearms. His collection includes a Walther PPK in .32, a Karr .40, a Kimber Combat II .45, a H&K P30, a Mossberg 500 12ga shotgun,  and a FN SCAR 17 in 7.62mm.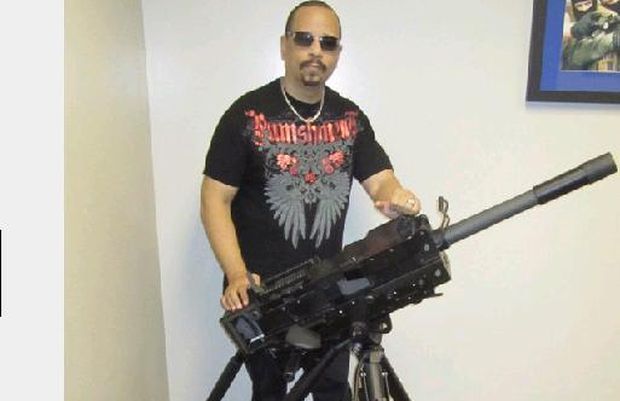 Ice-T
Throughout his entire career, Ice-T has warned fans about the government. He recently teamed up with Ted Nugent to narrate a documentary on gun rights titled "Assaulted: Civil Rights Under Fire".
Ice-T explained the American view on gun rights while to London's Channel 4, saying "I'd give up my gun when everybody else does. Doesn't that make sense? If there were guns here, would you want to be the only person without one?" When asked if he carried a gun or had one at home, he responded with a clarity seldom found in the gun debate: "Yeah, it's legal in the United States. It's part of our Constitution. You know, the right to bear arms is because that's the last form of defense against tyranny, not to hunt. It's to protect yourself from the police." He went on to explain that violating the rights of citizens to keep and bear arms would not produce safety for the citizens, saying "If somebody wants to kill people, you know, they don't need a gun to do it" and "You can strap explosives on your body. They do that all the time."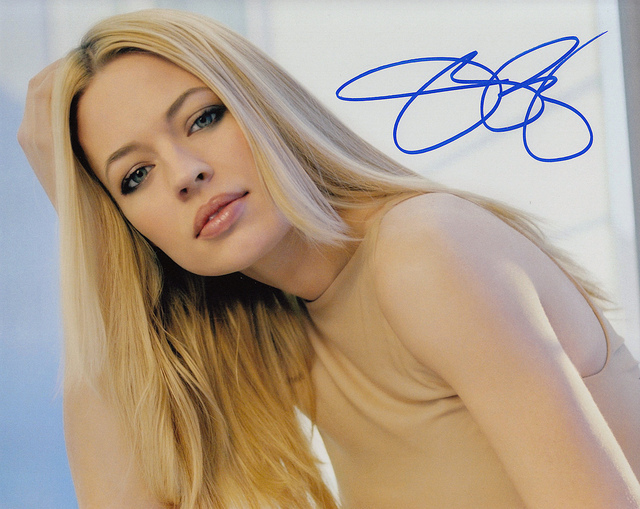 Photo by TravelShorts
Jeri Ryan
Jeri learned to love firearms while shooting Dark Skies. She told John Stewart "I was on a series before Star Trek called Dark Skies and I was a Russian agent so I got to use a lot of guns. I had my little .22 that I carried around all the time and I got to shoot a lot. I shot some .45s and I got to shoot an M-16 on one episode and it was fun! They created a monster. It's a big adrenaline rush." and she told Bikini magazine "I love it, shooting all the guns. I shot M-16s, and 45s, and 22s. They created a monster on Dark Skies, I was like 'I'm gonna join the NRA! This is great!'" She ended with "Sorry, I get a little excited when I talk about firearms."

Photo by GabboT
Adam Baldwin
Few of Adam Baldwin's many fans are surprised to learn that he's an advocate of firearm ownership. Adam has written in support of the individual right to own firearms for Breitbart.com and has made many appearances in support of the shooting sports. Baldwin also promotes firearm rights on Twitter, writing "The gun is the greatest tool of peace ever invented. It is the great equalizer between individual liberty and tyranny." and "Outlaws and government will always have lethal weaponry. U.S. citizens have unalienable rights to firearms."

Photo by GIZABH2003
Jeremy Renner
Jeremy participated in the ill-conceived "Demand a Plan" public service announcement put together by the monied elitists of Mayors Against Illegal Guns to take advantage of the tragedy at Sandyhook. After the incident, Jeremy realized that he had been taken advantage of and published a clear statement of his beliefs on his own web site, "Taking guns from people is no answer. I own guns and want to keep it that way. But guns don't kill people… people kill people. Blaming movies or video games is no actionable solution."