In the fashion world, nothing beats the little black dress. A timeless, eternally chic statement, little black dresses are perfect for any situation.
Nothing captures our attention on the red carpet quite like a stunning little black dress. Here's 15 of the hottest little black dresses that the red carpet has ever seen: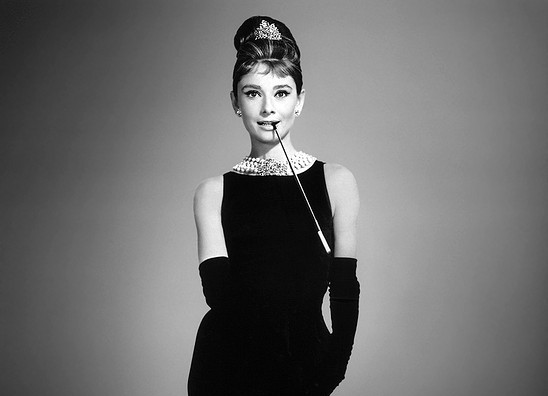 Photo by trendlerden
1. Audrey Hepburn
In her 1961 blockbuster film Breakfast at Tiffany's, Audrey Hepburn redefined what a little black dress was. In fact, her Givenchy dress is often cited as one of the most famous dresses ever worn. When it was auctioned off for charity in 2006, the gown fetched over $800,000!
Audrey Hepburn was turning heads long before donning her most famous dress, though. The first time Audrey Hepburn ever wore a Hubert de Givenchy dress was in 1954. Audrey took home her very first Oscar for her performance in Roman Holiday, and dazzled fans in her dress. Classically elegant with a floral belt, this was the first of almost a dozen dresses Givenchy would famously provide for the beautiful young actress.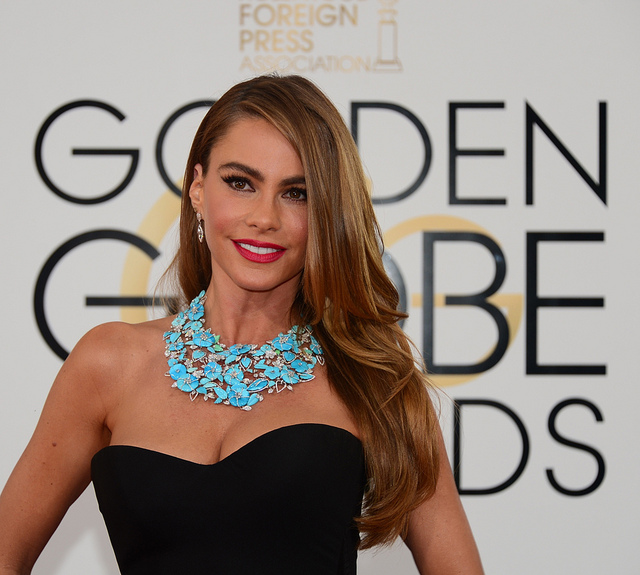 Photo by YOYOPRESS
2. Sofia Vergara
Sofia Vergara, the stunning star of hit TV show Modern Family has become known for her equally stunning little black dresses. Whether she's going to a pre-Emmy party with boyfriend Joe Manganiello or heating up the Vanity Fair Oscar party, she steals the show in her tight black dresses.
This makes it surprising than Sofia usually opts for more colorful looks on the red carpet. Over the past years, she's gone with flashier shades of pink, blue, and green. Finally, at the 2013 Golden Globes, Sofia showed up in a gown with a long corseted bodice and chic lace panels. Her dress was accented with diamonds, accentuating her long legs and beautiful curves. It took long enough, but it was a little black dress to remember.

Photo by gem_106
3. Halle Berry
Halle Berry is no stranger to dolling herself up. She competed in the 1986 Miss USA and Miss World competitions, and shortly thereafter launched an incredibly successful career as an actress and model. She starred in TV shows like Living Dolls and B*A*P*S, and movies such as Jungle Fever, Strictly Business and several adaptations of X-Men.
In 2011, Halle Berry was nominated as a Golden Globes finalist for her outstanding performance in Monster's Ball. To celebrate this achievement, she wore a stunning Nina Ricci corseted gown with a sheer skirt that left little to the imagination. To top her fantastic evening off, Halle Berry took home the Golden Globe for Best Actress in a Motion Picture Drama.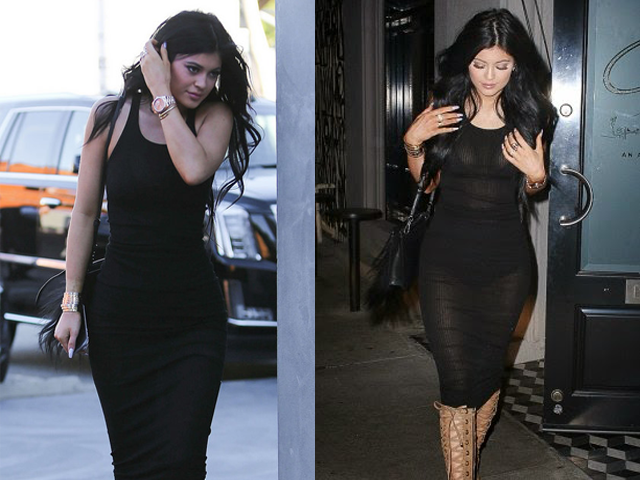 Photo by FLICKR
4. Kylie Jenner
Kylie Jenner has quickly risen to prominence alongside her half-sisters Kourtney, Kim, and Khloe Kardashian. Throughout her appearances on hit reality television show Keeping Up with the Kardashians, and its many spin-offs, Kylie has been known for her beauty and fashion sense. Since then, she has focused on modeling and hosting, and has even launched her own fashion line at PacSun.
It wasn't surprising, then, when Kylie showed up at the 2011 Premiere for Beastly and knocked our socks off. She showed up alongside sister Kendall, with a flattering laced mini dress with long sleeves. To match her incredible dress, she wore a pair of black heels by famous French designer Christian Louboutin. Clearly, fashion runs in the family!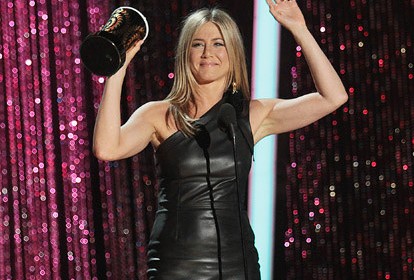 Photo by dp3061971
5. Jennifer Aniston
Jennifer Aniston took the world by storm in her role of Rachel Green in the smash television hit Friends. Ever since then, she's been one of the most popular and fashionable actresses in Hollywood. In her mid-40's, she's still outshining women twenty years younger than she is!
As one of the most fabulous women in the world, Jennifer knows that all eyes are on her when she strolls down the red carpet. Because of this, she always puts her absolute best foot forward, and has stunned us in many little black dresses over the years!
One of the most memorable, though, is the little black dress she donned at the 2012 MTV Movie Awards. She was nominated for an award for her performance in the comedy Horrible Bosses. Celebrating her incredibly sexy role, Jennifer showed up in a skintight, leather Valentino minidress. To complete the ensemble, Jennifer strapped on black heels by Giuseppe Zanotti.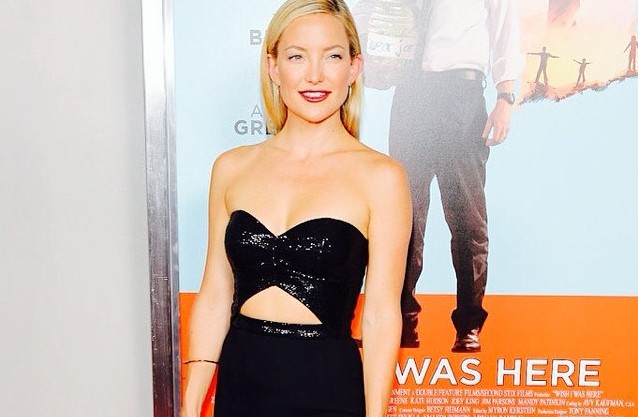 Photo by jakkrit_nooklaew
6. Kate Hudson
Kate Hudson, daughter of the lovely Goldie Hawn, was born to be a star. She found incredible success early on, starring as Penny in the 2000 movie Almost Famous. Only 20 years old at the time, Kate Hudson won her first Golden Globe for Best Supporting Actress. Since this breakthrough, Kate has starred in a variety of movies, such as How to Lose a Guy in 10 Days, The Skeleton Key, and Bride Wars.
Throughout her fame, Kate has been known for her beauty and impeccable fashion sense. Kate's such a fan of little black dresses that she's collaborated with Ann Taylor to create an everyday black dress line.
Her greatest fashion achievement came when she arrived at her 2014 premiere for Wish I Was Here. Kate wowed the audience in an amazing sequined, strapless black dress. To show off her amazing stomach, the entire midriff was cutout. With taste like that, it's no wonder that Ann Taylor wanted to team up with her!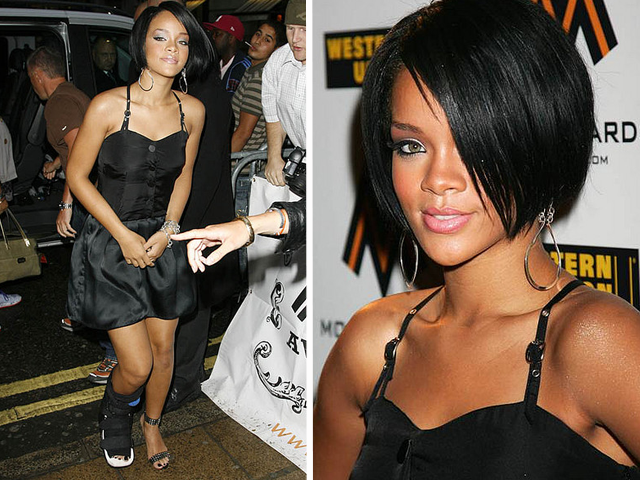 Photo by FLICKR
7. Rihanna
RIhanna was successful very early in her musical career. When she was only 15 years old, she recorded demo tapes and signed a deal with Def Jam Recordings after impressing Jay-Z. After her hit song Umbrella was released in 2007, she became an international superstar.
Due to her unique and ever-changing image, Rihanna quickly became a favorite among fashionistas. Capitalizing on her keen eye, Armani used her as a model for jeans and underwear. She later developed a fashion range for them, which was first released in 2011.
Rihanna first proved how truly versatile she was at the 2007 MOBO awards. Sporting a knee-high brace, Rihanna rocked an amazing black minidress that perfectly her black brace. With this appearance, Rihanna proved she could even make medical equipment look great!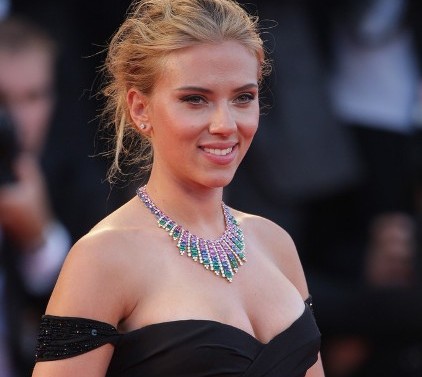 Photo by selebstyle
8. Scarlett Johansson
One of the most beautiful women in the world, Scarlett Johansson could have her own top-15 list of sizzling little black dresses. Her career began early with critically acclaimed roles in Manny & Lo and The Horse Whisperer. She began her transition to adult roles with amazing grace, starring alongside Bill Murray in Lost in Translation.
Acting chops aside, Scarlett is world-renowned for her incredible beauty. In fact, she's the only woman ever to be named 'Sexiest Woman Alive' twice by Esquire Magazine (in 2006 and 2013).
Some of her most famous little black dresses include ones from the 2010 Mango Awards and the Toronto Film Festival screening of Don Jon. Perhaps her best one, however, was worn at the 2007 Grammy Awards. That night, Scarlett slipped into a Monique Lhuillier cocktail dress that fit her hourglass shape perfectly.
If history is any indication, we'll be in awe of Scarlett's dresses for many years to come.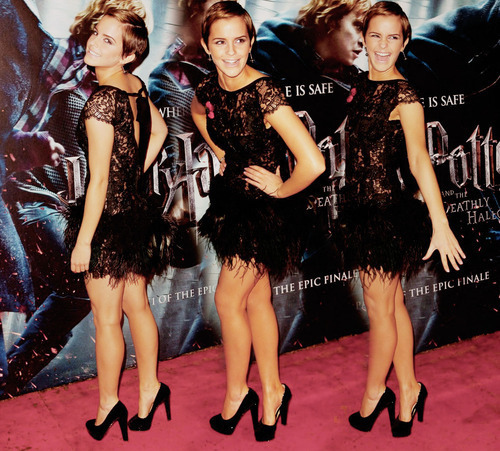 Photo by jordan23queen
9. Emma Watson
Over the ten years she spent playing Hermione Granger in the massive Harry Potter franchise, Emma Watson grew before our very eyes. By the end of the eighth movie, she had evolved from a child star to a fully fledged Hollywood superstar.
In 2005, Emma began modeling as the youngest woman ever to appear on the cover of Teen Vogue. Over the next several years, she developed partnerships with Burberry and People Tree, cementation herself as talented young model.
During the premiere of Harry Potter and the Deathly Hallow: Part 1, though, Emma dazzled the world. She confidently sported a layered, breathtaking black dress designed by Rafael Lopez. Featuring a feather skirt, black lace top, and open back, it was a stark contrast to the previous dresses she had worn on the red carpet. In that one moment, Emma arrived as a true fashionista.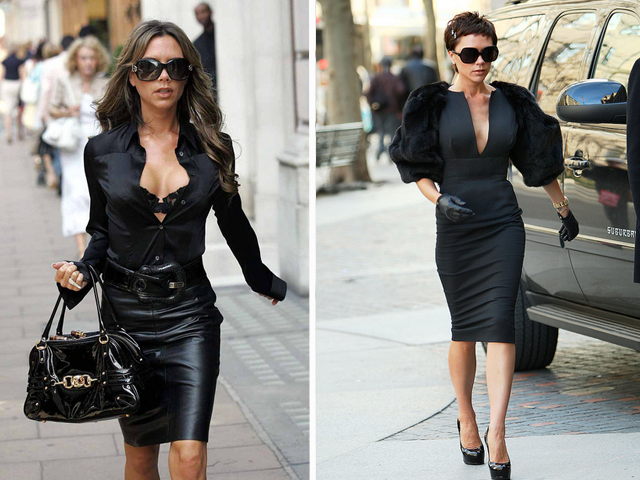 Photo by FLICKR
10. Victoria Beckham
Victoria Beckham hit the scene as a member of the Spice Girls as Posh Spice. They were enormously popular between 1996 and 2000. After their popularity waned, Victoria went out on her own as a recording artist. Achieving moderate success, she began looking for a new challenge.
Throughout her career, Victoria was featured in many photo shoots and magazine covers. It wasn't surprising, then, when she decided to launch her own fashion label. She quickly gained steam and was named designer of the year in the 2011 British Fashion Awards.
Proud of her achievements, Victoria is known for wearing her own label's little black dresses. The most fabulous of which was worn at the 2010 British Fashion Awards. That year, Victoria's dress sported an elegant v-cut and a sultry thigh cut, showing her off perfectly. As her brand continues to grow, we're sure to see amazing dresses from her for years to come.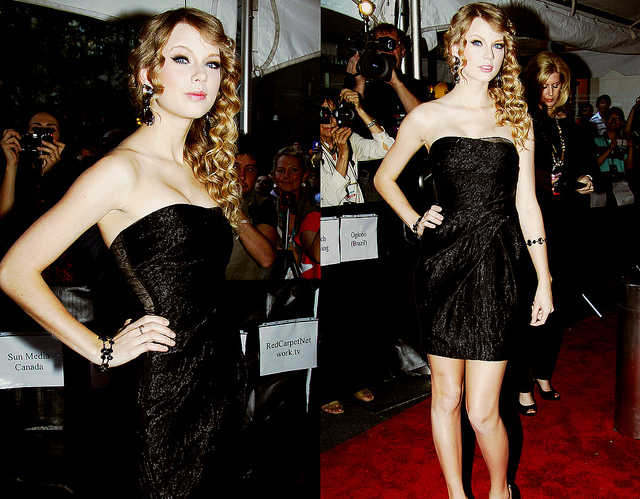 Photo by skeleton guns
11. Taylor Swift
Taylor Swift grew from young country singer to international megastar in the blink of an eye. At the age of only fourteen, she began her career and was signed to a label almost immediately. She released her very first album in 2006 when she was only sixteen years old.
Throughout these early years, Taylor leaned on her country background. Her fashion choices consisted of mostly sundresses, boots, and sparkly formal dresses. She slowly evolved to a more retro-chic style, favoring heavy red lipstick and glamorous dresses that channel old-school Hollywood stars.
At the 2010 Time 100 gala, Taylor Swift eschewed her image completely, showing up in a smoking hot black cocktail dress. A strapless, sleeveless, sheath minidress with no train, Taylor proved that she can make any style look unbelievable.

Photo by theloop21
12. Naomi Campbell
Naomi Campbell began training for her career as a model early on, spending time as a dancer and actor as a child. By the age of fifteen she was already modeling, and she quickly became an international sensation.
Modeling for designers such as Versace and Mizrahi, Naomi was a fashion icon. In fact, she was the first ever black model to grace the cover of Vogue's French edition. She was named by Time magazine as one of only six true supermodels of her generation.
Even though rarely participates in runway modeling now, Naomi is still just as striking as ever. At the red carpet event for the 2015 BAFTAs, Naomi wore a little black dress to put all her previous ones to shame. With a sexy leather look and tempting cutouts, Naomi revealed just enough while leaving something to the imagination. She brought her look full-circle with mountainous, strapped heels that made her look even more daring.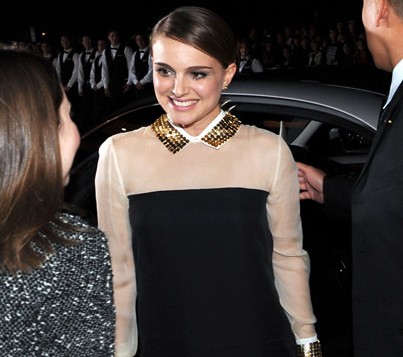 Photo by Aumanack – Diversão Sem Limite aumanack.com.br
13. Natalie Portman
Natalie Portman grew comfortable on the red carpet from the very beginning of her career. Before she was eighteen years old, she landed the role of a lifetime. Playing Padme in episodes 1-3 of Star Wars, she was a Hollywood superstar immediately. Shortly thereafter, she took home a 2004 Golden Globe for her role as a supporting actress in the movie Closer.
Natalie has always been highly individualistic and demands the same from her fashion choices. As a strict vegan, many major designers, such as Dior, tailor their accessories specifically for her.
At the 2011 Palm Springs Film Festival, Natalie wore one of the most unique little black dresses ever to grace a red carpet. A low-cut Vionnet Spring 2011, her dress came with a see-through white mesh across her shoulders and chest, and a gold-adorned collar. With this unique look, Natalie proved you don't necessarily have to bare it all to sizzle in a little black dress.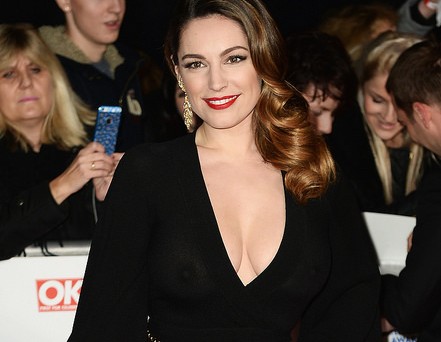 Photo by gem_106
14. Kelly Brook
Following fellow English-born models such as Naomi Campbell, Kelly Brook is among the world's most successful models. Starting at an early age, Brooks began working in advertisements for companies like Foster's beer. Sporting a voluptuous figure, Kelly quickly caught the eye of the fashion world and appeared on covers ranging from FHM to GQ.
Unafraid to take risks with her curvy body, Kelly made the world gasp when she arrived at 2014 National Television Awards in London. She wore a sizzling black thigh-split gown designed by Ossie Clark. With a v-cut that showed plenty of cleavage, Kelly went braless. Completing her stunning look was a golden rope belt tied around her waist and matching black strap heels.
Some may have thought it was a faux pas, but one thing is for sure: it isn't the last time Kelly's going to turn heads!