Under the right lighting and with the use of Photoshop, anyone can look like a diva. We love to drool over the rich and famous, but who of them can stand up to the scrutiny of real-life sexy? Here are 13 beautiful stars that look good under any light without makeup.
Photo by Edinburgh International Film Festival
1. Keira Knightley
Keira Christina Knightley, a natural gem, was born on March 26, 1985, making her part of the thirty club, but you wouldn't dare guess she was a day over 22 with her standard of elegant beauty and grace. No Photo-shopping necessary to make this natural beauty shine. Knightley is a world famous actress and talented singer. She started her epic career while just a young girl, a natural icon from the start. She is now quite rich, Forbes naming her rightly as the second highest-paid actress in Hollywood in 2008, with reported earnings of US$32 million in 2007. She is known for her roles in Sabé and Star Wars Episode I: The Phantom Menace, but her first leading role was in The Hole a psychological horror film from 2001. She also gained some substantial recognition, becoming really popular in 2003 after playing Elizabeth Swann with Johnny Depp in the Pirates of the Caribbean. Knightley is known for starring in period drama films also.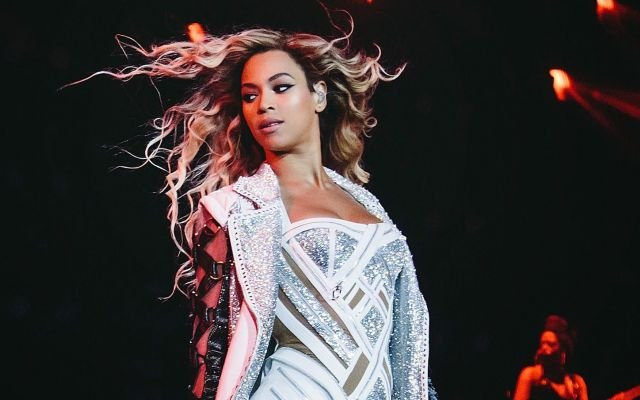 Photo by HotGossipItalia
2. Beyonce
Coming in second place is Beyoncé Giselle Knowles-Carter in her mid thirties but still looking amazing.There is no doubt that Beyoncé's husband, Jay-Z, is a lucky man. She is a prominent American singer/songwriter and actress. She is a born and raised Texan, the pride of Houston, adored for her natural beauty. Reports have it that she loved to sing and dance as a small girl. It was first in 1990 that she became famous for her involvement in the band Destiny's Child. Her father, Mathew Knowles, managed the band. They produced some of the world's top selling albums and singles, such as Dangerously in Love from 2003. It sold 11 million copies and earned her 5 Grammy Awards.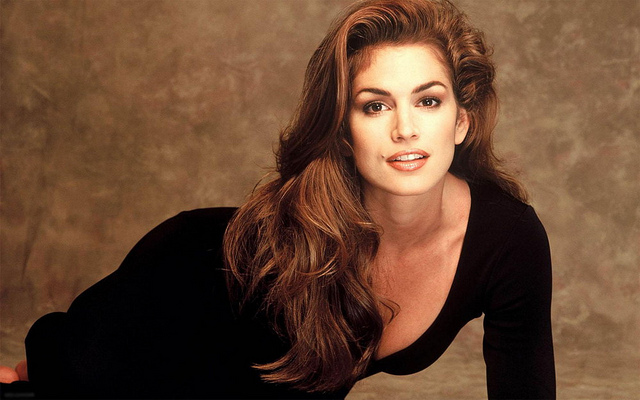 Photo by tommy japan
3.Cindy Crawford
Cynthia Ann Crawford, famously known for her sexy trademark mole just above the lip, is number three on our list of unphotoshopped beauties. She is an American sex icon. She was born in 1966. She was instantly a success at modeling and this made her an international celebrity practically overnight. This exposure guaranteed her lead roles in many productions from that moment forward. Forbes, in 1995, boldly labeled her the highest paid model on the planet. She was also at that time on the "100 Hottest Women of All-Time" list put out by Men's Health. Cindy's career started when she was discovered by a newspaper photographer at the age of 16 while working in a corn field doing manual labor. Talk about luck, but that's all it took, and the world wanted more of that 5 foot 9 inch tall, brown hair, brown-eyed oracle of physical perfection.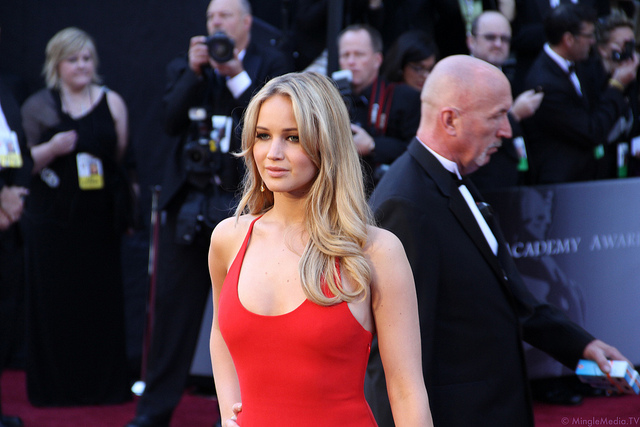 Photo by RedCarpetReport
4. Jennifer Lawrence
Jennifer Shrader Lawrence is another actress where Photoshop is totally unnescessary. She is the essence of physical grace. She is a blonde-haired, blue-eyed all-American actress. Lawerence first made mainstream pupularity when she played the lead character, Katniss Everdeen in the movie The Hunger Games. The Hunger Games officially made her the highest-grossing action heroine of 2015. She is the recipient of a Golden Globe Award, an Academy Award, and a Best Actress Oscar, among many others. Lawrence was born and grew up Louisville, Kentucky where her parents ran a summer day camp. She got great grades in high school, adding intelligence to that air of physical superiority.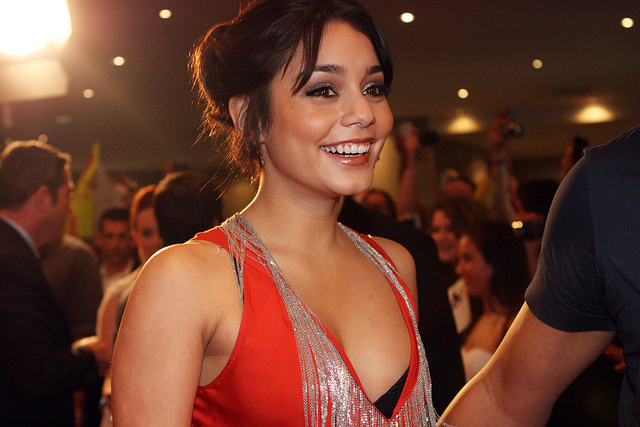 Photo by Eva Rinaldi Celebrity and Live Music Photographer
5. Vanessa Hudgens
Vanessa Anne Hudgens is another example of pure beauty, coming in number 5. She was born on December 14, 1988 and is a talented actress and singer. She has worked on many TV series for Disney among many others endeavors. Hudgens got her big break when she played Gabriella Montez in a musical about high school. She has released many other albums and musicals since then. She is a well known family name at this point, bringing joy to countless children and adults. She has worked on many prominent movie sets including, Journey 2, Spring Breakers from 2013, and of course Machete Kills with Robert Rodriguez directing. She will play the lead role in the up coming 2015 Broadway musical Gigi.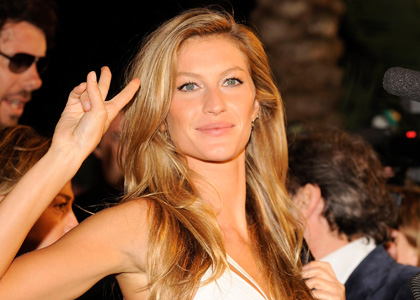 Photo by Panorama Mercantil
6.Gisele Bündchen
Gisele Caroline Bündchenis is one of the sexiest women in the world. She is a Brazilian fashion model, producer, and actress. She found grasped sucess in the 1990s as one of Victoria Secrets infamous angels. Bündchen invented the well-known "horse walk", which is simply a stomping movement that a model carries out by picking up her feet and stomping on the runway. Bündchen is also an actress known by many for her supporting part in the movie, Taxi from 2004. She also acted in The Devil Wears Prada among others. It is well known that Bündchen gives to many charities and is considered a humanitarian.

Photo by Celebs-Life
7. Claudia Schiffer
Claudia Schiffer is a successful model originally from a small German town. There is no need to ever alter the appearance of this woman, and she is not only beautiful, but incredibly ambitious and intelligent. She is in creative charge of her own clothing label. She became famous in the 1990s for her modeling career. Since, she has graced more than 1000 magazine covers with her overwhelming presence and stunning looks. In 2002, Forbes claimed she was worth 38 million US dollars. She is fluent in 3 languages and was purportedly popular in high school but insecure about her towering height at that young age. Originally, she wanted to become a lawyer after working in her family's law firm.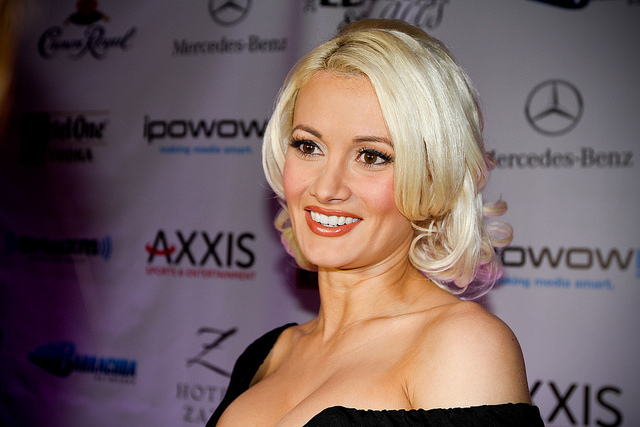 Photo by YouPlusDallas
8. Holly Madison
Holly Madison is another memorable beauty on our list. She was born in 1979 and has worked hard as an American model, TV star, and showgirl. She is well known for being one of Hugh Hefner's many girlfriends on the reality show, The Girls Next Door and for Holly's World as her own personal series. Madison is originally from Astoria, Oregon, and has two siblings, a brother and sister. She attended Portland State University where she majored in psychology and theater. She traveled often as a child with her parents often as her father worked in the maritime industry. She has acted in many films and television productions and is considered an all American bombshell, in no need of enhancement.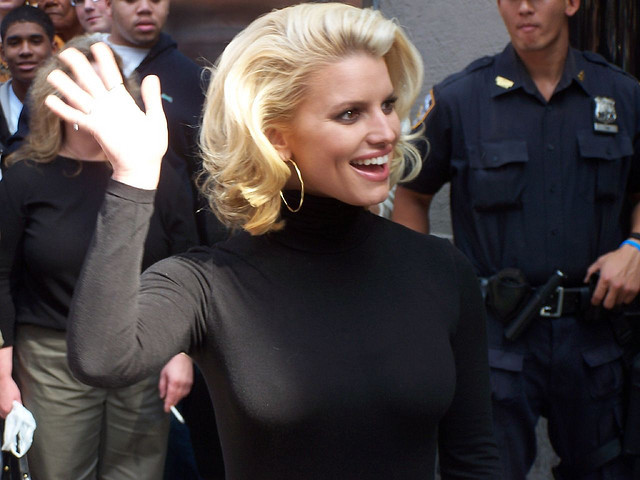 Photo by DennisInAmsterdam
9. Jessica Simpson
Jessica Ann Johnson (Jessica Simpson) is a well known American actress, singer/songwriter, and reality television star an she possess traditional beauty. Simpson has made many hit singles and has starred on many television shows, commercials, and movies. Some of her hits include, I Wanna Love You Forever, Sweet Kisses, and Irresistible.She has her own line of hair products, fragrances, handbags, and shoes. She also does work with American troops overseas to boost their morale. So not only is she perfectly gorgeous nwith blonde hair blue eyes and a tight bod, but she has a big heart too.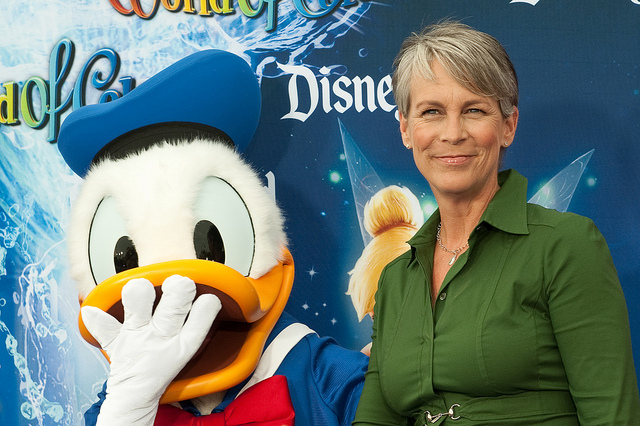 Photo by hyku
10. Jamie Lee Curtis
Jamie Lee Curtis famously possesses that natural beauty, coming in as number 10 on our list. She was born on November 22, 1958 in Santa Monica, California. She is an American actress and author somewhat well known for having a Y chromosome. She first appeared in film in 1978 when she starred as Laurie Strode in Halloween and Halloweeen II by John Carpenter. This immediately established her as a great actress. She also starred in movies such as Prom Night, Roadgames, and Terror Train earning her the title of "scream queen" to her adoring fans. She received many awards and worked in a variety of film genre afterwards and is currently working on kids books of all things. A bestseller that she had on the New York Times list is Today I Feel Silly, and Other Moods That Make My Day. Curtis blogs for the Huffington Post as well in her spare time.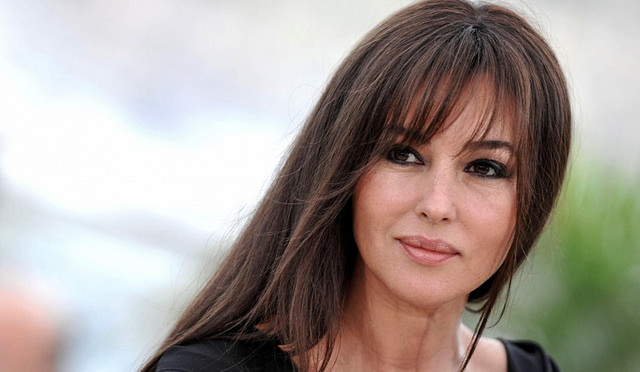 Photo by O-Cinéma
11. Monica Bellucci
Monica Bellucci is a notoriously elegant woman. She is Italian, born in September of 1964. She has made her mark in the world through a successful modeling and actress career. She can reportedly speak many different languages including Persian, Italian, and French. Bellucci started her modeling career at the young age of 13. She posed for a local photographer which jump started her career. Bellucci gained immediate recognition and became extremely famous as a fashion model throughout the Europe and the United States. She made it onto the Men's Health list, the "100 Hottest Women of All-Time", ranking her at number 21. She was also named, by some, the most desirable woman in 2002.

Photo by meinewelt7
12. Coco Austin
Nicole Natalie Marrow, also known as the infamous Cocco Austin, is an all America bombshell from California. She is very successful and ridiculously attractive in any light. She is an actress, model, and dancer. Ice Tea and Austin have been married happily since 2001. One romantic fact about Coco's life is that her parents were also actors who met on the set of the old television show, Bonanza. She is the oldest of four siblings and reportedly grew up climbing trees and playing football with the guys. Totally hot, but at risky and vulnerable age 14, Austin began modeling for swimsuit and lingerie ads. She ambitiously entered competitions and modeled for calendars among many other gigs. Ice Loves Coco, a reality show that just ended in 2014, gave us an enticing peak into their personal lives with more expected from them on the horizon.

Photo by Maggiejumps
13. Kate Winslet
Last but not least, Kate Elizabeth Winslet, is the essence of English beauty. She is a popular actress and singer from Berkshire and the worthy recipient of many more awards than could be recorded here, such as an Academy, a Grammy, an Emmy, as well as three Golden Globes. From a young age Winslet was obsessed with her calling for drama and in 1991 she made her television debut. She studied drama from childhood, and began her career in British television in 1991. She was called by critic David Edelstein,"the best English-speaking film actress of her generation". She made her first film appearance in Heavenly Creatures, but it is said by many that she achieved her stardom in Titanic from 1997, which famously became the highest-grossing film in all of history (at that time).