Photo by Keith Allison
We find ourselves surprised when we discover that the most hardworking, wealthy and successful people sometimes have the least self-control. But basic instincts are the most difficult to control. These celebs are known to have let libido and lust run their lives.
1 ) Tiger Woods
When we first heard the news that Tiger was cheating on his wife, it was hard to believe.
This golfer was considered a role model – had a remarkable professional and personal life, he was happily married and gladly donated his money to charity.
Then we discovered that Tiger had an affair with Rachel Uchitel, and by the end of 2009, dozens of women claimed that they had sex with him. In April 2010, he publicly admitted that he went through a 45-day therapy to deal with sexual addiction.
2 ) Charlie Sheen
Charlie is known for his bizarre claims that "tiger blood" runs through his veins and that "he always wins".
In addition to the drug problem, he had numerous affairs.
In fact, in 1994, during the trial of the most famous American "madam" Heidi Fleiss, Charlie admitted that he spent $53,000 on prostitutes. Although he never openly admitted that he had problems with sexual addiction, numbers speak for themselves.

Photo by S.³
3 ) Eric Benét
Talented R&B singer Eric Benét became popular in 2001, when he married Halle Berry. The marriage lasted only two years and ended because of his constant cheating.
He was a sex addict and in 2002 went through a 35-day therapy. But that did not help him keep Halle Berry.
4 ) Russell Brand
Comedian Russell Brand is known to have had numerous affairs. Russell admitted that with all the money and fame, it was difficult to resist sex and drugs. He ended up in treatment for sexual addiction.
5 ) David Duchovny
David Duchovny, star of the series "Californication", lived a life of the character he played in the show. During the long marriage with Téa Leoni, there were two break ups and in 2011 David publicly admitted that he was addicted to sex.
– Free willed, I went to an institution to treat sex addiction – please respect the privacy of my wife and children, because we are going through a difficult period, he said at the time.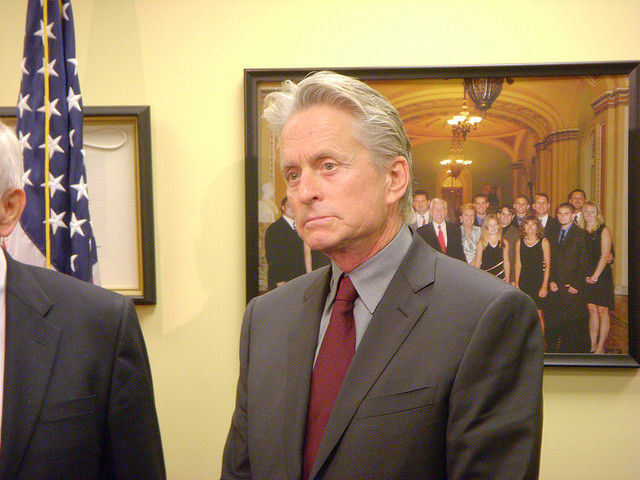 Photo by Talk Radio News Service
6 ) Michael Douglas
This actor was hugely successful. But during his career, there were several scandals. Last year he said that he got throat cancer, because of sex, and in his biography published in 2012, he talked openly about his problems with sex addiction, drugs and alcohol.
7 ) Jesse James
Sandra Bullock has fans all around the world and people consider her attractive. That's why everyone was surprised when she married a biker and TV presenter Jesse James. They seemed like complete opposites. In 2010, several James' mistresses started talking about his infidelities. When asked how he could cheat on Sandra, he said he had a problem with sex addiction.