Biography of Eminem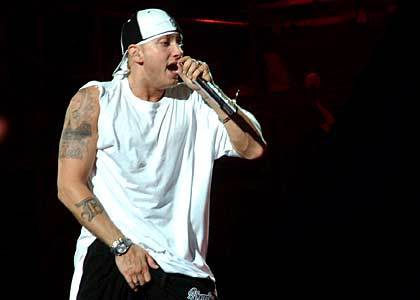 Biography of Eminem
He is the blue-eyed white American rapper that has been the center of many controversies; his hardcore lyrical style is in someway the method of divulging his own biography, telling stories of his life before fame. Eminem is a Scottish-American Grammy and Oscar awards winner that has made many milestones in a business that is largely dominated by Black Americans.
Eminem has received many accolades, awards and nominations during the course of his career. He was ranked at number nine on MTV's list of The Greatest MCs of All Time and most recently topped the MTV's "Hottest MC of 2009" list.
Eminem also copped the 2002 MTV Movie Awards "Best Male Performance" and "Best Male Breakthrough Performance" awards for his self influenced movie 8 Mile.