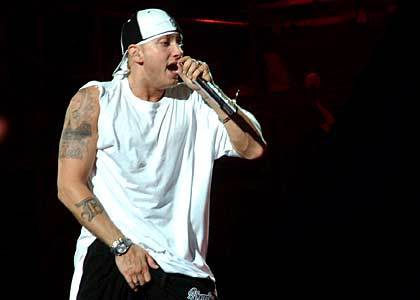 Photo by Scott Kinmartin
Biography of Eminem
He is the blue-eyed white American rapper that has been the center of many controversies; his hardcore lyrical style is in someway the method of divulging his own biography, telling stories of his life before fame. Eminem is a Scottish-American Grammy and Oscar awards winner that has made many milestones in a business that is largely dominated by Black Americans.
Eminem has received many accolades, awards and nominations during the course of his career. He was ranked at number nine on MTV's list of The Greatest MCs of All Time and most recently topped the MTV's "Hottest MC of 2009" list.
Eminem also copped the 2002 MTV Movie Awards "Best Male Performance" and "Best Male Breakthrough Performance" awards for his self influenced movie 8 Mile.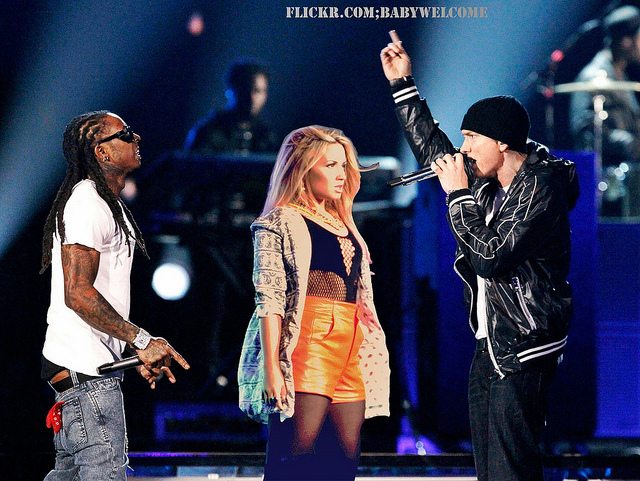 Photo by BabyWelcome
Early Life
Eminem was born Marshall Bruce Mathers III on October 17, 1972 in St. Joseph Missouri. He was raised by his single-parent mother Deborah Mathers who had Eminem when she was just eighteen years old. His father Marshall Bruce Mathers, Jr. abandoned the family when Eminem was six months old. Eminem and his mother moved from city to city before settling in Warren, Michigan. He attended Lincoln High School and took part in freestyles battles at another nearby high school called Osborn. He also developed an underground hip hop audience. Eminem left high school at seventeen.
As a teenager Eminem's early hip hop interest was influenced by the sounds of the Beastie Boys. At fourteen years Mathers assumed the alias "M&M" and joined the group called Bassmint Productions; he released his first EP called "Steppin' onto the Scene". The group changed its name to Soul Intent and released its first single entitled "Fuckin' Backstabber" in 1995.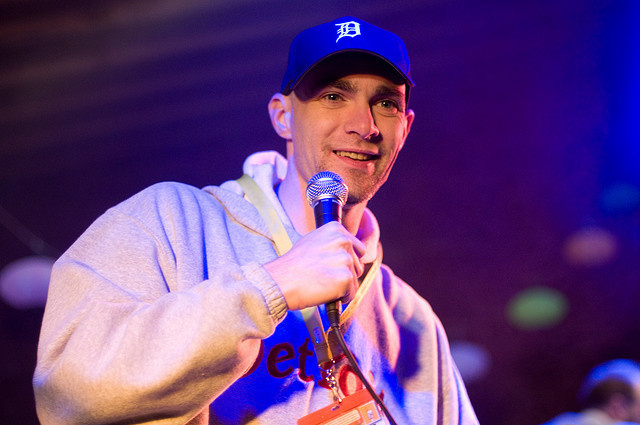 Photo by technotheory
Infinite-p
Eminem's debut album Infinite was released in 1996 under the Web Entertainment label. Songs on the album such as "Never Far" spoke of his struggles with raising his newborn daughter Hailie (he had met her mother Kim while they were both in high school) amongst other hardships encountered and future aspirations. Eminem tried to commit suicide after the release of Infinite as the young emcee endured personal struggles resulting in substance abuse.
Eminem released The Slim Shady EP in 1997 again under Web Entertainment and went on to place second at the Rap Olympics in the same year. He was subsequently discovered by Interscope Records Jimmy Iovine who passed him over to record producer Dr. Dre.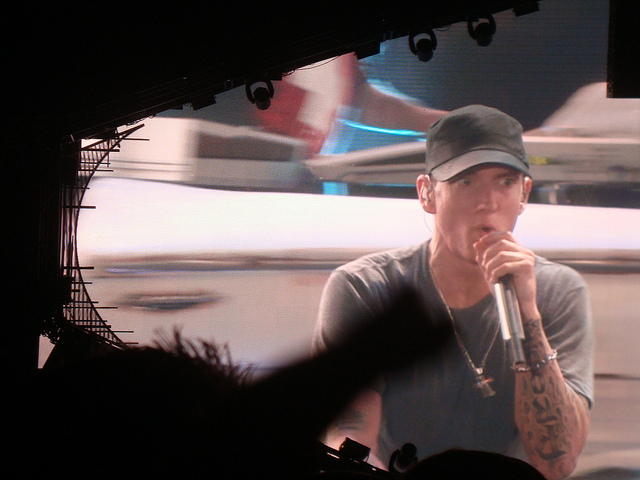 Photo by meeshypants
Eminem and Dr. Dre
Eminem became signed to Dr. Dre's label Aftermath Entertainment and also Interscope Records in 1998. In 1999 he debuted his first major studio album The Slim Shady LP which became one of the most popular albums and ended the year as triple platinum. The album consisted of controversial singles such as "97 Bonnie and Clyde" and "Guilty Conscience". Eminem and Dr. Dre went on to produce other hits including "Forgot about Dre" and "What's the Difference" from Dr. Dre's album 2001, "Bitch Please II" from The Marshall Mathers LP, "Say What You Say" from The Eminem Show.
The Marshall Mathers LP which was released in May 2000 sold 2 million copies. The first single released from the album, The Real Slim Shady, was a huge hit partly due to its catchy chorus and controversial lyrics that were aimed at celebrities such as Christina Aguilera gave "head" (oral sex) to Limp Bizkit's Fred Durst and MTV'S former V.J. Carson Daly. "The Way I Am", "Stan" are now considered classics.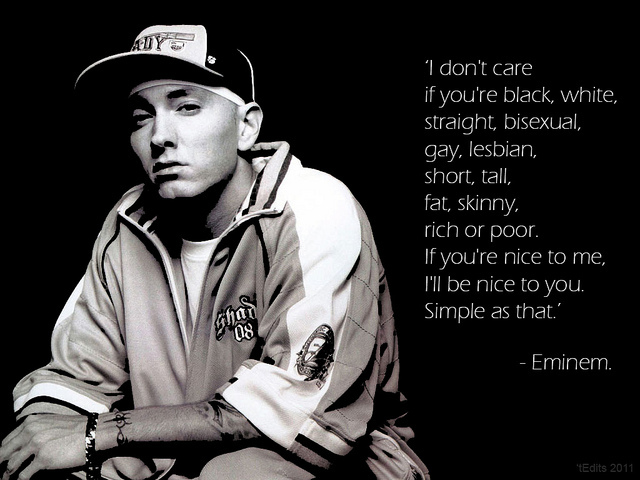 Photo by tEdits
Eminem Trivia
In 2002 Eminem released the movie 8 Mile for which he won ten awards and six nominations
He married his high school love Kimberly Anne Scott in 1999 and again in 2006. They divorced 2001 and 2006 respectively. They share custody of their daughter Hailie.
"The Marshall Mathers LP", sold 1.76 million copies in the first week of release in the U.S., a record for a solo artist. It went on to top seven million in sales and receives four Grammy nominations at The 43rd Annual Grammy Awards.
Have had controversies with Mariah Carey and Nick Canon, his mother Debbie and his former wife Kim.
On October 21, 2008, Eminem released a tell-all autobiography titled The Way I Am, which details his struggles with poverty, drugs, fame, heartbreak and depression, along with stories about his rise to fame and commentary on past controversies