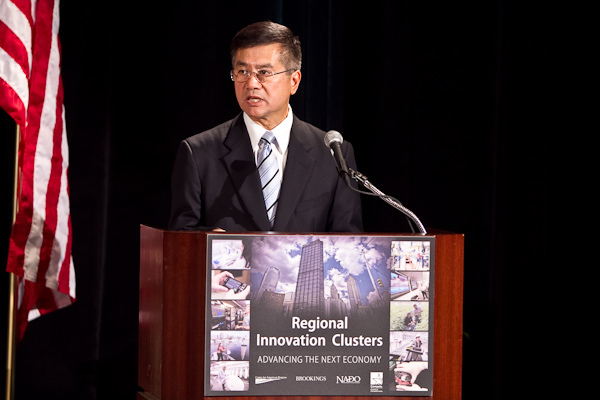 Photo by Center for American Progress
Biography of Senator Gary Locke
Gary Faye Locke is the current United States Secretary of Commerce and was the 21st Governor of Washington, serving from 1997 to 2005. Locke was the first, and remains the only, Chinese American to serve as governor of a state in United States history.
As Secretary of Commerce Locke administers the department that, under the American Recovery and Reinvestment Act, is charged with expanding the country's broadband infrastructure, bringing economic development to communities hardest hit by the recession and putting Americans to work under programs run by the Census, NOAA and the National Institute of Standards and Technology.
Locke initiated 10 productive trade missions to Asia, Mexico and Europe, significantly expanding the sales of Washington products and services. He successfully fostered economic relations between China and Washington State. His visits are credited with introducing Washington companies to China and helping more than double the state's exports to China to over $5 billion per year. He also opened a Washington State trade office in Germany to advance trade relations with European countries.
Early Life
Locke was born on January 21, 1950 in Seattle, Washington; his parents James and Julie Locke were immigrants. His father's ancestors were from Taishan, Guangdong in China whilst his mother was from Hong Kong. Locke had four siblings and at birth he was given a Chinese name ??? (pronounced Lok Gaa-Fai in Cantonese). He spoke English at the age of five. Locke attended Seattle's Franklin High School graduating in 1968 with honors and went on to Yale University where he was awarded a degree in political science in 1972. Three years later Locke graduated from the Boston University School of Law.
Career
Locke worked for several years as a deputy prosecutor in King County, prosecuting felony crimes. In 1982 he was elected to the House of Judiciary and Appropriations Committee in the Washington House of Representative; he sat in the seat of chairman of the House Appropriations Committee in the last five years. In 1993 he became the first Chinese American elected as King County's County Executive and he won the primary and general elections for governor, becoming the first Chinese American state governor in United States history in 1996 and was re-elected in November 2000 to a second term.
Among his spending-reduction proposals were laying off thousands of state employees; reducing health coverage; freezing most state employees' pay; and cutting funding for nursing homes and programs for the developmentally disabled. In his final budget, Locke suspended two voter-passed, pro-school initiatives while cutting state education funding. That same state budget, though, had record-high allocations for construction projects.
On the national stage, Democrats saw Gary Locke as a rising star and a possible vice-presidential pick. He was chosen to give his party's response to George W. Bush's 2003 State of the Union address.
End of Governor's Reign
In July 2003 Gary Locke announced that he would not be part of the re-elections for Governor for the third term. Although he cited the reason as needing time with his family, insinuations were made that the Governor might have received threats to himself and his family.
Locke left office on January 12, 2005 and joined the Seattle office of international law firm Davis Wright Tremaine LLP, in their China and governmental-relations practice groups; he was fundamental in assisting U.S. companies to break into international markets.
On February 25, 2009, Locke was announced as President Barack Obama's choice for the 36th Secretary of Commerce and was sworn in March 26, 2009, by District judge Richard A. Jones. He was sworn in by President Obama on May 1, 2009.
Once again Secretary Locke made history becoming the first Chinese American Secretary of Commerce, and the third Asian American in Obama's cabinet. Secretary Locke will be a key member of President Obama's economic team and will work to foster and promote American economic development at home, and will be an influential ambassador for American business and industry abroad. Locke is the first Chinese American to serve as Commerce Secretary
Personal Life
Secretary Locke is married to former NBC correspondent Mona Lee. The couple's ceremony took place on October 15, 1994. They now have three children: Emily Nicole, Dylan James, and Madeline Lee.