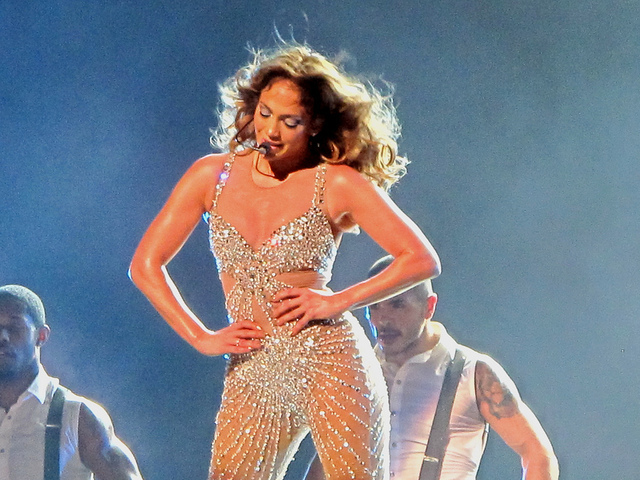 Photo by Nancy Parvana
Overview
Jennifer Lynn Lopez or J.Lo as she is popularly known was born July 24, 1969. She is an American actress, singer, record producer, dancer, fashion designer and television producer. She is currently the wealthiest person of Latin American descent in Hollywood according to Forbes.
Background Career
Lopez was born and lived in the South Bronx during her formative years. She is the daughter of Puerto Rican parents Guadalupe Rodríguez, a kindergarten teacher, and David Lopez, a computer specialist. She has two siblings, Lynda and Leslie Lopez. She was educated at a number of Catholic schools and completed her studies at the the all-girls Preston High School, in the Bronx. She was financing her singing and dancing lessons by the time she was 19. She attended Baruch College for one semester. She spent her time working in a legal office, taking dance classes, and doing dance performances in Manhattan night clubs. She got a small part in the 1987 film My Little Girl. She auditioned for many dance roles and was selected as a dancer for a variety of rap music videos, a 1990 episode of Yo! MTV Raps, and also as a backup dancer for the New Kids on the Block for their performance on the American Music Awards in 1991. She finally gained her first regular high-profile job as a "Fly Girl" dancer on the television comedy series In Living Color in 1990. She then became a backup dancer for Janet Jackson and was placed in her 1993 video "That's the Way Love Goes".
Lopez soon branched off into acting. She has appeared in many successful films including: The Cell (2000); The Wedding Planner (2001); Maid in Manhattan (2002); Shall We Dance? (2004) and Monster-in-Law (2005). She has earned ALMA Awards for outstanding actress for her work in Selena (1997), Out of Sight (1998) and Angel Eyes (2001). She has also used her fame to help propel a fashion line and various perfumes.
Lopez started her singing career releasing her debut studio album, On the 6. She then released two number one albums on the Billboard 200, J.Lo (2001) and J to tha L-O!: The Remixes (2002). Her third studio album This Is Me… Then (2002) also had much success, it peaked at number two on the Billboard 200. She released a fourth studio album, Rebirth (2005) . In 2007, Lopez impressively released two albums which included her first full Spanish-language album, Como Ama una Mujer and her fifth English studio album Brave. She earned the 2003 American Music Award for Favorite Pop/Rock Female Artist and the 2007 American Music Award for Favorite Latin Artist. She has sold more than 48 million albums worldwide.
Personal Life
She has had widely publicized relationship with Ojani Noa, Cris Judd, Sean Combs, Ben Affleck, and Marc Anthony. She is now currently married to Marc Anthony who she married in a quite ceremony on June 5, 2004. Lopez has since given birth to fraternal twins born on February 22, 2008, a girl and a boy, Emme Maribel Muñiz, and Maximilian "Max" David Muñiz. The twins were displayed in the March 11, 2008 issue of People magazine. The magazine reportedly paid $6 million for the photos.