Rap has for so long been a male dominated industry. From Eminem to Whiz Kalifa and Chris Brown; rap has been controlled by males. However, there are many talented, intelligent, and sexy women who have made themselves a name in the genre. Nikki Minaj and Lisa "Left Eye" Lopes, and Lil Kim for example are all strong beautiful women who were able to break into the industry and garner cult followings. From the 90's to now here are 13 of the hottest female rappers.
Photo by CTruth13
13. Charli Baltimore
This America born two time Grammy nominated rapper falls at number 13 on the list. Born in Philadelphia, PA in 1974, Baltimore for her two big albums: Cold As Ice and The Diary (You Think You Know).  She broke into the music scene in 1995 after being signed with Untertainment, a new record label at the time. In 2003 she was nominated for a Grammy for Best Female Rap Solo. In 2008 she re-signed with her label and confirmed the re-sign on the Wendy William show where she also promised fans a new album called True Lies. However, this album remains unreleased. Since then, she has appeared on several singles with other artists and broke into the world of acting, appearing in several movies. To many, she is known as a bombshell that rocked bright red hair. She is known for crazy fashion choices and unique hair which helped give her a name in the music industry along with her talents.

Photo by Serjao Carvalho
12. Azealia Banks
Revealing costumes and scandalous dance moves are not all this 23 year old has to offer the world. Her immense talent has drawn numerous fans to her, as have her truthful and deep lyrics. She dabbles in the genre of rap and what is known as indie pop/witch hop. Also known as Miss Bank$ and Yung Rapunxel, this young woman has released hit singles such as 212, Gimmie A Chance, and Venus. Her most popular album, Broke With Expensive Taste was released in 2014. She has collaborated with several other artists including the Scissor Sisters on their song "Shady Love." Banks, who identifies as bisexual, is also known for ongoing controversy with Iggy Azalea, T.I, and Mitchell Sunderland.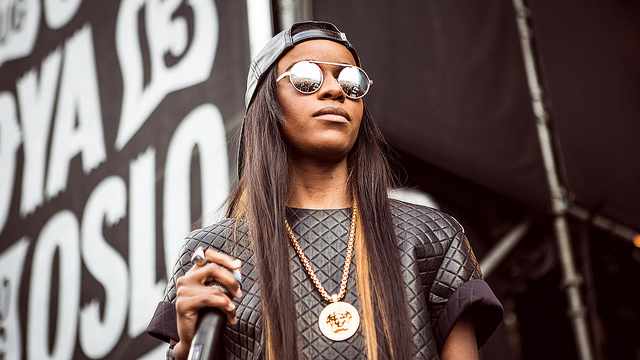 Photo by NRK P3
11. Angel Haze
Stunning beauty and a crazy amount of talent make this woman a well known, loved, and respected rapper. This 23 year old was born and raised in Detroit Michigan and broke into the music industry in 2012 when she released her first EP, Reservation, for free. This EP launched her into the public eye and achieved critical acclaim. In 2013 her popular fight with fellow rapper Azealia Banks made its way into her music with tracks like "Shut The F**k Up" and "On the Edge." Her debut album Dirty Gold was leaked on December 18th of 2013 and was followed by outrage by her and her label; however it was met with high praise.  Being pansexual and agender, Haze lives an androgynous lifestyle and serves as an inspiration for many living an LGBTQ+ lifestyle.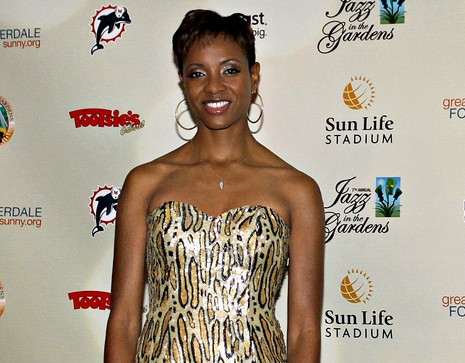 Photo by Sandra Alphonse
10. MC Lyte
Appearing in the music scene in 1986 this beautiful woman is still active in the music industry today. Her short stylish hair and flattering yet fashion forward outfits have helped to keep her in the spotlight along with her timeless music. Raised in Brooklyn, Lyte found her escape through rapping at the young age of 12. She burst into the professional scene at only 17 and since then has had 10 albums released under her credit. Her first album, Lyte As A Rock, spawned hits such as Paper Thin and the rap battle 10% Dis. Her album, Bad As I Wanna Be, featured then up and coming artist Missy Elliot who has gone on to release several of her own albums and popular singles. Lyte has been honored with several awards including 2013 Lifetime Achievement Award at the 2013 Hip Hop Inaugural Ball.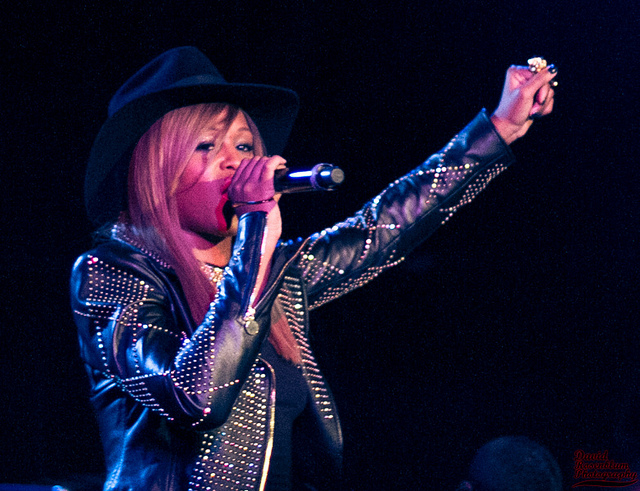 Photo by daverose259
9. Eve
Known as Gangsta in high school, this bombshell is known for intense vocals and unique hair and style choices. She appeared on the music scene for the first time in 1998 on the Bulworth soundtrack under the name Eve of Destruction. Her second single What Ya Want featuring Nokio the N-Tity became a top 40 hit on the Billboard Hit 100, making it all the way to 29. Her debut album, Let there Be Eve… Ruff Ryder's First Lady, became the third female rap album to reach the Billboard Top 200. In 2002 she dropped the album Evo-lution which hit number 2 on the Billboard Top 200 and her collaboration with Alicia Keys, Gangta Lovin" hit number 2. In 2014 Eve went on the Lip Lock tour with several other big names in Hip Hop such as Juicy J, Snoop Dogg, and Missy Elliot. In 2014 she announced that she would appear in an Oxygen documentary series titled Sisterhood of Hip Hop.

Photo by NRK P3
8. M.I.A
This beautiful British lady is one of the most controversial rappers in music today and she does not let anyone forget it. She has reached number 11 on the Billboard charts, has been nominated for several Grammy Awards, an Academy Award, and the Mercury Prize. She hit the mainstream in 2005 with her debut album, Arular, and hasn't left since. Her raps not only depend on her solid vocals but on rare instruments and original sound samples. She has reached Platinum status for her album Kala and her single Paper Planes is ranked as the 7th best selling song in England; it also went gold in New Zealand and triple Platinum in Canada. She has collaborated with popular artists such as Christina Aguilera and has caused controversy several times, the biggest of which was in 2010 with her video that depicted genocide against red-heads.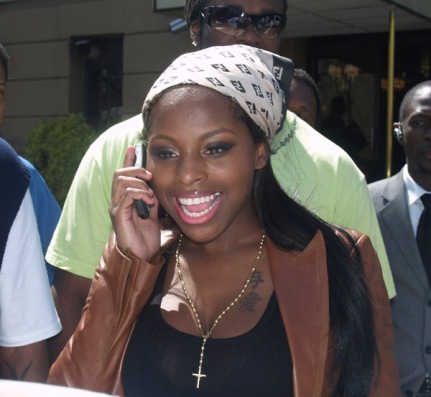 Photo by Brooklyn's Don Diva
7. Foxy Brown
Not only a rapper, but model and actress as well; Foxy Brown is an American sweetheart who rose to fame in the late 90's. She is known most for her solo work although she did garner some recognition for her work with the group The Firm. She has released 3 albums; Ill Na Na (1996), Chyna Doll (1999), and Broken Silence (2001). After 2001 her work consisted of writing verses for herself and other artists but she cancelled the release of her Ill Na An 2 by leaving her record label. In 2005 she was re-signed to the Def-Jam label by president Jay-Z; this was an opportunity used to work on a new album Black Roses. The fourth album was released in 2008 after Brown underwent surgery for hearing loss and served time for an assault charge.  Recently, she has appeared on tour with fellow female rapper Nikki Minaj and has rumored to be releasing another mix tape.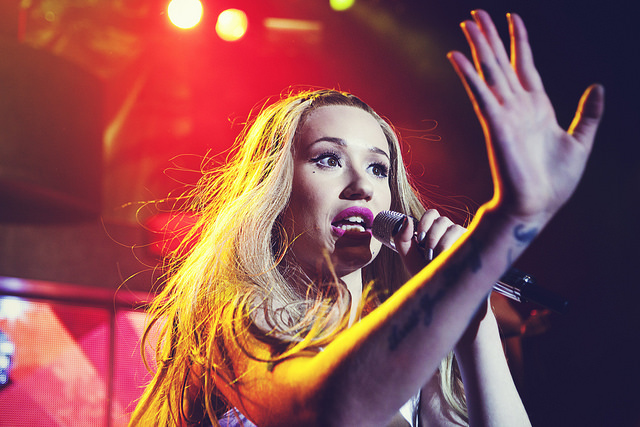 Photo by Laura Murray
6. Iggy Azalea
This blonde Australian has broken down barriers and stereotypes to become one of the biggest female rappers today. Known for hits like Fancy and Black Widow; Azalea is turning heads for not only her rhythms but also her stunning looks. She first gained popularity through the controversy of her music videos for the songs Pu$$y and Two Times; which went viral in 2011. In 2012 she released Ignorant Art, her mix tape which caught the attention of popular male rapper T.I. In the same year Azalea became the first white non-American female rapper to feature on XXL's Top 10 Freshman cover issue. Her debut Album, The New Classic, released in 2014 and topped the charts all over the world. This was the album that contained the popular song, Fancy featuring Charlie XCX; which reached number 1 on the Billboard Top 100. With plans for another studio album and a world tour, this rapper is dominating the rap, hip hop, and EDM genre.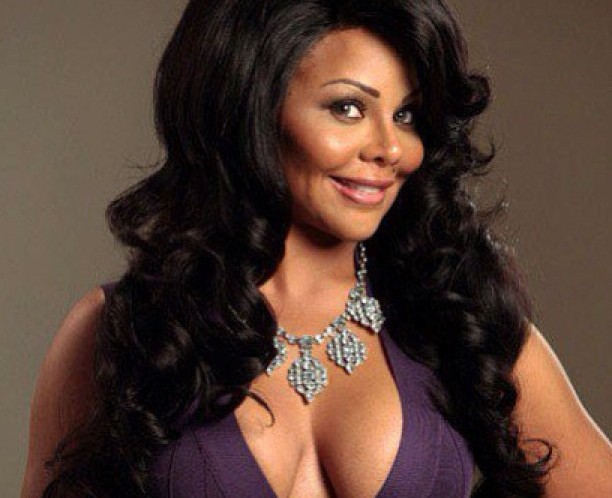 Photo by SexyLexi78
5. Lil Kim
Also known as Queen Bee, Lil Kim lived her life on the streets and started free styling as a teenager. She was influenced heavily by Diana Ross. Her debut studio album, Hard Core, released in 1996 and sky rocketed the young woman to fame. Her hot body and crude lyrics made her a favorite of both adolescent guys and girls. She and Missy Elliot are the only two female rappers to have 3 consecutive platinum albums; Kim's being Hard Core, The Notorious K.I.M, and La Bella Mafia. She has collaborated with several artist including Pink and Christina Aguilera. She has received one Grammy Award and two MTV Music Video Awards for her work.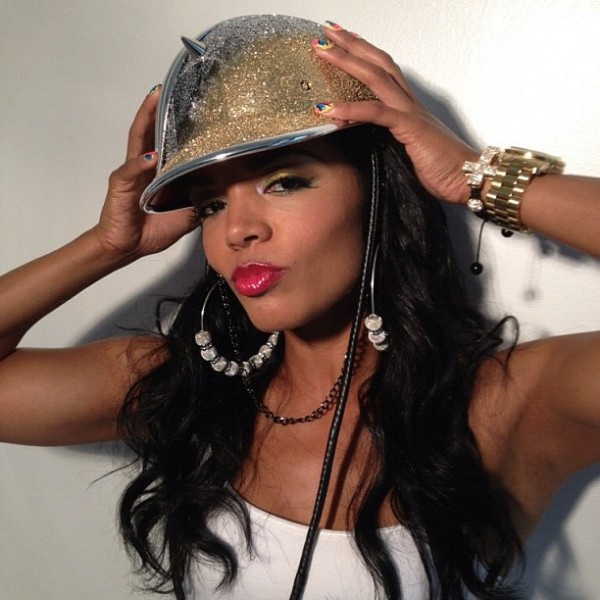 Photo by SheGoHard
4. Rasheeda
One of the stars of Love and Hip Hop: Atlanta; this rapper, fashion designer, and TV personality is loved by fans worldwide. She has released six studio albums since her rise to fame in the 90's. She is most known for her participation in the teenager Hip Hop group Da Kaperz which she left in 2000 to pursue her solo career. With skills to kill and looks to impress this black haired beauty released her first solo album, Dirty South, in early 2001. This album firmly cemented Rasheeda's place as a female rapper and she continues to impress to this day. She released her sixth album, Boss Chick Music, on the Google Play Store and in the same year she appeared on both Bad Girls Club: Atlanta and Love And Hip Hop: Atlanta.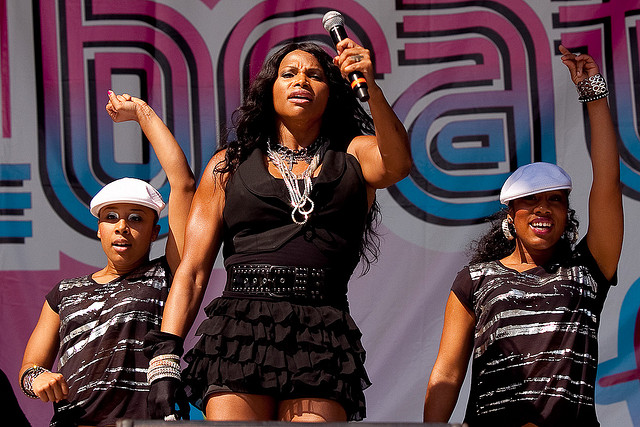 Photo by laubarnes
3. Salt N Pepa
This all female group is one of the hottest rap groups of all time! Popular for singles like Push It and Let's Talk About Sex; during their time as a group they released 5 studio albums each receiving critical acclaim. The three came together in Queens New York and made their name in rap in the early 90's. Their catchy beats, sex appeal, and willingness to rap about topics like sexuality really gave them a place in the music industry and R&B/Hip Hop genre. The group disbanded in 1999 for personal reasons. However, in 2005 they reformed for an honorary performance and today they still do performances together.

Photo by treva_1023
2. Lisa "Left Eye" Lopes
Affectionately known as Left Eye, Lisa Lopes was 1/3 of the female rap trio, TLC. The group rose to fame in the early 90's and the raps that Left Eye personally wrote were responsible for some of their biggest hits including Girl Talk, Waterfalls, Scrubs, and Ain't 2 Proud To Beg. She began a solo career in 2000's and appeared in singles with N'Sync and Melanie C (one of the Spice Girls). Sadly, she tragically died in 2002 in an accident where she was thrown from her car. Today, she is still considered a huge influence on rap and one of the hottest female rappers of all time.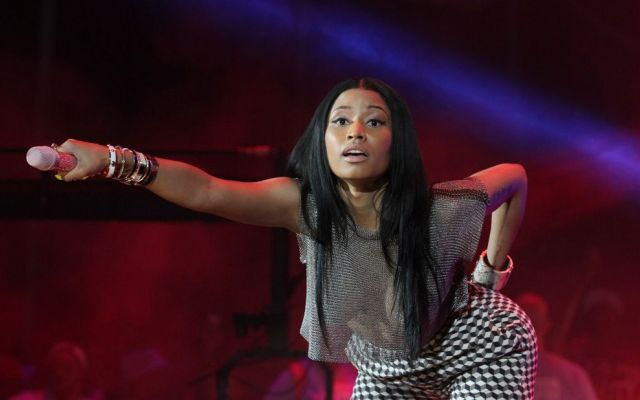 Photo by HotGossipItalia
1. Nicki Minaj
Arguably the most popular and sexiest female rapper of all time; Minaj brings that "Boom Boom Boom" to the world of rap. She was raised in Queens New York and came into the public eye when she began releasing mix tapes in 2007. Her debut album, Pink Friday, is what really brought her into the public eye and is behind the hit single Super Bass. She was named "Most Influential Rapper of All Time" by the New York Times. Her self-written raps, crazy fashion statements, unique hairstyles, and sexually charged performances are only a few of the reasons that she could be considered the hottest female rapper of all time.