Myla Sinanaj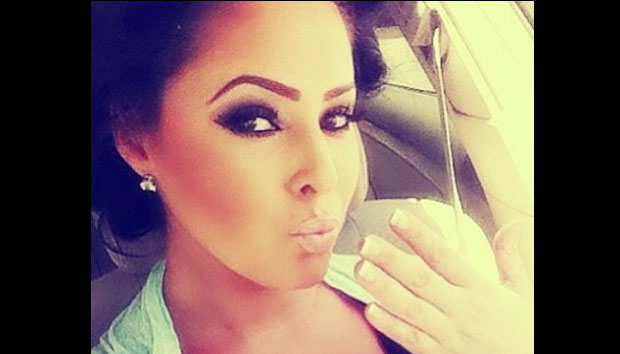 Fatmire Myla Sinanaj is an American model, singer and mature adult entertainment star. She was born on 1 January 1987 in Ellenville, New York. After she had gratuated from high school, she sworked as a hotel employee in New York. Myla became famous by dating a basketball player named Kris Humphries and by trying to look like Kim Kardashian.
| | |
| --- | --- |
| Height | 5 ft 7 in / 170 cm |
| Weight | 167 lbs / 75 kg |
| Build | Lush |
| Hair Color | Black |
| Eye Color | Dark Brown |
Early years
Myla Sinanaj was born on 1 January 1987 in Ellenville, New York City, where she grew up, as well. Ever since she was a little girl she liked the attention, and when she was in high school she would talk about wanting to be a celebrity one day. When she finished high school, Myla started working in a hotel in New York called Gansevoort Park.
Building her career
In 2012 Myla started working in a hotel, and a few months later she met a famous basketball player Kris Humphries, who was staying there for a few days. Kris and Myla started dating right after he got divorced from Kim Kardashian and that meant a lot of eyes pointed at Myla. That was exactly what she wanted and that's how she became a celebrity. In 2013 Myla released a porn video called "The Anti Kim XXX" featuring Karlo Karrera. After all the drama concerning Myla's explicit content, she had enough publicity to start a career as a star. She started modeling and quit her job as a hotel employee. After failing as a model, she turned to singing by releasing her single "I'm no angel" in August of 2013. The song was featured on iTunes and even had a music video with Adam Barta, but it didn't get good feedbacks. She even tried acting but none of these careers seemed to fit her.
Myla's relationship with Kris Humphries
Even though Kris was a successful basketball player, he was better known for his controversial girlfriends and relationships than his skills. Today the world refers to him as an ex-husband of Kim Kardashian. Right from the start of Kris and Myla's relationship many speculated that she only wanted attention and publicity but gossips didn't harm the couple. Myla was interesting to the tabloids because the "Kim and Kris drama" was still fresh.
She loved the attention and wouldn't even try to keep her relationship private. She got even more publicity when she stated that she deserved to be famous because she looked just like Kim. A few months in the relationship Myla even stated that she is pregnant. The press went crazy and after a while she confessed it was all made up. At that time Kris stayed out of the public eye because he believed that he was the father. After a few months of dating, Myla broke up with Kris as she felt their relationship was not healthy. Later on she wanted to sue Kris for "defamation" but she didn't due to financial troubles.
View this post on Instagram
The obsession with Kim Kardashian
When Myla started dating Kris Humphries she made a few comments towards Kim, comparing herself to her. She said that she deserved to be a big star because she thought she looked just like Kim. In 2012, right after she started dating Kris, Myla turned to plastic surgery so she could look even more like her. She had enhanced her breasts and even though she never admitted of getting surgery, it was strange to see her thighs and rear suddenly look bigger. She always said that she wanted to look like Kim but it was clear how much she hated her as a person.
Tabloids have always written about how much hate Myla has towards Kim, and Myla has never said those statements are false. After all the things she said and the surgeries she did, it was clear that her relationship with Kris was just a publicity stunt and a step closer to looking like Kim. After her and Kris broke up, she came out with a sex tape called ''Anti Kim Kardashian XXX" in which was featured a Kris Humphries look alike. At the start of the video they even had Kim Kardashian's tape playing in the background and then Myla saying she can do it better than Kim. She wanted to make millions off of the sex tape so she could start her own reality show. In June, 2013, via Twitter, Myla accused Kim of cheating NFL star Reggie Bush with Kanye West. Kim usually makes fun of Myla in public, saying it's funny how bad she wants to look like her, but she always says she isn't worried of Myla reaching her popularity because she thinks that's impossible.
Social Media
Myla Sinanaj has her official Facebook page with over 12.000 thousand followers, a Snapchat account with a huge following and an Instagram profile were she posts pictures of herself daily. She is active on her Twitter profile the most, where she's constantly involved in drama. Myla was on the cover of a lot of magazines, including "Fashion".
Interesting facts about Myla
Myla is an Albanian girl that was born in New York. She is 31 years old and is 170 cm tall. She has black hair and brown eyes. Her hobby is fashion designing. When it comes to friends, Myla hasn't been showing them off in public, nor in pictures and because of that it is not clear if she has any. Her best friend was Farrah Abraham who also released a sex tape, after which they stopped going out. Her net worth is approximately 200.000 thousand dollars.
Facts and Net Worth
| | |
| --- | --- |
| Net Worth | $200 000 |
| Real Name | Fatmire Sinanaj |
| Date of Birth | January 4th, 1987 |
| Place of Birth | Ellenville |
| Profession | Model |
| Facebook Page | Myla @ Facebook |
| Instagram | Myla @ Instagram |
| You Tube | N/A |
| Twitter | Myla @ Twitter |
| Sex-orientation | Straight |
| Marital status | Not married |
| Children | 0 |
| Nationality | American |
| Religion | N/A |