Photo by vincent.pennel
Hollywood's natural beauties have a mesmerizing and effortless beauty. These actresses have an inner beauty that shines through with or without makeup. In most instances, natural beauties do not depend on products to look beautiful. When considering Hollywood's top natural beauties, a few names come to mind. A-list Hollywood actresses such as Jennifer Garner, Halle Berry, and Jennifer Aniston have received "most beautiful women" awards on several occasions. However, there are a few "new" all natural beauties that have taken over the big screen.
1. Scarlett Johansson
Scarlett Johansson is an American singer, model, and actress. She offers the total package of style, beauty, and talent. Scarlett made her film debut in North in 1994. Recently, she has starred as Black Widow in several Marvel films. These films include Iron Man 2, The Avengers, and Captain America: The Winter Soldier. Scarlett will reprise the role of Black Widow or Natasha Romanoff in the upcoming Avengers: Age of Ultron. It's a little known secret that Scarlett has released two studio albums entitled Break Up and Anywhere I Lay My Head. Currently, Johansson is known as one of Hollywood's sexist actresses alive. She is regularly listed in publications as one of the sexiest women in the world. Scarlett was named the "Sexiest Woman Alive" by Esquire in 2006 and 2013.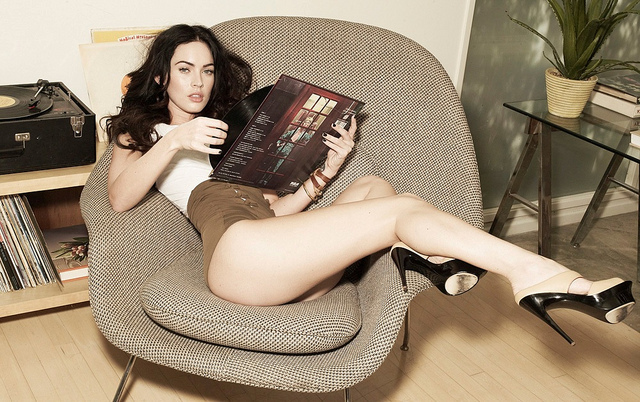 Photo by stacyjane7
2. Megan Fox
Megan Fox is an American model and actress. Fox is a young, beautiful, and stylish actress. She started her acting career in 2001 with small film and television roles. Megan made her major film debut in 2004 with a role in Confessions of a Teenage Drama Queen. Fox auditioned for the lead role, but lost it to the more popular Lindsay Lohan. There was some Hollywood gossip floating around that the on-screen rivalry was more than good acting. Fox moved on to play opposite Shia Lebouf in the blockbuster film Transformers in 2007. This would become Megan's breakout role. In 2009, she reprised her role in Transformers: Revenge of the Fallen. In late 2009, Fox starred as a seductive succubus in the film Jennifer's Body. Fox is considered in Hollywood as one of the industry's leading female sex symbols. She has appeared in magazines such as FHM, Maxim, and Rolling Stone.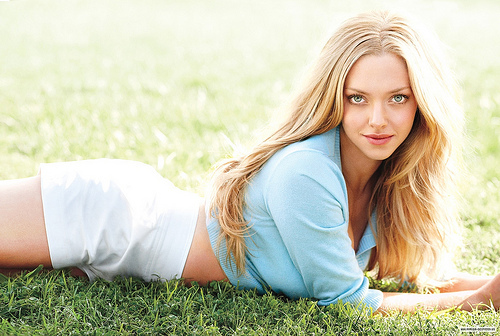 Photo by maquitafer
3. Amanda Seyfried
Amanda Michelle Seyfried is an American model, singer, and actress. Seyfried is known for her talents on screen; however, she started her career as a model. Seyfried began her acting career when she was 15 with unaccredited roles on All My Children and As the World Turns. Seyfried did not make her major film debut until 2004 in the film Mean Girls. Amanda is also well-known for her recurring role on the show Veronica Mars from 2004 to 2006. Although she is gorgeous and confident; many fans don't know that Amanda suffers from anxiety and hates being interviewed. Most recently, Seyfried has starred in Red Riding Hood, In Time opposite Justin Timberlake, and the award winning Les Misérables. In 2009, People magazine placed Amanda No. 4 on the Most Beautiful at Every Age listing. Seyfried made People's list again in 2010 for Most Beautiful with no make-up. In 2011, People named Seyfried the No. 1 "25 Beauties at 25."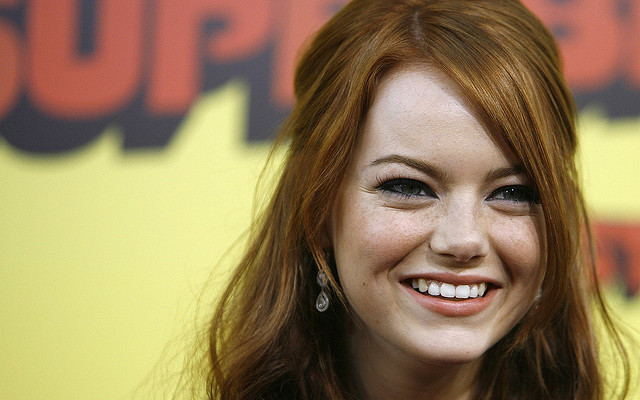 Photo by Cacá Jouclas
4. Emma Stone
Emily Jean, or Emma, Stone is an American actress. She came to Hollywood was she was 16 years old and started her acting career with minor television roles. Emma made her major film debut in the film Superbad in 2007. Although she is commonly seen with red or dark brown hair, Emma is naturally blonde. She has had major roles in The House Bunny, Zombieland, and Ghost of Girlfriends Past. Stone received her first leading role in 2010 in the film Easy A. More recently, Emma has appeared as Grace Faraday in Gangster Squad and as Gwen Stacy in both Amazing Spider-Man films. Stone has evenv provided her voice for animated films such as Marmaduke and The Croods. Emma Stone is one Hollywood's natural beauties and is currently the face for Revlon beauty products.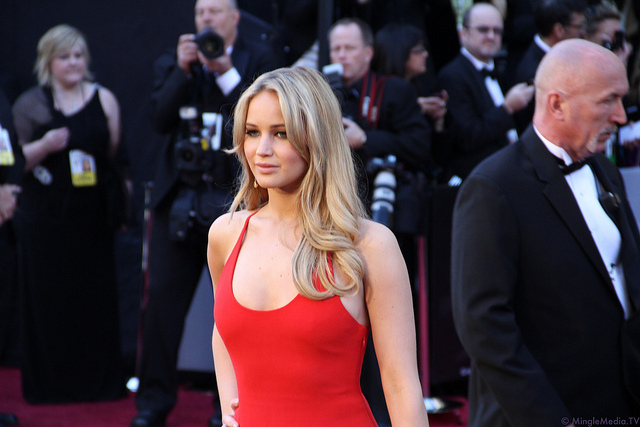 Photo by MingleMediaTVNetwork
5. Jennifer Lawrence
Jennifer Shrader Lawrence is an American actress. Lawrence is well-known for her beauty and talent; however, she is also an avid philanthropist. Jennifer began her acting career on The Bill Engvall Show in 2007. Lawrence later appeared in a couple independent films that include The Burning Plain and Winter's Bone. She received an Academy Award nomination for Best Actress in 2011 for her role in Winter's Bone. At that time, Jennifer was the second youngest to receive this nomination. Lawrence is most known for portraying Mystique in Marvel films X-Men: First Class and X-Men: Days of Future Past. Jennifer attained international fame in 2012 after starring as the leading actress, Katniss Everdeen, in the well-liked Hunger Games film. This established Lawrence as the highest-grossing action heroine ever. In 2013, she reprised her role as Katniss in the sequel to Hunger Games. In 2013, Jennifer's natural beauty earned her the No. 1 ranking on AskMen's list of Top 99 Most Desirable Women.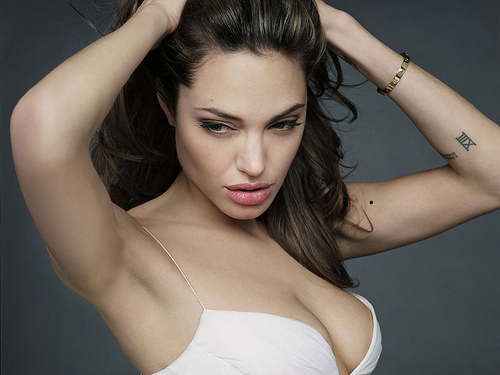 Photo by bwbwbwus
6. Angelina Jolie
Angelina Jolie is an American author, actress, screenwriter, and director. Any all natural beauty list is incomplete without the addition of Angelina Jolie. She has been named "Hollywood's Most Beautiful Woman" repeatedly by numerous media outlets. During her acting career, Jolie has earned three Golden Globe Awards, an Academy Award, and two Screen Actors Guild Awards. Angelina was Hollywood's highest-paid actress in 2009, 2011, and 2013. Aside from her success on the big screen, Jolie promotes and encourages humanitarian causes. Most notably, her work as the former Goodwill Ambassador for the United Nations High Commissioner for Refugees. Jolie's film debut was with her father, Jon Voight, in the 1982 film Lookin' to Get Out. Her first leading role did not come until 1995 in the film Hackers. Angelina received worldwide fame in 2001 with her portrayal of popular video game heroine Lara Croft in Tomb Raider. The sequel to Tomb Raider helped establish Jolie as one of the highest-paid actresses in Hollywood. Her action career continued to flourish with Mr. & Mrs. Smith, Wanted, and Salt. Jolie has received the Hollywood's "most beautiful" and "sexiest" woman title by hundreds of different media outlets. Most recently, People magazine named Angelina one of 2012's Most Beautiful at Every Age.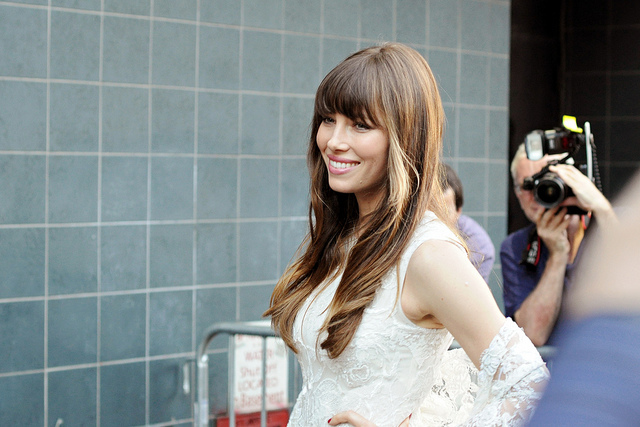 Photo by arch*templar
7. Jessica Biel
Jessica Claire Biel, now known as Jessica Claire Timberlake, is an American actress. Jessica started her acting career as Mary Camden on the family TV drama 7th Heaven. Biel has earned high recognition for performance on the family series. Her film debut was in It's a Digital World in 1994. Biel received the Young Artist Award for Best Performance in a Feature Film as a Supporting Young Actress for the film Ulee's Gold in 1997. Subsequently, Jessica has starred in several films that include The Rules of Attraction, Texas Chainsaw Massacre, Cellular, and Blade: Trinity. In 2007, Stuff magazine ranked her No. 1 on the "100 Sexiest Women" list. Most recently, Biel has starred in The A-Team, Hitchcock, and Total Recall.

Photo by paparazzi_images
8. Natalie Portman
Natalie Portman is an American actress with dual Israeli citizenship. Portman moved from Israel to America to accomplish her dream of becoming a Hollywood actress. Natalie Portman in not only a talented actress, she is a beautiful model that has graced several international fashion shows. Her film debut was in 1994 as an orphan in the film Léon: The Professional. However, she did not earn mainstream success until her role in the Star Wars prequel trilogy as Padmé Amidala. In 2005, Portman received an Academy Award nomination for her performance in the film Closer. That same year she won a Golden Globe Award for the same film. In 2010, her role in the critically acclaimed Black Swan earned Natalie her second Golden Globe. In 2011, she received her first Academy Award for her role in Black Swan. Portman is most recently recognized for her role as Jane Foster in both Thor and Thor: The Dark World. Many fans are unaware that Natalie graduated from Harvard University in 2003 with an A.B. degree in psychology.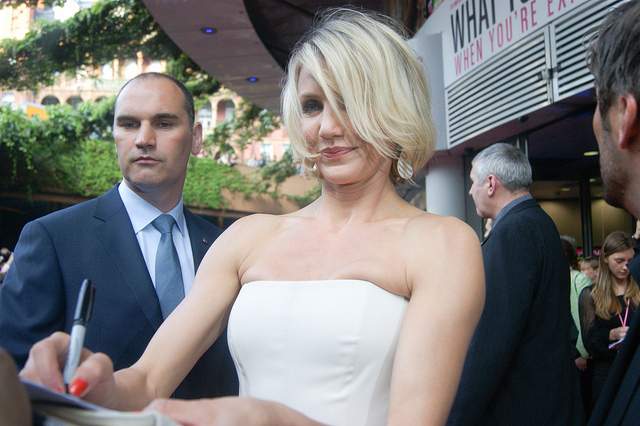 Photo by Duncan Penfold Photography
9. Cameron Diaz
Cameron Michelle Diaz is a former model and American actress. Diaz started her career as a model at the age of 16. She worked for companies such as Levi and Calvin Klein. She began her acting career in 1994 in the film The Mask opposite Jim Carrey. During the 1990s she had major roles in films that include My Best Friend's Wedding, There's Something About Mary, and Any Given Sunday. Diaz has earned high-profile credits for both Charlie's Angels films, for her voiceover work as Princess Fiona in the Shrek, in The Green Hornet, and Bad Teacher. Currently, Cameron has received four Golden Globe Award nominations and is a BAFTA Nominee. Diaz was named the highest-paid actress over 40 in 2013. Cameron Diaz is a gorgeous actress that has won numerous national and international "most beautiful actress" awards.

Photo by Xerxes2K
10. Charlize Theron
Charlize Theron is an American and South African model, actress, director, and producer. Although Charlize retains her South African citizenship, she became a U.S. citizen in 2007. Theron is a gorgeous actress that was on the cover of Vanity Fair and a May 1999 issue of Playboy. In 2013, Vulture/NYMag ranked her 68th Most Valuable Star as a result of her skill, talent, and beauty. Theron's started her acting career in 1994 with an uncredited role in Children on The Corn 3. She did not earn fame until the late 1990s with roles in The Devil's Advocate and The Cider House Rules. Her portrayal of a serial killer in Monster earned Charlize critical acclaim. She won an Academy Award for Best Actress, a Golden Globe Award, Silver Bear Award, and a Screen Actors Guild Award. Charlize received a Golden Globe for her role in Young Adult in 2011. More recently, she starred in Snow White and the Huntsman, Prometheus, and A Million Ways To Die in the West.