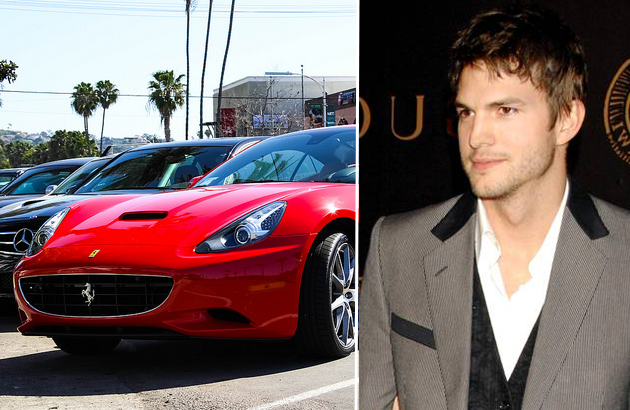 Photo by Flickr
Many celebrities have the money and fame to acquire fancy cars if they choose to do so. In some cases, individual cars are sold for far above market value because they were once owned by a famous person. Often, though, celebrities choose a flashy, fabulous sports car to carry them around. Here are ten of our favorites:
1. Ashton Kutcher
Ashton Kutcher may be known for his affinity for beanies and overall laid-back style, but when it comes to cars, this actor goes straight for luxury. Kutcher, who had a long-running role on the series That '70s Show and then went on to star in The Butterfly Effect and other films, drives a flashy candy-apple red Ferrari California. This vehicle has several innovative design features – it's the first Ferrari to have a front engine, folding metal roof, and a seven-speed transmission with a dual clutch. The red California isn't Kutcher's only vehicle – he also drives a Lexus LS Hybrid and a Fisker Karma. Kutcher is engaged to actress Mila Kunis, and the two are expecting a child.

Photo by Flickr
2. Paris Hilton
Like many celebrities, the tiny-dog-carrying heiress has quite a collection of vehicles. However, one of her flashy new additions to her stable of sports cars is a sleek black McLaren 650S Spider. The 650S is a follow-up effort after McLaren introduced the 12C as a competitor for other flashy cars. Porsche, Ferrari, and Lamborghini might be the names that the average person thinks of when they thinks of sports cars, but McLaren has been a quiet competitor. Though the 650S Spider is equipped for high speeds, it seems as though Hilton doesn't always use it to its full capacity – the heiress has been spotted driving the car around Beverly Hills on shopping expeditions.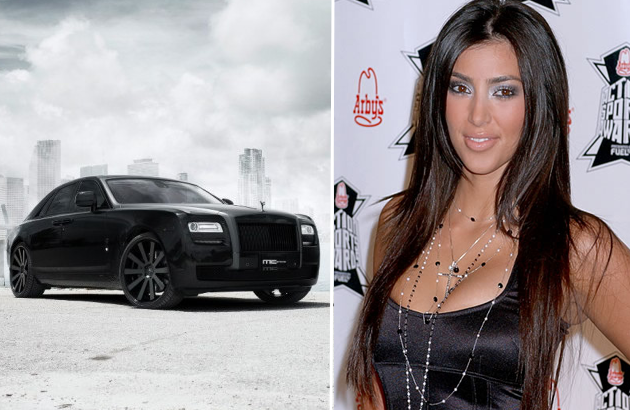 Photo by Flickr
3. Kim Kardashian
The new wife of Kanye West and mother to baby North travels via a cadre of fancy cars, but her newest is a black Rolls Royce Ghost. Previously, she owned a white version of the car. The black Ghost is customized by Platinum Motorsport, and it joins her long list of other cars, including a gunmetal-colored Mercedes-Benz G63 and a sleek, sparkling-white Ferrari 458 Italia. She also purchased a flashy matte black Lamborghini Aventador for husband Kanye West. It's no wonder Kardashian can afford so many luxury cars (and even the same car in different colors!) – she's one of the top money-earning reality TV stars known.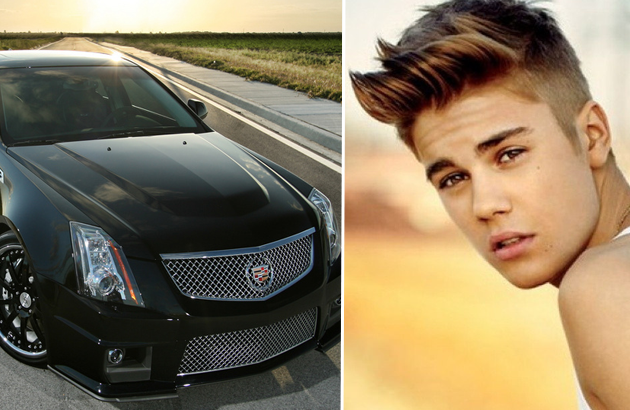 Photo by Flickr
4. Justin Bieber
When Justin Bieber, first became famous, his mother set limits on how much money he could spend each week. Now, though, he no longer has to live by that rule, and the Biebs is the owner of several unique vehicles. At least ostensibly, he's a fan of the flat black finish and drives a Cadillac CTS-V, a Smart Car, a Range Rover, a Ferrari F430, and even a Mercedes Sprinter van with the finish. However, two of Bieber's other vehicles sport unique finishes – he's been known to drive a Fisker Karma with a mirrored finish and even an Audi R8 with a flashy custom cheetah finish.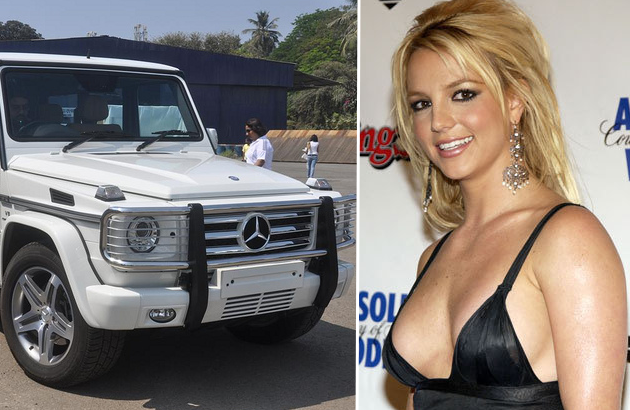 Photo by Flickr
5. Britney Spears
The Queen of Pop may be less famous than she once was, but she's still enjoying the trappings of celebrity life. Spears, who went through a period of publicized, questionable antics – including shaving her head and driving with a toddler in the font seat of a car – can now draw the public eye with her variety of cars. A vintage-inspired white Mercedes G55 is one of the lineup, as is a white Smart Car for when the star wants to be as efficient as possible on fuel. A white Jaguar XK, a snazzy Maserati Gran Turismo, and an off-white Mini Cooper are a few more members of her extensive vehicle collection.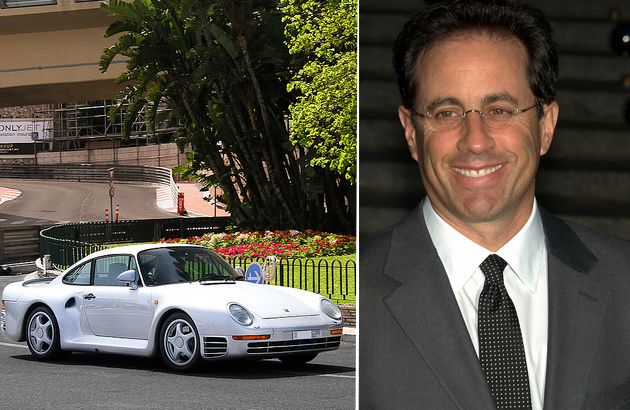 Photo by Flickr
6. Jerry Seinfeld
Most people might not think of Jerry Seinfeld when they think of luxury cars, but Seinfeld is, in fact, the owner of one of the world's largest Porsche collections. Though he owns 46 cars, perhaps the most unique is a Porsche 959, a car that's illegal to drive because it can't pass a U.S. emissions test. Seinfeld's car is one of a very small run of 337, and it costs $700,000. He also owns the very first Porsche 911. Seinfeld's Porsche garage is located in a secret area, and he allegedly can access a video feed of the facility while he is not on the premises.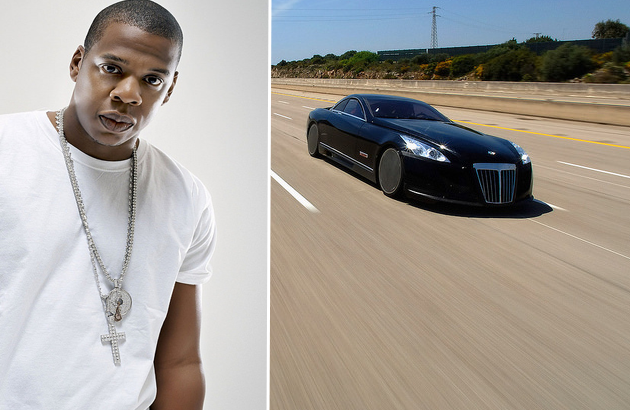 Photo by Flickr
7. Jay Z
Rapper Jay Z, husband of Beyonce, may drive the most expensive cars in Hollywood. His black Maybach Exelero, a deep black vehicle with chrome accents, is worth eight million dollars. It makes an appearance in his video for "Lost One." The car is remarkably heavy for a smallish vehicle, and it weighs over 2.5 tons. It was originally made as a one-off in 2005, but now a limited number have been made available to the public, or to any members of the public who have millions to spend on a car.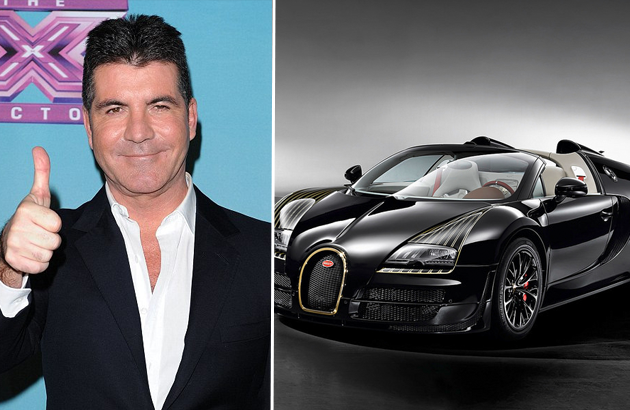 Photo by Flickr
8. Simon Cowell
Have you ever seen Simon Cowell smile? If you've seen him diving his Bugatti, the answer is probably yes. The typically dour star can be spotting grinning ear-to-ear when behind the wheel of his dazzling Bugatti Veyron. The vehicle, which cost just under two million dollars, can go from a standstill to 60 miles per hour in 2.5 seconds. (A slightly more expensive model is owned by rapper Birdman.) The aerodynamic Veyron is one of the world's fastest sports cars, too – it can hit about 267 miles per hour at full speed. The American Idol judge owns a few other vehicles, too, but this one makes a unique centerpiece.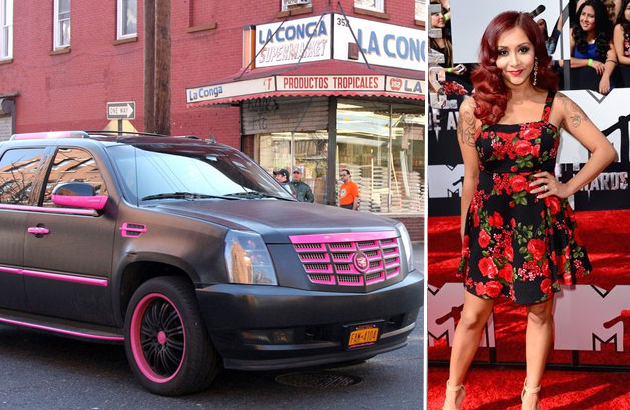 Photo by Flickr
9. Snooki
It may not count as a sports car, but Snooki's pink-and-black Escalade certainly deserves a mention in any list of fabulous celebrity cars. The giant vehicle is a stark contrast to Snooki's short stature. The star originally went to college in order to pursue a career as a vet tech, but she was discovered by Jersey Shore scouts in 2009. Now, Snooki capitalizes on her fame by writing books, making talk show appearances, and driving around in her unique SUV. Snooki's custom Cadillac Escalade is a matte black finish with a pink grille and accents, including black-and-pink wheels, a pink roof rack, and hot pink door handles.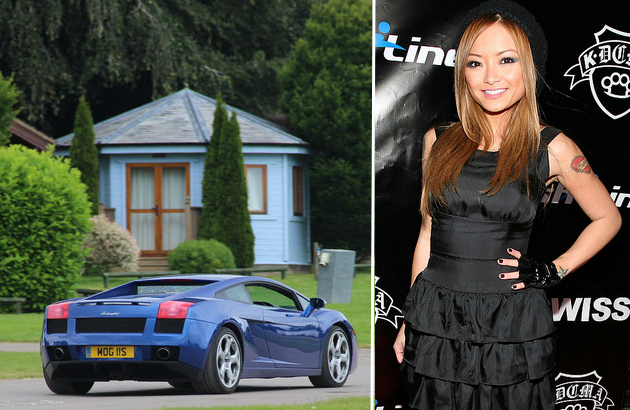 Photo by Flickr
10. Tila Tequila
Tila Tequila may be well-known for her tweets about Illuminati conspiracy theories and her erstwhile engagement to heiress Casey Johnson (who passed away due to Type I diabetes complications), but she also has had a varied career as a model, record label owner, and reality TV host. She got her start as a Playboy model and has since moved on to further fame and, of course, money. Tequila, who was born Tila Nguyen, also drives a lovely sky-blue Lamborghini Gallardo. The Gallardo is a powerful vehicle that comes with rear-wheel drive and can reach speeds of almost 100 miles per hour.