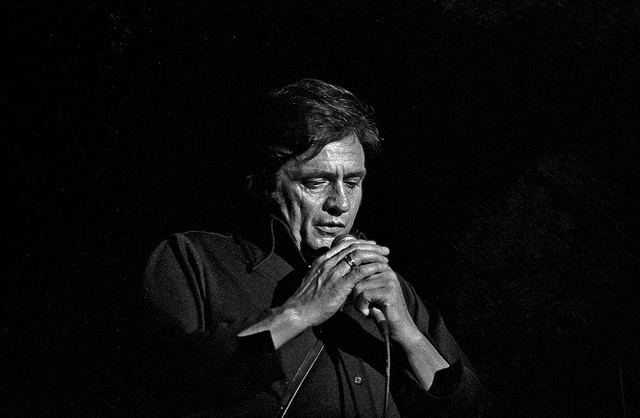 Photo by Heinrich Klaffs
Background and Early Life
Johnny Cash was born on Feb. 26, 1932, in Kingsland, Ark. He was one of six children raised by parents Ray and Carrie Rivers Cash. By the time Cash was 3 years old, his father decided to take advantage of a new Roosevelt farm program subsequently moving his family to Dyess Colony in northeast Arkansas.
Music had an important place in the day to day life of the Cash household. John immersed himself in the various musical influences which ranged from his mother's folk songs and hymns to the work songs from the fields.
As a young man he enlisted in the U.S. Air Force. After he accomplished basic training in Texas, he was shipped to Landsberg, Germany. During his time in the service Cash organized his first band deemed the Landsberg Barbarians.
Once he was discharged in 1954, Cash returned stateside and married Vivian Liberto. They then settled in Memphis where Cash took on several jobs while attempting to make it in the music business.
Career
In 1954, he auditioned as a solo artist for Sam Phillips' Sun Records. He then released "Hey Porter" for the label which had what could be described as a scanty but greatly impressive instrumental accompaniment. Though the single itself was remarkable, the song did not do well commercially.
His next song "Cry, Cry, Cry" did significantly beter, managing to crack Billboard's Top 20, and peaked at number 14. He then released the singles: "So Doggone Lonesome" and "Folsom Prison Blues". His fourth chart single was the song that would make his career. "I Walk the Line" went straight to Billboard's No. 1 position and stayed their for an outstanding 43 weeks. It eventually sold over 2 million copies.
By 1957 Cash had many hits to his name and was touring aggressively. A year later he switched to Columbia Records once he decided he wished to have more artistic freedom. He still wished to create gospel records and decided he would be able to achieve this dream by switching labels.
For the rest of the 1950s and well into the 1960s, he continued making extraordinary records and was consistently on the charts. "Don't Take Your Guns to Town," "I Got Stripes," "Ring of Fire," "Understand Your Man" and "The Ballad of Ira Hayes" were all major successes. He was a guest on The Ed Sullivan Show, The Tonight Show and other popular network programs. In the early 1960s, concept albums such as Bitter Tears and Ballads of the True West allowed him to gain a large fan base within the folk music crowd. He subsequently appeared at the Newport Folk Festival.
Cash eventually started using narcotics as a response to stress from his very active lifestyle. By the middle of the 1960s, Cash was slowly deteriorating from drug use and this began to affect his career. It was also during this period that he divorced his first wife.
By 1967, with the help of June Carter and her family Cash was able to quit his drug habit. In 1968, he married Carter.
Cash later received a network television spot. The Johnny Cash Show aired on ABC in 1969. The show was canceled in 1971 however he continued hosting several programs for many years after this.
In 1980, at the modest age of 48, Johnny Cash became the single youngest living inductee into the Country Music Hall of Fame. The Rock and Roll Hall of Fame also honoured him in 1995.
He continued singing well into 2002 despite his illness autonomic neuropathy due to diabetes, he released American IV: The Man Comes Around which also included the Nine Inch Nails single "Hurt." Cash then earned three CMA awards in 2003, and the much praised video for "Hurt" won an MTV award and a Grammy.
Death and Film Tribute
After he lost his wife June Carter Cash suddenly in May 2003, Johnny Cash passed away on September 12, 2003 at Baptist Hospital in Nashville, Tennessee from complications associated with diabetes.
In 2005, a film version that followed his early romance with June Carter, titled Walk the Line was released, it also received an Oscar nomination for Best Picture.