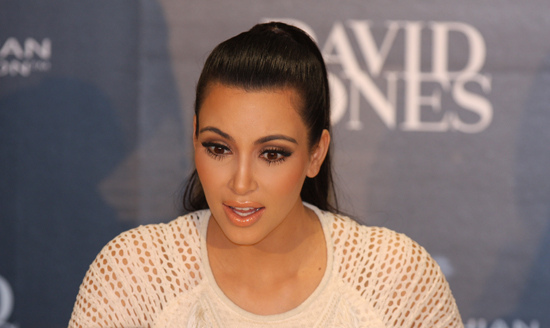 Photo by Eva Rinaldi Celebrity and Live Music Photographer
Early Life
Kimberly Noel Kardashian was born on October 21, 1980 in Los Angeles, California to mother Kris Jenner and attorney at law Robert Kardashian who died on September 30, 2003. Kim has two sisters and one brother; she also has three stepbrothers Burton, Brandon and Brody Jenner, a step sister Casey Jenner and two half sisters Kendall and Kylie Jenner. Kim's father was made famous due to him being O.J. Simpson's lawyer during his murder trial; O.J. Simpson is also Kim's godfather. While attended high school Kim would work with her father's music marketing firm, Movie Tunes.
Photo by jingdianmeinv3
Career
Kimberly Kardashian is a model, actress and business woman and also a television personality. She is mainly known for starring in the reality show 'Keeping Up with the Kardashians' along with her mother, stepfather, her two sisters, brother and half-sisters. Kim performed her first acting role in the television series Beyond the Break and in 2008 she played alongside Carmen Electra and Vanessa Minnillo in the film 'Disaster Movie'. She also appeared in an episode of How I Met Your Mother entitled 'Benefits'. Kim partnered with current DWTS Champion Mark Ballas as one of 13 participants on the seventh season of Dancing with the Stars and on September 20, 2008 she became the third contestant voted off the show. It is stated that Kardashian is supposed to appear as a guest judge during Cycle 13 of America's Next Top model.
Apart from career on television, Kim has done many small modeling jobs. She is a model for Travis Barker's Famous Star and Straps clothing line. In the December 2007 issue of Playboy, Kim posed nude for the magazine and in February 2008, Bongo Jeans announced that Kim would be their new face model. On May 2, 2008 Kardashian partnered with her trainer Kathy Kaehler to release her own workout DVD called Workout with Kim Kardashian. As a businesswoman Kardashian co-owns a clothing boutique called D-A-S-H with her sisters Kourtney and Klhoe and has in March 2009 also launched a shoe shopping service. On March of that same year she announced via her blog that she is working on releasing her own perfume line.
Photo by accidentalpaparazzi
Personal Life
In 2004, Kim Kardashian and music producer Damon Thomas got divorce. In 2007 a pornographic home video that she made with her then-boyfriend singer Ray J was leaked. Kardashian took legal action against Vivid Entertainment but the suit was dropped soon after and settled out of court with Vivid Entertainment for US $5 million.
In 2007, Kardashian met NFL star Reggie Bush at the ESPY Awards and soon after they began to date until the end of July 2009. Since then, sources have said that they are back together.